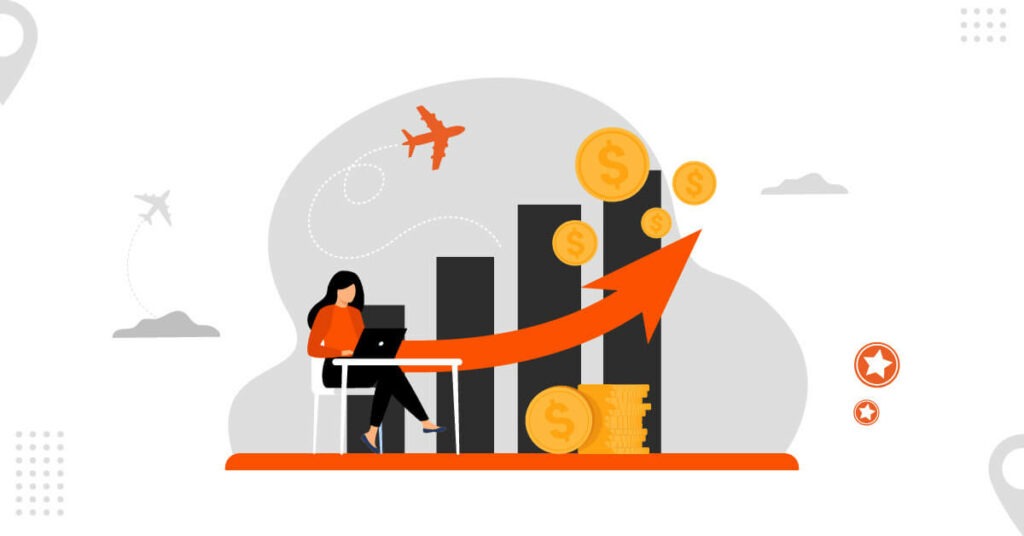 Corporate travel is a critical aspect of most companies' operations. Whether meeting clients, attending conferences, or exploring new business opportunities, travel is often essential to conducting business.
However, with the increasing costs associated with business travel, many companies seek ways to maximize their Return On Investment (ROI). This can be done with the help of a corporate travel management tool.
A corporate travel management tool is a software solution designed to streamline the process of booking and managing corporate travel. These tools provide a range of features and functionalities, including travel booking, expense tracking, policy enforcement, and reporting. Using a corporate travel management tool, companies can save time, reduce administrative costs, and maximize their travel ROI.
In this blog, let us see how a corporate travel management tool helps you maximize travel ROI:
1. Reduces Travel Costs
There is no denying the fact that business travel is expensive. Research says that business travel alone in the US amounts to $334.2 billion annually. Therefore, you must ensure savings on your business travel costs. Travel managers and the finance department should monitor employee and department-wise spending, flights, and hotel costs to ensure no cost leakages. They must also be up-to-date with all the travel trends to identify areas of cost reduction. However, manually undertaking these tasks can be quite a hassle.
A corporate travel management booking tool helps you reduce costs. It provides deep insights into major travel KPIs such as department-wise booking, last-minute flight bookings, and out-of-policy bookings, among others. The tool also helps you identify the most cost-effective travel options for each trip.
Additionally, by consolidating travel data, a corporate travel management tool can help you identify trends and opportunities to save on travel costs. For instance, if you are consistently booking flights with a particular airline, the tool can help you negotiate better rates with that airline.
Moreover, the tool can provide real-time price comparisons for flights, hotels, and rental cars, allowing you to choose the most cost-effective options for each trip. This way, you can ensure a better travel ROI.
2. Enhances Travel Policy Compliance
Travel policy compliance still remains a significant challenge for most travel managers. This is because employees often make travel bookings outside the company's travel budget. Hence, travel managers find it challenging to optimize business travel budgets. Moreover, with multiple employees traveling simultaneously and to various locations, travel managers may be unable to track whether employees comply with the policy.
And without any digital business travel management platform, ensuring travel policy compliance can be more difficult. This can be a major barrier to maximizing your travel ROI.
With a corporate travel management tool, you can ensure travel policy compliance. You can configure granular policies within the tool based on the business travel destination, employee and department, airlines and hotels, etc. Moreover, when business travelers make out of policy bookings, the tool immediately alerts employees, travel managers, and finance managers. This prevents any sort of policy violation, thus ensuring a seamless business travel management process.
Get a free trial of the ITILITE corporate travel management tool to see how it ensures policy compliance.
3. Improves Traveler Experience
A positive traveler experience is essential for ensuring employees remain productive and engaged during their business trips. If your employees are exhausted due to a tight schedule during business trips, it can impact their performance and your business travel goals. This, in turn, can affect the ROI of your business. Moreover, employees must look for the best flights and hotels before embarking on their business trips, which can take time and effort.
A corporate travel management tool can help improve the traveler experience in several ways. The tool provides a single platform for booking travel, managing itineraries, and receiving real-time updates. This reduces your employees' time and effort in managing their travel arrangements while on the go, allowing them to focus on other crucial tasks.
Hence, this saves a lot of time for them and allows them to stay productive during the business trip. And when employees are productive, you can achieve your business travel goals and ensure a good travel ROI.
4. Streamlines Expense Management
Another way a corporate travel management tool can help maximize travel ROI is by streamlining expense management. Managing expenses is one of the most crucial processes in any organization. This tool assists with maximizing your travel funds, monitoring all expenditures, and adhering to tax requirements. However, most companies struggle to manage their expenses.
This is mainly due to the fact that companies still use the traditional method in spite of the advent of technology. The traditional method includes employees collecting the receipts physically and storing them for reimbursement. They must later submit it to the finance department, which will have to enter these details in a spreadsheet. This whole process leads to wrong calculations and results which can affect your company's financial health.
A corporate travel management tool provides a centralized platform for managing travel expenses. The tool allows employees to capture travel receipts using OCR technology. Employees can then create and submit expense reports to the finance department, who will then verify these expenses.
By automating these processes, you can reduce the administrative burden associated with expense management and reduce the likelihood of errors or fraud. This helps in maximizing your travel ROI.
5. Increases Visibility and Control
With the increase in business travel, it has become very challenging for travel managers and finance managers to gain visibility into employees' travel expenses. Companies often have limited visibility into their travel program in traditional travel management. They rely on employees to report their travel expenses, which can be time-consuming and prone to errors or fraud.
Additionally, companies may have limited control over their travel program, making it difficult to identify areas of inefficiency or opportunities for cost savings.
A corporate travel management tool helps companies overcome these challenges by providing real-time travel bookings and expense updates. By providing centralized visibility into travel expenses, travel managers and finance managers can identify areas where they may be overspending or where they can negotiate better rates with suppliers.
Moreover, corporate travel management tools can give you greater control over your travel program. By setting budgets and approval workflows, you can ensure that employees book within policy and travel expenses are within budget. This greater control enables travel and finance managers to identify areas of inefficiency and opportunities for cost savings, ultimately maximizing travel ROI.
A corporate travel management tool enables data-driven decision-making by providing companies with a comprehensive view of their travel program. By analyzing data, companies can identify patterns and trends, make informed decisions, optimize their travel program, and maximize travel ROI.
If you are looking for the right corporate travel management tool, then it's time to invest in ITILITE. ITILITE's travel management software helps you with all processes related to maximizing your travel ROI. It ensures policy compliance, provides real-time data on travel expenses, helps streamline your expense management and many more.
To know more about ITILITE's advanced features, get in touch with our experts now!