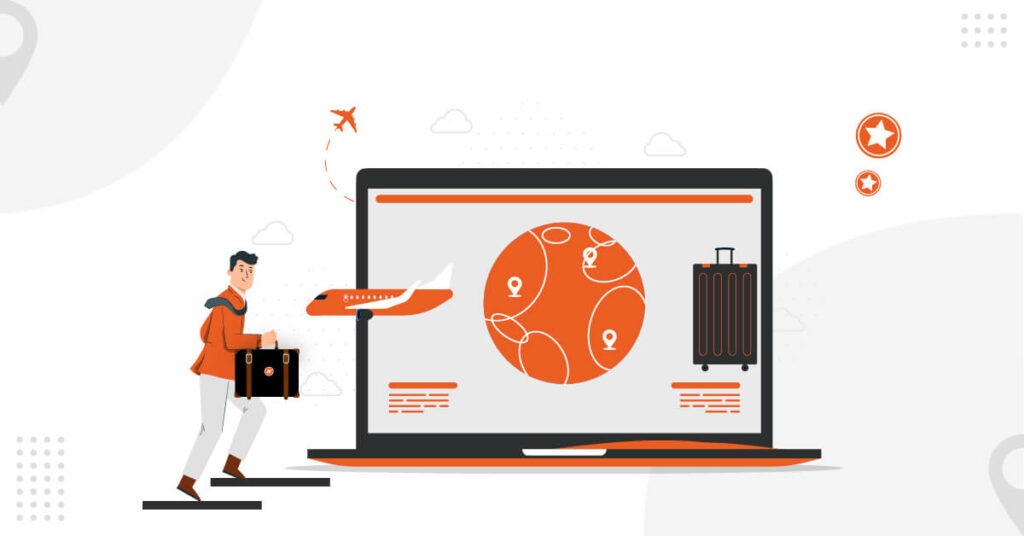 So you have recently decided to optimize your travel management processes and are looking for the right business travel platform. Obviously, you'll want to ensure the platform has all the basics covered, such as a wide travel inventory, policy integrations, and travel analytics.
However, you want to go a step beyond and find the business travel platform that takes your company's business travel to the next level. But what makes the best platform stand out from the rest?
This blog gives you a complete insight into the features you must look for if you want to opt for the best business travel platform.
1. Free and Quick Travel Support
Employees are often on a packed schedule when they travel for business. Therefore, in case they encounter an unforeseen situation while traveling, they need quick support to resolve the issue. For example, if a traveler misses his flight, he should be able to contact the support team immediately to book the next flight.
Some corporate travel platforms charge exorbitant fees for providing support post-business hours. Whereas other platforms have slow response times, due to which the traveler has no other option but to take certain actions by themselves.
However, the best business travel platform provides round-the-clock travel assistance to business travelers free of charge. They provide 24x7x365 support on call, email, or chat. Additionally, the response time is usually less than 30 seconds. Travelers can immediately contact the support team regarding issues such as delayed flights, emergencies such as weather disruptions or vehicle breakdowns, unsafe hotels, and so on.
Immediate travel support assures travelers that they can reach out to experts in case of an emergency. This allows them to have a stress-free travel experience. Additionally, it aligns with the company's duty of care so that they can ensure traveler safety.
2. Incentive Program
Business travelers are generally insensitive to flight and hotel prices. Therefore, to help companies save a significant amount of business travel expenses, the best business travel platform provides a free and optional incentive program. This program is a creative and effective way to incentivize employees to book more affordable travel packages.
For example, let's assume an employee is allowed to book flights and hotel packages up to $800. However, he chooses to book an economical travel package of $650. Then, a part of the savings, i.e., a pre-determined percentage of $150, goes to the employee. Similar strategies can be used for booking early flight tickets. When considering multiple trips, similar reductions in trip costs can lead to significant savings.

3. Automatic Re-booking
Have you ever booked a flight ticket and seen the price decrease in the next few days? In such cases, you must be wondering whether you should've waited a bit longer to get the best flight prices. However, even then, you could never be sure if you would get a lower price. Fortunately, there is just the right solution for this.
The best business travel platform allows for automatic re-booking. This means that if there is a decrease in the price of the flight ticket in the subsequent days, followed by your booking, the platform will automatically re-book the ticket at the lower price and notify the traveler. This feature is extremely beneficial since you do not have to worry about monitoring flight prices regularly, the platform does it for you.
4. Unused Flight Credit Utilization
Business travel itineraries can be volatile. Hence, they require frequent rescheduling. One such instance is flight cancellation. Suppose an international client calls off a meeting last minute; you will also have to cancel the corresponding flight booking. But what happens if the tickets are non-refundable? This is where unused credits come into play.
Some airlines like Southwest have the option to convert the non-refundable unused tickets into credit points that travelers can redeem in the future. However, merely claiming the credit points is not enough. You also need to track each travelers' points to use them in the next booking.
This is where the best business travel platform stands distinguished from the rest. With advanced platforms like ITILITE, you can get a one-stop solution to view, track, and reconcile each unused ticket to claim credit points on time. This prevents burning a hole in the company's pockets.

5. AI-based Virtual Consultant
Many corporate travel platforms offer a dedicated analytics dashboard. This is a useful tool because it offers data that can help you keep track of employee spending patterns, get live visibility into company expenses, track last-minute flight bookings, and more. However, a lot of companies struggle when it comes to interpreting this data and understanding how it can be used to optimize their travel program.
To solve this problem, some companies also reach out to consultants. But they often face issues with hefty fee charges and poor quality results. In addition, it can take a long time to get insights from consultants. Plus, the company's travel management team may need to participate extensively to provide input, resulting in a lot of back and forth.
Therefore, the most effective solution is an AI-based virtual consultant, which only the best corporate travel platforms offer. The virtual consultant is an in-built AI-ML engine in the T&E software solution. It analyzes the company's past travel data along with external industry data and gives insights into cost-saving leakages, policy violations, last-minute bookings, and more. This way, the travel management team can easily implement these insights and optimize their travel program.
6. Custom Reports
Travel reports play a pivotal role in business travel management as they provide a clear overview of all the expenses employees have incurred during business trips. This is especially important for businesses as travel and associated expenses often make up a large chunk of their total expenditure.
By being able to see where the money is being spent, businesses can then take steps to reduce expenditure where possible. Additionally, travel reports also help to improve transparency and accountability within an organization, as employees are aware that their spending will be closely monitored.
You can also tailor your reports to include information on hotel transactions, flight transactions, last-minute flight bookings, flight and hotel cancellation requests, passport expiry dates of employees, and the carbon impact of your business trips.
Further, you can choose to have these reports delivered to your mailbox automatically on a weekly or monthly basis so that you can track the performance of your travel management program.
The data collected through expense reports can be used to identify spending trends, sudden increases in last-minute bookings, monitor policy compliance, and , most importantly, find areas of cost leakages and wasteful spending. Ultimately, customizable expense reports provide valuable insights on saving money and ensure that company funds are being used efficiently.
7. Live Tracking Travelers
A business trip can pose many risks to employees, and it is the responsibility of every company to protect their employees while they are traveling. To do this, companies implement a travel risk management program.
A crucial element of this program is monitoring the location of employees while they are traveling. This helps ensure their safety and allows the company to take quick action if an employee is in danger.
The best business travel platform enables you to live-track your employees via GPS. Live tracking is extremely beneficial for a number of reasons. Companies can:
Ensure that the traveler is not in an unsafe region
Take proactive measures to prevent any potential harm to the traveler if he notices the risk beforehand
Help the traveler immediately in case of accidents, medical emergencies
Inform travelers of any weather disruptions or nearby disasters
Therefore, you must consider opting for a business travel platform with live-tracking features.
8. Loyalty Program
Hotels and airline vendors offer loyalty points to travelers who make repeated purchases. These vendors offer special benefits and travel discounts as a part of their loyalty program. Some of the benefits that travelers can enjoy include seat upgrades, airport lounge access, and additional in-flight services.
Additionally, accrued loyalty points can be used to get a discount on future purchases from the same brand. For example, Delta SkyMiles offers 3 miles per dollar on Delta purchases, and there is no limitation on how many miles you can accrue.
When a business travel platform can save loyalty points, the traveler doesn't have to worry about refilling program details every time they book. This is a great way to save time and hassle for the traveler.
However, not all business travel platforms offer this integration of the loyalty program in their application. Therefore, be sure to check for this feature while considering your travel management solution so that you can take advantage of it.
Optimize your Travel with the Best Business Travel Platform
While considering a business travel platform for your company, ensure that it has most of the features listed above for a seamless travel management experience.
ITILITE's advanced business travel platform checks all the boxes of being the best-in-class. The software solution gives you a holistic view of your company's travel-related data with the help of 100+ reports and customizable dashboard. Moreover, the world's first Virtual Travel Consultant- Mastermind pre-embedded in the ITILITE system, can help you save big bucks on business travel by providing actionable steps for travel process optimization.
You can also take advantage of the free demo that ITILITE offers so that you can experience these benefits yourself.