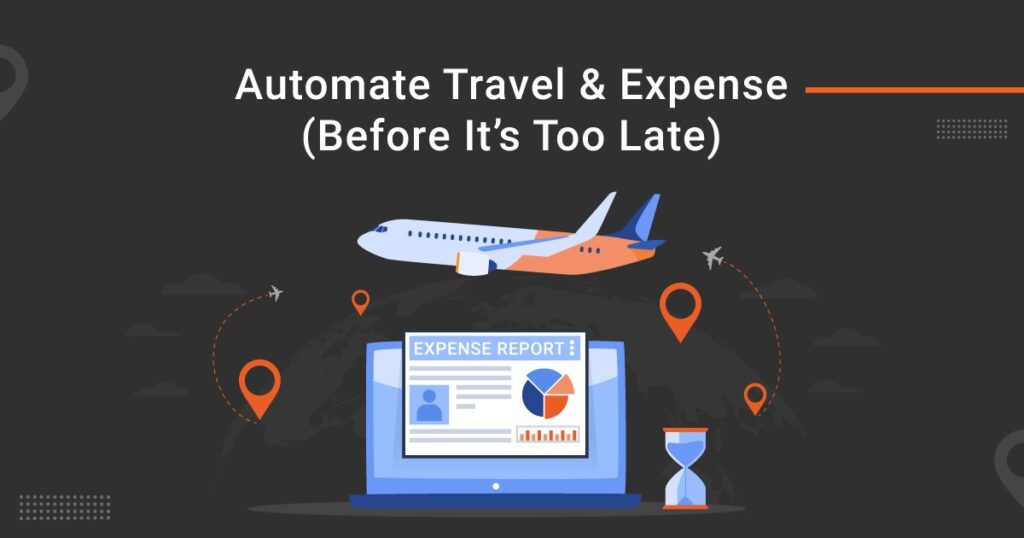 In theory, business travel booking and claiming reimbursements should be quite a simple process. In reality, this is not always the case. Most companies manage expenses using spreadsheets which relies mostly on manual processing. Hence, employees have to work extra hard while filing their expense claims to avoid errors. Moreover, the finance team has to account for each expense and provide timely reimbursement to employees.
Hence, the question arises, how can companies manage travel expenses more efficiently? The answer is expense management automation. With an all-in-one automated travel expense reporting software, you can ensure business expenses and claims happen in a timely manner.
Let's understand how automation can help companies optimize travel expense management.
Typical Travel and Expense Management Flow
The travel and expense management process involves a lot of stages. A typical travel and expense management flow or T&E process flow looks like this:

With so many stages in between, the traditional means of travel and expense management becomes lengthy. This leads to a loss of productivity for finance teams & employees and cost for businesses. In addition to researching & making travel bookings, employees have to spend a lot of time on taking approvals, and entering data. On the other hand, the finance team has to verify claimed expenses, send timely-filing reminders, clarify policies & processes to employees, etc.
Automating the entire process end-to-end can make it more transparent, save time & money and increase compliance and accountability. The next section will help you understand the parts that you can easily automate in your travel and expense process and the benefits of doing so.
The Path to Completely Automated Travel Expense Reporting
After automating the various parts of your travel and expense process, you and your employees will spend less than half the time you spend while using traditional methods. Here's how an automated T&E process flow would look like: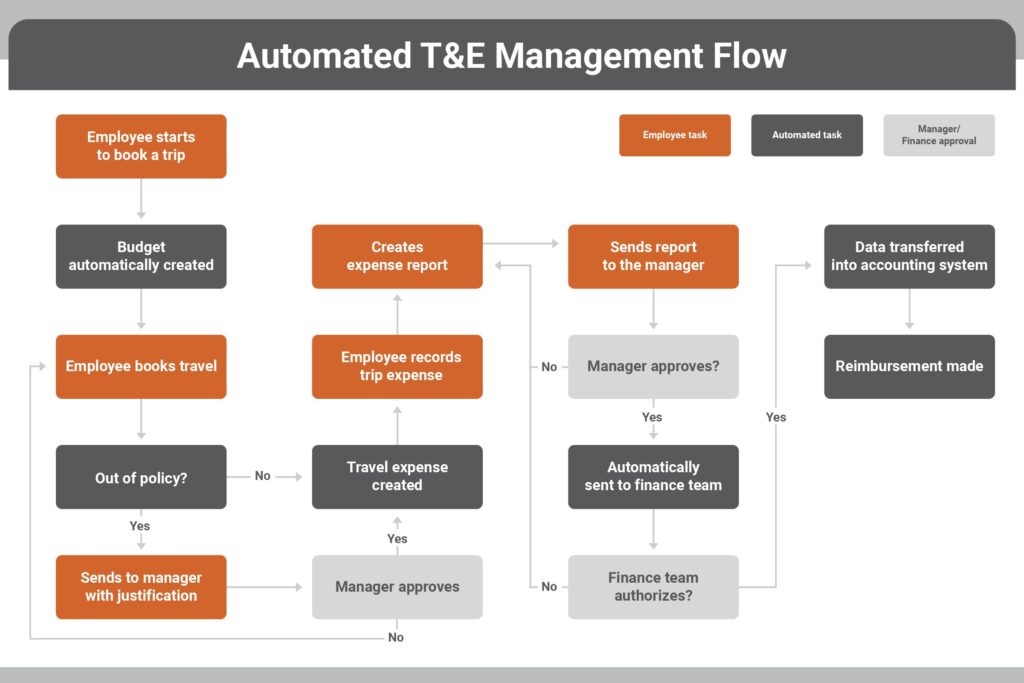 First things first, you should start by configuring your travel and expense policies into an integrated T&E management system for an automated application. You should also make employees aware of the policy guidelines systematically to increase compliance. Other than that, the travel and expense management software should automatically alert you about out-of-policy bookings to reduce back and forth with employees.
An automated travel expense reporting software can help automate the following parts of the T&E management process:
1. Travel Booking
Think about a portal where when an employee starts booking a trip, the T&E software automatically shows them the expense limit so that they know how much to spend. Some advanced solutions such as ITILITE do that. Such platforms only show flight and hotel options that are within policy. So, your employees can book travel easily, in compliance with your policy!
2. Expense Creation
Your automated travel expense reporting solution can automate this process so that the employees won't have to calculate their travel expenses. The software can calculate it for them based on the destination, real-time market rates, per diem charges, if applicable, etc. They can also submit other expenses they incur during the business trip, automate travel expense reports and send them for approval.
3. Approval Cycle
You can also automate travel and expense approval requests. These are helpful, especially in cases of exceptions, where the employee has booked over the expense limit. An employee booking over budget can automatically trigger an approval from higher authorities. After that, the approve can accept or decline the request instantly.
Other than expense claims, you can also choose to auto-approve travel requests based on certain criteria. For instance, if your employee is traveling for a day, she doesn't need to go through the approval process.
4. Analytics & reporting
When it comes to analytics, one cannot deny the benefits of automation. You can enable automated audits and do 100% checks (vs sampling) of all the expense reports. This will help you in detecting fraud. You can also expand the type of checks like duplicate, weekend, etc. You get all the travel and expense data on one single platform that could help you in knowing travel trends, setting budgets, etc.
5. Data Transfer into the Accounting System
After approval from the finance team, you can automate travel expense reports and send them to the ERP/accounting systems through seamless integration. This way that the accounts department will know that they have to reimburse employees.
6. Reimbursement
Processing reimbursements faster, after the finance team's approval, helps in crafting a great employee experience. You can automate the entire reimbursement process so that money can be put back into employees' wallets sooner than before. You can set up a flow where the employee gets reimbursed as soon as approval comes from the finance team. Also, with an automated system, the employees will know the real-time status of their reimbursement via alerts.
7. Mobile Expense Reporting
By automating this part of the travel and expense management process, you can save a lot of time for your finance teams as well as employees. With mobile integration, employees can directly upload photos of their receipts and send details digitally on the go. The automated travel expense reporting tool can then extract the specifics from the receipts via the OCR technology and fill in expense details. After submitting all the receipts, employees can generate automated travel expense reports within minutes. As a result, they can report expenses on time because the process is simple.
Pick the Right T&E Management Software for your Business
An automated travel expense reporting software will enhance efficiency and saves a lot of time and effort. A T&E process flow ensures that approvals happen as per the policy compliance and in a timely manner. It increases travel and expense policy compliance throughout the processes and helps finance managers in detecting fraud. ITILITE is an integrated travel and expense management platform that enables you to automate all your travel and expense processes seamlessly.
Get a free demo of the ITILITE travel and expense management platform to try out the advanced features yourself.

Get the latest in your inbox
Subscribe to the Itilite blog and never miss a post!