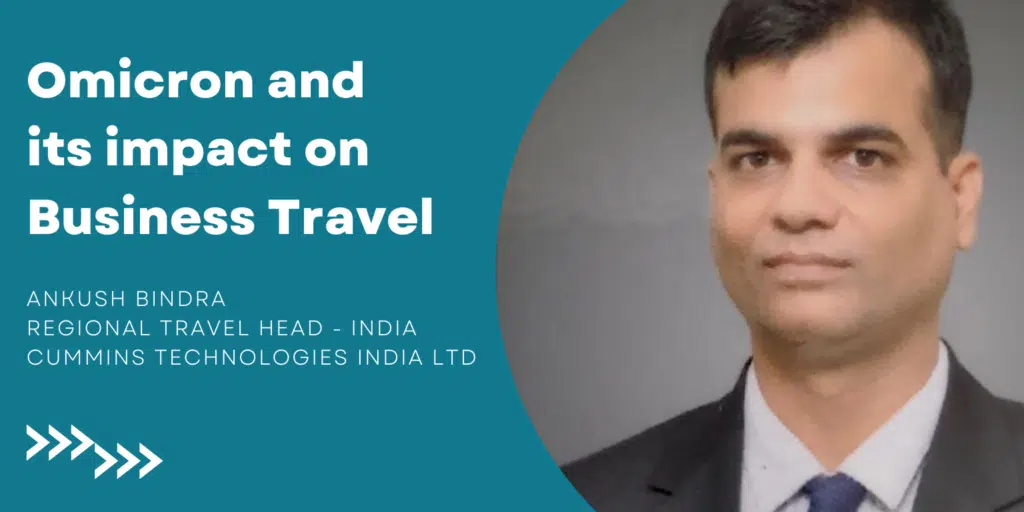 Speaking in an interaction with ITILITE's Top Drawer Travel Talks Season 2, Ankush Bindra, Regional Travel Head – India, Cummins Technologies India Ltd, said, "First wave was unexpected and no one was prepared, the second wave was a deadly one wherein so many lives were lost and in the third wave everyone was well prepared."
The recent emergence and yet-unknown trajectory of a new COVID-19 variant is the latest development on the road to recovery for organizations across the globe. Most companies, however, are taking a wait-and-see line of action before implementing any new restrictions or requirements for business travel. Additionally, a clear majority of countries across the continent require international visitors to prove that they are fully vaccinated and that pre-trip negative tests are required regardless of vaccination status.
In an exclusive dialogue organized by ITILITE, Ankush Bindra Regional Travel Head – India, Cummins Technologies India Ltd, shared some lights on how the travel policy has changed from pre-pandemic and how even employees are more cautious while traveling.
"Additional piece of learning which we as an organization received now is that the length of a pandemic can stretch and not to let down our guards and be better impactfully prepared for any such wave in the future. We worked across the organization and vendors to make sure that our people were safe while traveling for business purposes."
He also shared that vaccination played a significant role in the third wave. Close to 99% of all Cummins Technologies employees were vaccinated through the vaccination drive organized within the organization.
"The herd immunity was already developed and helped every one of us to cope with the situation in a systematic manner rather than in panic mode. Vaccination worked as a confidence booster for many employees and helped us to tackle the situation in a much better and efficient way," Ankush Bindra.
Employees' approach to business travel has changed drastically. People now are more conservative and conscious while traveling. Be it the duration of travel, the pattern of hotel selection has changed. Employees are more likely to choose premium properties which are following Covid protocol over other options.
"We are working extensively with our suppliers to put all measures related to Covid-19 across the geography to make sure our employees are safe and secure while they are on business travel," Ankush Bindra.
The approach has changed from, Why do you want to Travel? To How do you want to Travel?.
Employees are now self-informed about what kind of precautions they need to take. Use of a sanitizer, wearing a mask, and refraining from handshakes are coming naturally to them.
The travel managers of an organization are taking a safety-first approach for all of their employees who are traveling for business purposes. There is a permanent shift in the overall approach to travel from a casual approach to a more careful approach. Employees are no longer experimenting with their travel, now they are more cautious while they are traveling.
"As an organization, we have also made our Travel policy more stringent for employees' safety. We are now working around the clock with hotels, suppliers, vendors, partners to increase the level of service and quality bar. The quality parameters for onboarding suppliers, partners have changed drastically, a new normal collaborative approach has been set up. Safety and Employee first approach has been our topmost priority," Ankush Bindra
In the end, we need to be very dynamic in our approach as human lives are involved. A policy that is agile and sustainable and at the same time we also need to take care of our carbon footprints. Balancing between safety and cost will be the talk of the town. Taking care of your employees along with your suppliers and vendors should be focused.

Get the latest in your inbox
Subscribe to the Itilite blog and never miss a post!