2019 has been a milestone year for us at ITILITE, and we have a great set of customers, team and investors to thank for it. When we raised the Series A round in January, we were a team of 30 driven individuals in Bangalore who set out about two years ago on a mission to change the way businesses travel, and we had seen an amazing response already.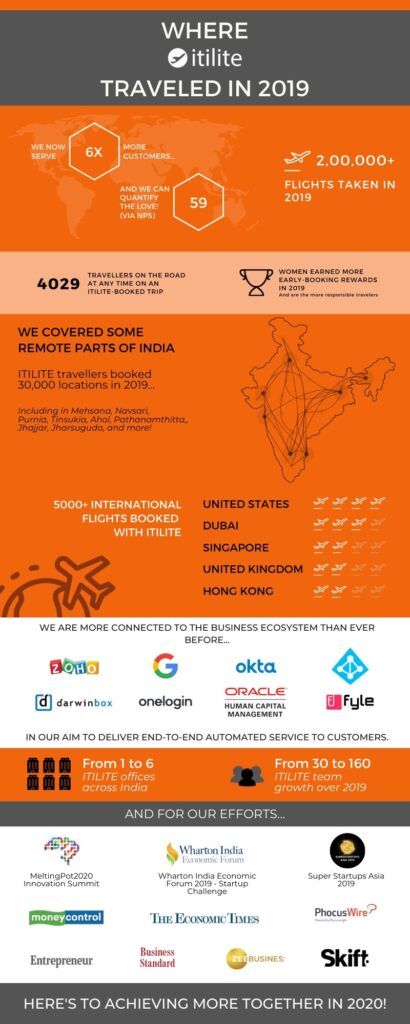 In 2019, our adventure took us to a stage even we hadn't dreamed of.
First, we continued to get traction and built a clientele of over 100 forward-thinking enterprises and noted startups, including Byjus, Myntra, cure.fit, HDFC Securities, Swiggy, Cars24, Spykar and Toshiba, empowering over 150,000 business travelers move around the globe more efficiently and add to their company's growth.
The sheer numbers of these business trips were staggering. We were managing more than 4,000 trips every day for our customers. As their travel partners, our journey took us to some really interesting places in India, over 30,000 locations in fact, including Mehsana, Navsari, Purnia, Tinsukia and 5,000 around the world, including Palau, Latvia and Djibouti and we were excited about each trip! (Imagine how our passport would have looked 😀 ).
We have helped the remotest parts of the world get better access to education, financial services, life saving medical devices, and also live a healthier and more fashionable lifestyle.
This year has also been a great leap for our product team! We have introduced several new features to make the process of business travel better, and our customers love us for it! Our NPS (Net Promoter Score) has shot up to 59! That's more than double the industry standard. We have also partnered with leading technology products to create a more seamless experience, from HRMS to expense management systems. But the most popular product innovation remains Social Cues, a unique feature that tells the travelers which of their colleagues are also their co-passengers on the same flight as them.
Growth has happened at ITILITE all across. We ended this year with a team of 160, in 6 offices across the country. And our efforts have been recognized by some of the biggest institutions in the ecosystem, including Wharton India Economic Forum and SuperStartups Asia, also the media houses like Economic Times, Business Standard, Moneycontrol and Skift.
2020 is set to be another great milestone in our journey, with your love and support. We look forward to traveling many miles together!

Get the latest in your inbox
Subscribe to the Itilite blog and never miss a post!