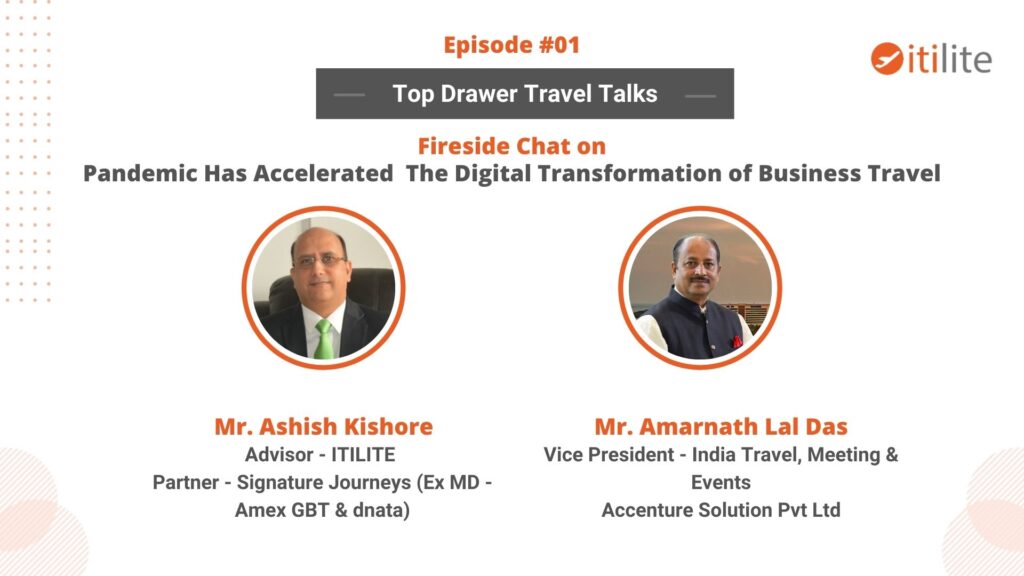 To discuss the dynamicity of B2B travel during the pandemic, ITILITE launched an exclusive fireside chat series called Top Drawer Travel Talks. Hosted by former American Express Global Business Travel head Ashish Kishore, this limited episode series will bring forth quality conversations. Not only that but it will also explore the real life examples of how corporate travel leaders have adapted to the changes and managed to stay ahead.
For our maiden episode, Ashish invited Amarnath Lal Das (Accenture Solutions Pvt.Ltd.) to discuss how Pandemic has accelerated the digital transformation of Business Travel.
In case you missed it, here are the key insights from the episode:
#1 Study and adapt to technology
"Embrace technology before you get embarrassed."– said Amarnath Lal Das.
He strongly believed that digitization and automation of the travel process is the need of the hour. It is so because it ensures safety and security.
He also advised the listeners to read articles & documents, take courses and understand the current trends because self-learning is the key. "Be accepting of the changes because if you are not, you will be out of the race". In other words, create an agile travel policy and keep revising it, for instance, by amplifying negotiations, introducing regulations and so on.
#2 Automate your travel processes entirely
The priority of the moment is to bring in end to end automation. Learn to automate (if you haven't already) as it can help in providing a smoother customer experience!
Firstly, provide new age technical solutions so that you can sustain your clients. Secondly, reduce the amount of time and effort spent on a single client through automation, without compromising the quality of experience. Moreover in addition, try to eliminate errors in the process to stay afloat in these diverse and unprecedented situations.
#3 Take ownership and rise up to the new role
Induce leadership in your character and have a futuristic approach. For instance, create a forward looking travel program and travel policies by automating. It is important to eliminate the non value additions, on the other hand, it is also important to understand how you are an asset to your company. Reduce dependency and increase productivity.
Lead with an example. One can't bring a technological change overnight. Therefore, motivate your employees to take calculated risks, elevate user experience on the other hand, also enhance controls with technology. Most importantly, encourage them to innovate and find newer, better ways to enhance the travel processes.
#4 Strategize mindfully
Along with having a futuristic approach, the business leaders and managers should learn to work strategically. Above all, the leaders need to be flexible in the workplace because your decisions are going to define the security and safety of the employees.
The duty of care has moved up the ladder. Subsequently, it is even more important to have a robust system which can ensure traveler tracking and mapping features.
Strategically revising your travel policy, travel program and travel tools periodically can give you an edge over your competitors. It is fundamental to update your plans especially in the current scenario.
Amarnath pointed out that after the pandemic, the roles were reversed – the enablers of travel were forced to bring travel to a standstill.
#5 Build a knowledge network to keep up
Focus on building a network so that you are the first person to get the scoop. While businesses with conventional working models could accept the challenges of working remotely with varied technology, it were the businesses with the traditional working models, like the travel industry, that struggled the most. A right business network could come in handy in such situations.
The right kind of people in your network can help you stay updated with the industry and technological advancements. Consequently, giving rise to quality conversations and innovations.
Change is inevitable however the only way out is to lean into the change itself. To know more about these changes and upcoming episodes of TDTT, follow our LinkedIn channel.

Get the latest in your inbox
Subscribe to the Itilite blog and never miss a post!