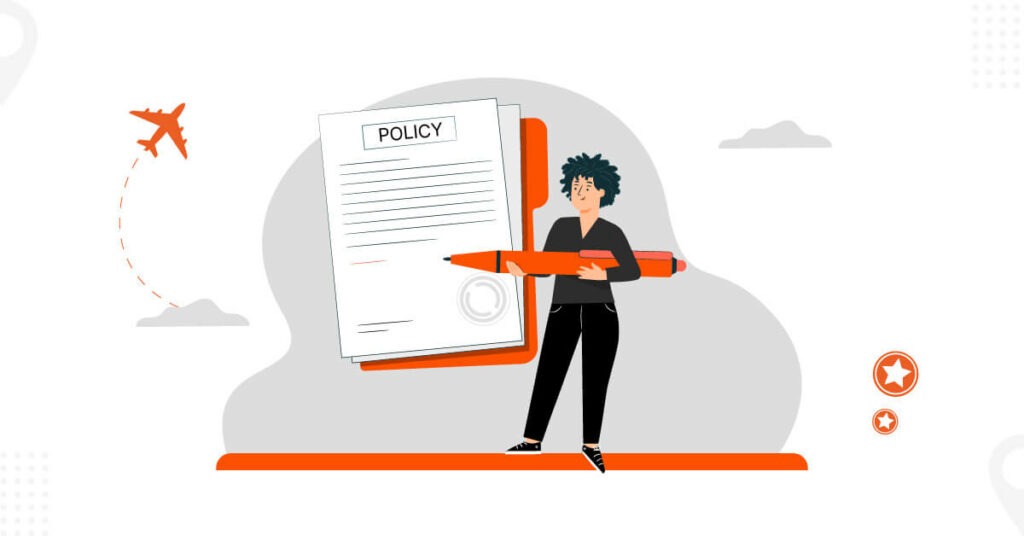 In the last few years, we have seen a variety of trends in the world economy, such as globalization and the growth of new markets. This means business travel has become a norm for many organizations. As workplaces understand the importance of actively facilitating business travel, developing the best work travel policies that support business travel programs is necessary.
According to GBTA, 78% of travel managers expect the number of business trips employees take will be higher in 2023 than in 2022. Keeping this in mind, finance and travel managers must develop a robust work travel policy to reduce costs and streamline the business travel process. But while crafting a work travel policy, you must know what benefits you can reap from it.
In this blog, let us see the various benefits of crafting the best work travel policy for your organization.
1. Enhances Cost Savings
Business travel costs contribute significantly to the organization's operational costs. Business travelers may sometimes book flights, hotels, rental cabs, or any business travel-related activity that are expensive or outside vendor bookings.
With multiple employees traveling simultaneously, it becomes difficult for travel managers and finance managers to ensure that employees do not exceed the company's travel budget. If there is a steep increase in cost leakages, it can severely affect your company's bottom line.
Hence, with an effective work travel policy, finance managers and travel managers can set pre-defined expense limits and choices of vendors for travel bookings that will help save costs.
In the policy, you can define clear rules and guidelines so that you can reduce unnecessary spending on travel-related expenses, such as flights, accommodation, and meals. For example, the work travel policy must specify requirements for booking flights and accommodation in advance and meal and entertainment expenses guidelines.
Additionally, crafting the best travel policy can help you negotiate with hotels and airlines for better deals and discounts with preferred vendors.
2. Streamlines Your Business Travel Process
Travel and finance managers have a lot on their plates while managing business travel right from the trip is announced to when employees return. Travel managers on one hand, must handle every employee's flight and hotel bookings, procure and arrange their travel documents, prepare business travel itineraries, and many more. On the other hand, finance managers must look into the budget allotted to every employee, approve their trip requests, ensure there is no out-of-the-budget spending, etc.
And if your company doesn't have a proper policy in place to manage all these, it can create confusion and chaos for employees as well as the travel and finance managers. This can, in turn, impact employees' business travel experience.
A robust and well-crafted work travel policy streamlines every step of the business travel process, right from travel bookings to arranging travel documents, trip approvals, and beyond. This is because the policy outlines clear guidelines, rules, and regulations for every aspect of business travel. This eliminates any employee confusion and streamlines your business travel management process.
For instance, the work travel policy clearly mentions when the trip request should be submitted for approval, how many days before the commencement of the business trip the travel documents need to be arranged, and many more.
3. Compliance With Legal and Regulatory Requirements
Business travel is not just about employees traveling for business travel activities. It also involves complying with legal and regulatory requirements for various destinations, such as those related to travel visas, tax laws, immigration compliance, and many others.
If your current travel policy or organization doesn't have guidelines on these, you can end up paying penalties and interest, which can impact your company's financial health.
A well-designed work travel policy ensures your organization complies with all relevant legal and regulatory requirements. Here are some examples:
Expense reporting: The best work travel policy specifies how expenses related to business travel should be reported and documented, which can help ensure compliance with tax laws and regulations. For instance, the policy can require employees to store receipts and record the business purpose of each expense.
Travel visas and permits: If employees have to travel internationally, the policy will outline the requirements for obtaining travel visas and work permits. This can help ensure that business travelers are legally allowed to conduct business in the countries they are visiting and can prevent legal issues or penalties.
Corporate governance: Work travel policy helps ensure employees act according to the company's values and principles while conducting business abroad. This can help your organization comply with corporate governance regulations and demonstrate ethical behavior.
4. Maximizes Travelers' Safety
Travelers' safety has taken center stage in all C-suite conversations lately, especially after the Covid-19 pandemic. The new generation of business travelers prioritizes safety while traveling. They seek better travel risk management, and as an employer, you should fulfill the duty of care responsibilities. However, due to various factors, most travel managers struggle to ensure employees' safety.
A well-crafted work travel policy helps you improve risk management. The policy includes multiple elements of duty of care into the policy. It includes guidelines on real-time tracking of the employees and their whereabouts, employees sending their live location and any changes in the itineraries, and regular check-ins with employees. This ensures employees feel safe throughout their journey and also gives you peace of mind that travel is going smoothly.
The work travel policy also specifies to incorporate any emergency protocols during an emergency. It also includes emergency contact numbers, travel insurance, emergency medical assistance, and crisis management. This ensures your employees are safe while on the road.
5. Ensures Employee Satisfaction
Business travel can be stressful and hectic. Employees have to be on the move constantly. They must attend multiple meetings, meet clients, network with various business professionals, and attend their regular work tasks. This can affect their physical and mental health. And if your company doesn't have any policy or has a strict policy that doesn't provide employees any flexibility, there are possibilities that retaining them can be an issue.
The best-crafted work travel policy ensures employee satisfaction as it is employee-friendly and easier to understand and implement. For instance, employees can extend their trip to make it a bleisure travel experience, provide a few days of rest to cope with jet lag, stay in hotels where they can use loyalty points and many more. This boosts employee morale and enhances employee satisfaction.
6. Improves Your Business Travel Planning
Business travel planning is crucial if you want your business travel goals to be achieved seamlessly. Planning the business trip should begin from the moment it is announced. However, since travel managers and employees both have a lot to do in their daily work tasks, it becomes difficult for them to manage many aspects of business travel. This results in last-minute hassle or inconvenience.
A well-crafted work travel policy can help employees and travel managers plan business travel more efficiently, reducing the likelihood of last-minute changes or cancellations. By providing clear guidelines on booking procedures, travel expenses, and other logistics, you can ensure that employees have all the information they need to plan their trips effectively.
For example, your work travel policy includes guidelines on booking flights and accommodation, including preferred vendors and booking deadlines. Additionally, the policy outlines the process for obtaining necessary approvals and reimbursements, ensuring that employees have the resources they need to plan their trips in advance.
7. Enhances Corporate Image
While your employees go on business trips, they are not just working but also representing your company. Hence, they should be very careful in whatever they do, be it from a business, personal or cultural perspective. You must also ensure that your employees are aware of business travel etiquette. One wrong move can easily offend others or give a wrong impression about your company.
A well-crafted work travel policy can enhance your organization's corporate image. The policy includes cultural sensitivity and respect guidelines, ensuring that employees know and respect different cultures and customs. Demonstrating a commitment to diversity and inclusion can improve your reputation among customers and stakeholders who value these principles.
The policy can also include how your company is committed to sustainable travel and how your measures reduce your carbon footprint on the environment. When your company is committed to sustainability, it gives a good impression on your business travel process, thus improving the corporate image in the market.
Best Work Travel Policy Ensures Seamless Business Travel Management
Crafting the best work travel policy can bring numerous benefits to your organization, including cost savings, improved employee satisfaction, compliance with legal and regulatory requirements, etc. In addition, by designing a policy that addresses your organization's and employees' specific needs, you can ensure that work travel is a positive and productive experience for everyone involved.
You can develop the best work policy with the help of a TMC such as ITILITE. At ITILITE, we help you create a robust work travel policy by considering your company's travel budget, employee preferences, legal and regulatory compliance, and many more. Our travel management platform also automates most of your travel process, which helps you save time and money.
Get in touch with our experts now to know more about ITILITE's advanced features.