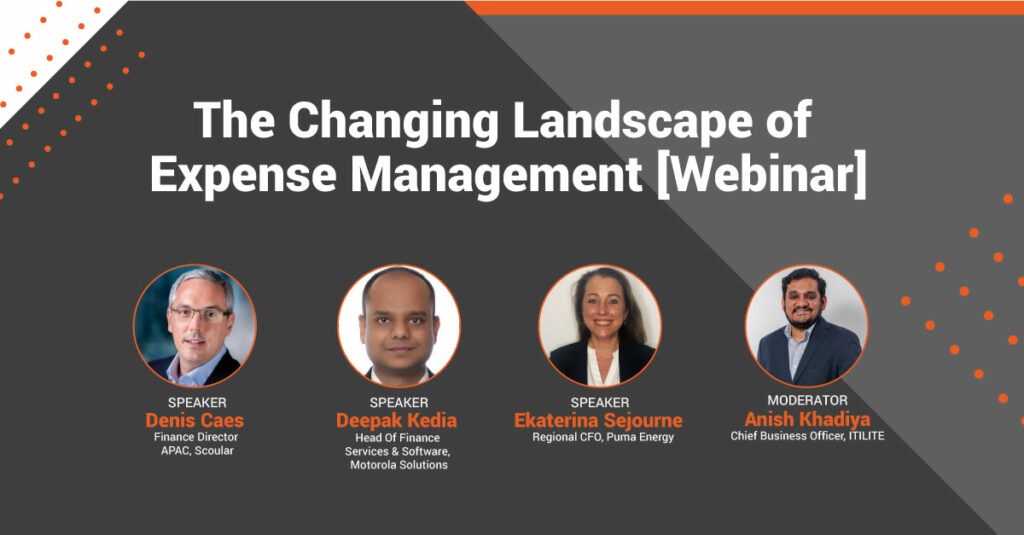 The world of business expense management is changing fast. As companies start their automation journey, they have many questions about digitizing their finance processes. So, we invited industry leaders and organized a webinar on The Changing Landscape of Expense Management in collaboration with Accounting & Finance Show Asia and Terrapin.
Denis Caes ( Finance Director, APAC, Scoular), Deepak Kedia (Head of Finance Services & Software, Motorola Solutions), and Ekaterina Sejourne (Regional CFO, Puma Energy) joined us as speakers. Anish Khadiya (Chief Business Officer, ITILITE) hosted the webinar.
We discussed how the very nature of expense management has changed during 2020 and beyond, what are the common bottlenecks faced by finance teams while managing expenses manually, and how digitizing core finance processes benefit finance teams and the organization as a whole.
In case you missed it, here are the key insights from the webinar:
#1 Digitization of Finance Processes has become a necessity
All the speakers agreed that digitization of finance processes is the need of the hour. And all businesses – small or large – should automate their expenses as the advantages far outweigh the cost.
Talking about the need to automate expenses, Ekaterina Sejourne said, "Anybody who has not digitized their expense management process yet, is not doing it right. It is pretty archaic to be managing expenses manually, especially when the era of AI is coming soon".
Building on this, Denis from Scoular shared how automation benefits organizations. "The benefits of using expense management software are huge in terms of efficiency for businesses and ease of processes for employees," he said.
#2 Selection of Expense Solution is now driven by Employee Delight
One of the key insights shared was that organizations now decide to buy the software based on ease of use and employee delight.
Most companies are looking for an intuitive, easy-to-use interface as a major selection criterion. It's because a user-friendly interface makes the adoption easier and faster for both employees and the finance teams.
Emphasizing how critical a factor employee delight is while choosing a software, Ekaterina shared, "We even had a poll asking our employees to rate their experience with the software."
Apart from usability, all speakers unanimously agreed that ease of third-party integrations is a feature they all look for while choosing expense management software. It is a must-have feature given the fact that organizations need a seamless flow of data among all systems to be able to get actionable insights.
#3 Robotics will be the future of Expense Management
While discussing the future of expense management, Deepak Kedia talked about the evolution of Robotic Process Automation (RPA) in finance processes. He explained how most of the day-to-day finance processes are highly rule-based and can be easily managed by intelligent solutions. "The need to buy a solution and then hire a team to audit negates the solution's usefulness. The system needs to be smart enough to detect fraudulent claims; this is where robotic process automation comes into the picture," he said.
Modern expense management solutions are equipped with technological capabilities to check for claim inaccuracies. The system can highlight and flag exceptions in real-time. It ensures the finance team doesn't waste its time and effort on checking each entry. "The finance leaders across industries can now spend more time on value-added services vs. regular transactional processes," Deepak said.
#4 Buy wins in the bid against Build
When asked if the companies should build expense management software in-house or buy it from an external vendor, all collectively agreed on buying as the right approach.
Talking about their journey, Ekaterina Sejourne highlighted how they started the digital transformation by trying to build an in-house solution but ended up partnering with an external party. "It's 100% buy! Don't waste your time. The solution providers have spent years perfecting the solution," she said.
With the affordable pricing of ready-to-go solutions, companies of all sizes can easily onboard the right expense partner "I might have opted to build maybe 15 years ago, but today as buying is much more affordable, it's a buy for me as well," Denis said.
When asked about how companies should choose the expense management software, Deepak highlighted the benefits of choosing a cloud-based solution where pricing is on a pay-per-claim model.
Everyone agreed that even SMEs who cannot afford costly legacy systems could reap the benefits of cloud solutions with a pay-per-claim model and streamline their expense processes.
#5 It is time for an integrated Travel & Expense Solution
The speakers highlighted how organizations today cannot afford to think in silos while planning to automate expenses. It is high time they look for vendors who provide a truly integrated travel and expense solution. Such solutions make the whole T&E process seamless and data-centric, helping businesses make informed decisions.
"The future of expense management is the seamless integration of third-party portals, a kind of one-stop-shop where travel booking, uploading receipts and getting reimbursements are all on one system," said Deepak.
It was an insightful discussion attended by finance professionals across the globe. We hope this answers most of your questions on expense automation. Interested to know more? Access the webinar recording here.
Stay tuned for more insightful conversations from industry leaders around the world!
If you are looking for a truly integrated travel & expense solution that helps you save costs in a way employees love, book a free demo with our product specialist today!

Get the latest in your inbox
Subscribe to the Itilite blog and never miss a post!