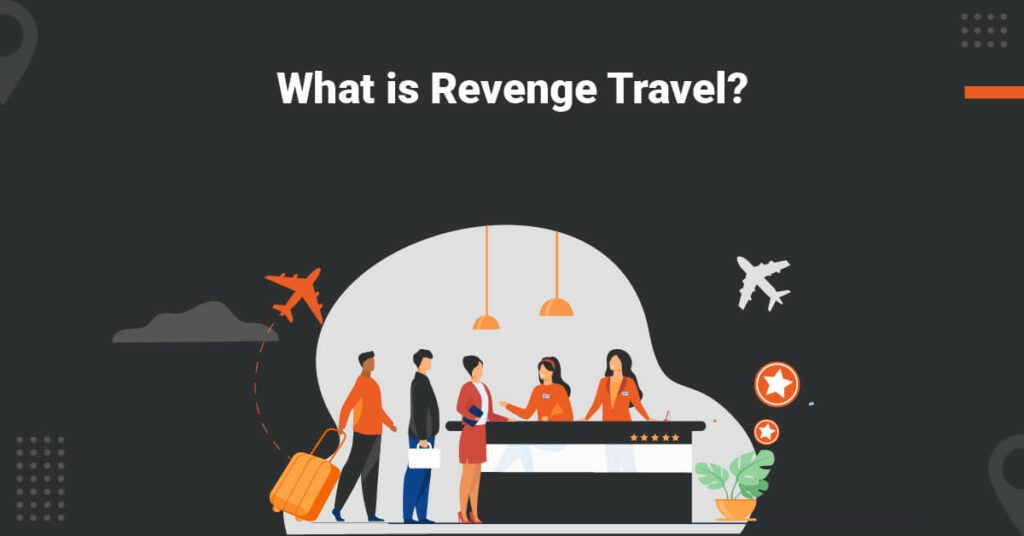 The Covid-19 pandemic brought the world to a standstill in 2020. Countries worldwide imposed strict measures such as nationwide lockdowns, banning foreign travel, and ordering citizens to stay home.
These restrictions disrupted the functioning of various industries, with the travel industry being hit the hardest. The uncertainty of the future left everyone stranded, postponing a lot of work and plans.
However, the year 2021 saw a ray of hope. Thanks mainly to the vaccination efforts, countries began easing restrictions, and people started traveling gradually. In 2022, the travel industry bounced back.
After years of staying in, people were eager to escape from their houses and explore the world. This has resulted in record numbers, creating a new concept called 'revenge travel.'
The Definition of Revenge Travel
Revenge travel refers to the global phenomenon of people booking trips and going on vacation as a means to 'take revenge' against the Covid-19 pandemic. It can be to make up for the lost time, take that much-awaited trip, or treat oneself after a long period of fear and uncertainty.
Simply put, people were tired of following their daily monotonous routine, working from home, and being unable to step out with fear of contracting the virus. They just wanted to step outside and visit some travel destinations.
The Origin of Revenge Travel
The origin of revenge travel began in 2021 with the rollout of Covid-19 vaccines, leading to minimum travel restrictions and lockdowns. Soon, travelers began to travel slowly and cautiously with all the safety protocols.
Now that Covid-19 has subsided, people have begun traveling as almost all countries have little to no restrictions in their travel advisory.
According to a survey by NY Post, 2000 Americans who have traveled internationally in the past 14 months revealed that 66% of them desire to travel, and 57% of them want to take a 'once in a lifetime' adventure.
Why is Revenge Travel Surging?
Travel restrictions are easing across the globe. The CDC no longer requires people to wear masks on public transportation. Also, as per UNWTO, 85 destinations in the world have eased restrictions for fully vaccinated international travelers. Even though Covid-19 strains still exist, experts believe it is safe to travel now with the right precautions.
Because of this, there has been a significant increase in the number of travelers, leading to a huge demand for domestic and international travel. According to TIME, 65% of Americans intend to travel for leisure in the coming months, and there was a 300% rise in searches for passport appointments in the first three months of 2022.
After all the trauma, frustrations, and sacrifices made during the pandemic, vaccinations have made it possible for people to travel again. People are now willing to go a little further and spend more money than they normally would on their vacation to ensure they have the best experience possible. Those extra savings affect not only the number of people traveling but also the kind of travel such as leisure trips, workation, slow travel, or even bleisure.
Alternatively, people are also in the mindset of 'FOMO'-fear of missing out, fearing one more covid wave and traveling to as many places as possible. All these factors combined have resulted in a surge of revenge travel.
How the Travel Industry Benefited from Revenge Travel 
Before the outbreak of the Covid-19 pandemic, the travel industry was one of the most critical sectors in the world, contributing to nearly 10% of the global GDP. But, the pandemic resulted in the closure of all international boundaries and the imposition of severe travel restrictions that affected the travel industry.
However, as people began to travel post-pandemic, the travel industry gradually started picking up. According to Statista, the number of international travelers worldwide rose by approximately 9% in 2021 compared to 2020 after declining sharply due to the Covid-19 pandemic. Also, as per Reuters, in March 2022, U. S booking sites saw higher demand for spring and summer leisure travel after the restrictions eased.
Most of the destinations which depended solely on travel for their revenue started to get more business after the pandemic as more people started traveling. Hence, the travel industry saw a boost post-pandemic.
Revenge Travel Trends
With revenge traveling becoming the new norm, it has given rise to new trends. Let's look at some of them:
1. Bleisure Travel
As the word suggests, bleisure travel combines business travel and leisure activities. With business travel making a massive comeback, the travel industry is witnessing a rise in bleisure travel.
Employees are now extending their business trips to indulge in some leisure activities to relieve their work stress and anxiety. Therefore, most hotels and resorts are seeing a demand from people looking to work in a different environment. Employees are also taking their families for vacation, where they can combine both work and vacation.
2. Family and Group Trips
According to Global Data, family travel was predicted to grow by 22% in 2022, close to around 376 million trips in the US alone. Like others, families also want to indulge in new experiences and take a break from their mundane daily routine. Family travel accounts for 3.08% of outbound tourism and will continue in the coming years.
Whether road trips, destination vacations, or international tours, generations of families are traveling together. Apart from family trips, groups of friends traveling together have also been on the rise.
3. Urban City Experiences
When travel opened up initially, people gradually began traveling to urban cities with different cultures and crowds. Tripadvisor report revealed 50% of the top destinations include large and metropolitan cities such as Paris, New York, Greece, Dubai, Rome, and London.
At such places, people are looking to visit museums, national parks, cultural shows, historical and archeological monuments, popular shopping centers, and many more.
4. Road Trips
In the coming days, the majority of travelers will prefer to travel by road than by any other means of transportation. They feel that road trips are a great way to explore local and nearby attractions. Traveling via flights can be expensive, and there may be flight delays. Hence, road trips are one of the most chosen ways to travel.
Moreover, road trips also allow them to stop anywhere, visit a local attraction and spend quality time with their friends and family.
5. Great Outdoor Experiences
With people being thrilled about big cities, getting out into the open spaces is also appealing to travelers. People also love visiting places with beaches or mountains or with great outdoor activities.
Travelers are looking to indulge in activities such as kayaking, paragliding, parasailing, bungee jumping, jungle safaris, trekking, and many more. They feel that indulging in such activities makes them happier, stress-free, and content. Hence, outdoor activities will continue to trend in the future.
6. Sustainable Travel
During the pandemic, when domestic and international travel halted completely, greenhouse gases were reduced, and air quality improved significantly. This made people realize the importance of keeping the environment clean.
Consequently, sustainable travel has emerged as a growing trend as travelers hope to lessen the environmental impact of travel. The pandemic has accelerated this trend, with people looking for ways to travel more responsibly and reduce their carbon footprint.
People are now making meaningful changes such as carrying paper/jute bags instead of plastic ones, using e-tickets instead of printed tickets, choosing sustainable accommodations, and many more.
Hence, sustainable travel will definitely be one of the key aspects of travel people will look for.
Pros and Cons of Revenge Travel
Like everything else, revenge traveling has its pros and cons:-
Pros
While revenge traveling can be a great way to relieve stress for travelers, it has also boosted the travel industry multi-fold.
Resorts, homestays, hotels, etc., which suffered heavy losses during the pandemic, are gradually gaining back their lost revenue. Although the revenue cannot be matched with the pre-pandemic times, it is still on the way to its recovery.
People are now slow traveling and extending their stays to embrace different cultures and experiences. This has resulted in a major boost to the travel industry.
The business travel industry also saw a rise in workations where people would travel and work simultaneously. Due to this, people extended their stays in resorts or homestays, which contributed to the travel industry to make up for the lost revenue.
Cons
When people travel to other cities or countries, local businesses and restaurants face the brunt. Local people find it difficult to get more customers to earn sufficient money.
Beaches, lakes, backwaters, rivers, and mountains are home to most of the local people. However, with the influx of many travelers, these places are left untidy. For example, travelers who want to enjoy some quality time may end up drinking or eating and leave empty bottles and leftovers behind. This causes serious problems for the environment as well as the local people.
Revenge traveling has also increased traffic and crowds at popular sightseeing places. Because of this, some people don't get to enjoy the views or spend some leisure time.
Another major drawback for travelers is a surge in flight and hotel prices as countries have opened up their borders.
Revenge Travel Is Here To Stay
As we move into 2023, there will be an increase in the number of people traveling either for business purposes, leisure or workations. As people are now willing to spend extra money for traveling despite increased fuel, flight, and hotel prices, revenge travel is here to stay.
With bleisure travel being one of the revenge travel trends, ITILITE's travel management software can help you improve your business travel experience. With this software, you can customize your itinerary in the middle of the trip to accommodate bleisure. You can also book tickets for personal trips at the best prices.
Get a free demo of ITILITE to try out the features yourself.