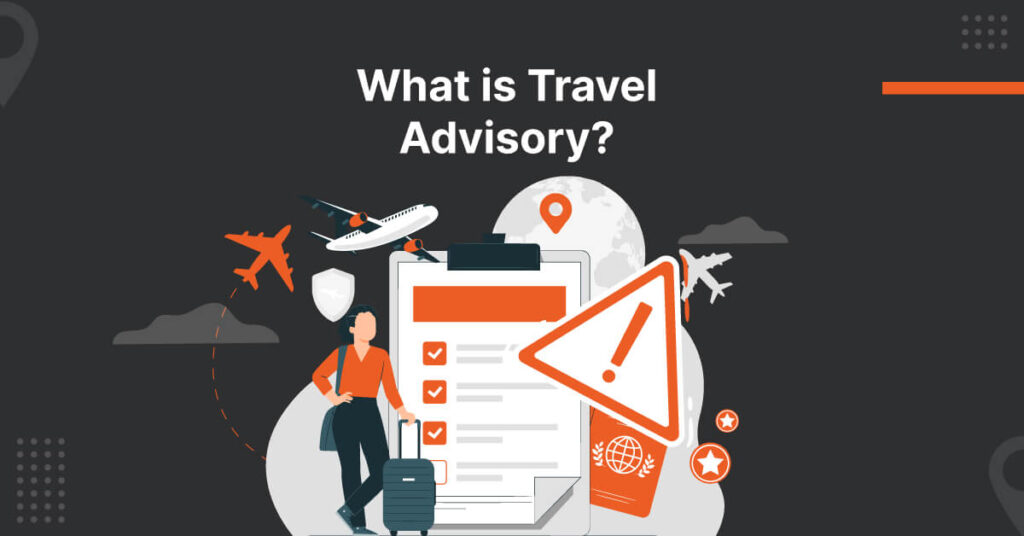 Business travelers and leisure tourists these days visit various countries throughout the year. Hence, government agencies in various countries ensure the general safety of business and leisure travelers by issuing travel advisories, travel warnings, or travel alerts. They deliver different levels of travel advisory in the form of official warning statements.
Let us understand what travel advisory is and its importance for travelers.
What is Travel Advisory?
A travel advisory is a set of guidelines issued by government authorities informing citizens about the safety situation of a foreign destination and the visitors about their country's travel regulations. It provides the latest updates on matters concerning terrorism, civil unrest, political instability, public health and safety, and natural calamities.
Moreover, a travel advisory also tells you how to find help if you encounter any emergency at an unfamiliar destination.
Here are some aspects covered by a travel advisory:
Travel safety and security measures
Destination-wise entry and exit requirements
Public health conditions
Climate conditions, weather reports, and details about natural disasters
Destination-wise information about the laws, customs, and etiquette
Nearest embassies' list, contact numbers
The latest travel advisories are available on a country's official government websites. If you are a traveler, you can read the updated travel advisory and plan your work or leisure trips accordingly.
Alternatively, if you are a travel manager, you can read the travel advisory to improve the company's duty of care plan. Moreover, you can create a risk assessment checklist according to the advisory's guidelines and give it to your employees to assess their safety before travel.
Here is a customizable travel risk assessment checklist template you can use.
Who Issues a Travel Advisory?
A travel advisory can be issued by various governing organizations concerned with the health and safety of travelers and citizens. Here is a broad classification of such organizations:
Government Agencies
Government agencies on central and state levels are concerned about the health and safety of the citizens. Hence, they issue a travel advisory to ensure citizens don't travel to unsafe destinations. Moreover, they also aim to inform travelers from other places about their jurisdiction's entry and exit requirements.
Here are a few examples of government-issued travel advisories:
International Administrative Organizations
International administrative organizations like the United Nations and the World Health Organization issue regular travel advisories for worldwide emergencies. Such advisories are not specific to any particular region or group of people. They are more generalized and comprehensive.
Moreover, such international organizations also keep a repository of government websites for updates on the general conditions of countries.
Here is an example of a WHO-issued travel advisory:
How is Travel Advisory Developed?
A travel advisory is developed based on an objective assessment of global travel-related risks. Firstly, government agencies and other authorities analyze the risks and create comprehensive guidelines for travelers.
Then, the authorities divide the advisory into four levels based on the presence of the following threats to safety and security:
Different Levels of Threat
1. C- Crime
The destination faces a lot of violent or organized crime. The local law enforcement authorities in these destinations have a limited ability to regulate criminal activity.
2. T-Terrorism
Major terrorist attacks have occurred in the past, and the threat of terrorist activities persists.
3. U-Civil Unrest
The destination may face significant violence and disruptions to safety due to social, religious, or political instability.
4. H-Health
A disease outbreak has disrupted the country's medical infrastructure.
5. N-Natural Disaster
The destination is facing danger due to a natural calamity or its aftermath.
6. E-Time Limited Event
The country has a short-term event that poses a threat. The event can be an election, religious activity, or a sporting event.
7. O-Other
The country is facing any other less common but equally dangerous potential risks not covered by the previous categories.
Lastly, the authorities regularly update the travel advisory according to the developments in health and safety situations. The changes can range from protests in a country's particular region to a global pandemic like Covid-19. However, if there are no significant changes, the travel advisory may remain unchanged for a long time.
What are the Levels of Travel Advisory?
Government agencies classify travel advisories into the following four levels based on risk:
Level 1- Exercise Normal Precautions (Blue)
This travel advisory level depicts the lowest safety and security concerns. If you are planning to visit a country with a level 1 travel advisory, you are not required to take extra precautions. However, you must keep the following in mind:
Check the local news for changes in safety situations.
Be aware of the local customs.
Ensure you fulfill all the entry and exit requirements.
Level 2- Exercise Increased Caution (Yellow)
The Level 2 travel advisory indicates a heightened risk to travelers' safety. In such cases, authorities prescribe travelers to exercise additional caution. If you are traveling to a place with a level 2 advisory, keep the following in mind:
Understand the fundamentals of the destination's political situation.
Familiarize yourself with dangerous areas, types of crime, and special precautions for women and LGBTQI travelers.
Monitor the changes in the destination's travel restrictions.
Stay in contact with trusted personnel. It can be a friend or family member if you are traveling for leisure or a travel manager in case you're on a business trip.
Level 3- Reconsider Travel (Orange)
Destinations with a Level 3 advisory pose a severe threat to the safety of travelers. The risks in these destinations can be potentially life-threatening and make the visit unsafe due to the following:
Ongoing threats of terrorism
Severe health emergencies like Covid-19
Frequent violent crime incidents
Other significant safety risks like abduction and armed conflicts
Hence, the authorities advise travelers to postpone all non-essential travel.
However, if it is essential for you to travel to a country with level 3 travel advisory, you must take the following precautions:
Conduct detailed research about the local security situation before booking.
Recheck if your travel insurance plan covers Level 2 destinations.
Investigate the availability of health services.
Prepare an up-to-date will of your possessions and update insurance beneficiaries.
Pre-book safe accommodation. You can contact a trusted travel agent if traveling for personal reasons. Alternatively, you can use travel management software that offers an inventory of safe hotels for business travel.
Prepare alternate travel plans for contingencies.
Don't share your travel arrangements with strangers in real life or on social media.
Level 4- Do Not Travel (Red)
Level 4 pertains to the highest degree of travel risk. Travelers visiting destinations with a level 4 advisory are most likely to face a life-threatening situation like imprisonment, kidnapping, serious injury, or even death. Moreover, the governments have minimal ability to assist during emergencies.
Therefore, the authorities advise travelers not to travel to such destinations or leave the place immediately if they are in the middle of their visit.
If you visit a country with a level 4 advisory under unavoidable circumstances, you must adhere to the following guidelines:
Recheck the terms of your travel insurance plan. Most plans will not cover "Do Not Travel" destinations.
Consider hiring private security personnel.
Prepare a detailed travel risk management plan.
Create a will to distribute your possessions.
Exercise extreme caution while interacting with other people.
If you die while visiting a "Do Not Travel" destination, your travel insurance plan might not cover you. Hence, your family will be left responsible for dealing with multiple formalities to bring back your remains to organize your funeral.
Whether traveling for leisure or business, you must go through the travel advisory level to be better prepared. If you need a concise version of the detailed guidelines, you can check out our monthly Travel Realities series by clicking on the button below.
What is the Difference Between Travel Advisory and Travel Alert?
Although often used synonymously, travel advisory and travel alert are different kinds of warning. A travel alert is a short-term warning about a specific event. For instance, if a country is facing mass protests over the current government's decision, the governments of other countries and international authorities will issue a travel alert warning travelers to stay out until the protests settle.
Alternatively, a travel advisory gives specific safety information about a long-term concern. For instance, governments will issue a travel advisory for a worldwide health emergency like the Covid-19 pandemic.
The fundamental difference between a travel advisory and a travel alert is duration. Travel advisories have a more extended expiration date than travel alerts.
Is Travel Advisory Legally Binding?
A travel advisory is issued as a set of recommendations from the authorities to protect travelers. However, most travel advisories do not contain prescribed penalties for failure to comply. Hence, travel advisories are not legally binding.
However, if you visit a destination with risk level 3 or 4, there is a high chance of facing a life-threatening risk. Additionally, most leisure and business travel insurance plans do not cover regions that the governments consider unsafe. Therefore, complying with travel advisory guidelines is a wise decision from safety and financial standpoints.
Why do Travelers need Travel Advisory?
With a travel advisory in place, travelers can get a comprehensive view of the safety situation of any destination. They can determine if the place they are going to visit has social, health, or other safety concerns.
Based on this information, they can either avoid visiting or make all the necessary preparations to ensure their safety. Moreover, female travelers can determine if they require any additional precautions.
Other than that, companies sending their employees on a work trip can make necessary updates to their corporate travel security policy.
2. To Book Safe Options
Booking a safe mode of transportation and place of stay is essential to ensure safety while traveling. Travelers staying in a safe locality can return unharmed even if they visit a high-risk country.
A travel advisory lists safe and unsafe places. Hence, travelers visiting unfamiliar destinations can get an overview of where they can book their accommodation. They can also determine which modes of public transportation are the safest to take.
3. To Avoid Statutory Violations
Although travel advisories are not legally binding, they contain information about the statutory travel requirements and the penalties for violating them. For instance, during the Covid-19 pandemic, all travel advisories listed wearing masks and social distancing as a legal necessity. Moreover, the advisory guidelines contained the fines travelers would have to pay if they failed to comply.
Therefore, reading a travel advisory before trips can help travelers avoid statutory violations.
Travel Advisory Helps Ensure Travelers' Safety
The global socio-political, health, and safety conditions are highly dynamic. Hence, traveling to unfamiliar places, whether for work or personal reasons, can be daunting. Reading a travel advisory can help you pre-assess any risks you may encounter and make necessary preparations.
If you are a travel manager responsible for employees' safety during business trips, you can manage travel risk better with travel management software like ITILITE. The ITILITE platform offers travelers tracking and 24/7 live customer support to help your employees have a seamless business trip.
Get a free demo of ITILITE to get a first-hand experience of these features and more.