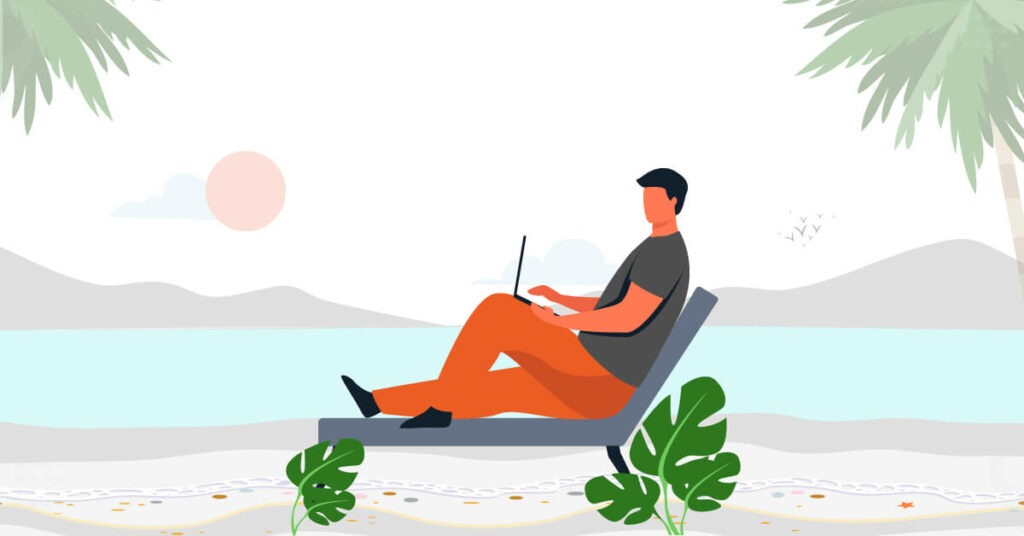 You might have heard of the term work, vacation, and sabbatical leave. But have you ever heard of the term workation? The last two years have changed the way employees work. Remote working became the new normal, which gave rise to new buzzwords such as work from home and the latest trending buzzword being 'workation.'
To know more about workation, read on.
What is a Workation?
The word workation combines 'work' and 'vacation.' It means working from remote tourist locations instead of the office. Workation was a growing trend for the digital nomad community a few years ago, and until 2020 this new concept skyrocketed.
In a workation, employees can decide to work from anywhere, including mountains, beach resorts, etc. Employees generally spend several weeks or months in the same destination and move to another location while keeping their work 100% remote.
Types of Workation
Not all workations are the same. There are different types depending on how long they last:
Short-term Workation
It usually lasts for a few days, like 4-5 days, or a mid-week trip. In a short-term workation, employees generally travel to nearby places to return quickly.
Medium-term Workation
It generally lasts from a few weeks to almost a month. Here, employees go to places far away from their homes but usually within the state or country.
Long-term Workation
Long-term workation lasts from several months to a couple of years. Employees are temporarily relocated to another country. For this, they require special work permits or visas.
Apart from the workations based on duration, there are two other types depending on the number of people involved:
Group Workation
Sometimes, companies organize a workation for a group of employees. They plan the location and organize all the arrangements required for it, which lasts from a few days to one week.
Solo Workation
Solo workation is when employees go on a trip by themselves. It allows them the flexibility to book their stay and work at their convenience. Here, employees need to make their own arrangements and deal with any unexpected situations that may arise.
Why are Workations Becoming Popular?
The pandemic played a major role in the rise of workations which is now becoming a popular concept. According to a 2021 poll by Forbes, 74% of Americans working from home said they would consider going on workation.
The reason for this is pretty clear-a good work-life balance. While working from home, most employees find it difficult to manage their work and personal life as they end up working for long hours and also have to manage household chores, leading to burnout and stress.
However, with changes in location and flexible working hours, employees feel rejuvenated and peaceful. Additionally, technological advancements and office productivity tools have made it easier for employees to work on important projects, even from remote locations, while simultaneously enjoying a break from the hustle and bustle of daily life.

How to Plan your Workation?
Planning a workation is different from planning your vacation. Even though some aspects may be the same, there are a few additional things that employees must consider:
1. Select a Good Accommodation
You must select an accommodation based on budget, safety, convenience, and facilities available.
Luxury Resorts
Luxury resorts are one of the most preferred choices for a workation. These are situated in the most beautiful locations with excellent amenities. While working from a resort, employees can work with a gorgeous view of the mountains/beaches, besides a swimming pool or in the garden area. Such kind of setup will make them feel comfortable and relaxed.
Rustic Homestays
For employees who prefer a nature retreat with simple home-cooked meals, uninterrupted Wi-Fi, and eye-pleasing views from their quaint little workstation, then staying in a homestay is the best option. They are also very budget-friendly.
Hotels
Some business professionals choose to stay in a hotel for convenience. Hotels provide all the amenities, such as free wifi, a spacious room with a worktable, and other essentials. Employees who cannot afford to work from a luxury resort can choose to work from hotels as they are cheaper and provide almost the same amenities.
2. Ensure Strong Network Connectivity
A stable network connection is one of the prerequisites when choosing a destination. Working without a good internet connection can land you in trouble during an important meeting with a client.
Therefore, employees must choose a location that provides excellent internet connectivity and good mobile network coverage. A place with good network connectivity will make a workation go smoothly.
While going on a workation, it is crucial that employees carry all the necessary pieces of equipment required, such as a laptop stand, portable wifi if required, a hard drive, noise cancellation headphones, a power bank, and other things. Finding a spare one or borrowing from others may be difficult if they forget to carry them.
4. Choose the Best Season
While planning a workation, it is crucial that employees choose the right season. For instance, working from places with heavy rains can sometimes disrupt network connectivity, and harsh summers can make employees feel exhausted. Therefore, it is essential to research while planning.
Benefits of Workation
Employees get the following multitude of benefits.
1. Improves Productivity
Workation can greatly improve employees' mental health and increase productivity. This is because they don't have to commute to work daily, have fewer distractions from office activities and extended lunch breaks, etc.
A change of scenery from the regular workstation can help employees focus and work better, thus improving productivity.
2. Improves Well-Being and Reduces Burnout
It helps employees explore the surrounding areas before or after work which will make them feel relaxed, which otherwise can leave them stressed because of the hustle-bustle of daily work life. Working in a remote location with beautiful surroundings also reduces physical and mental exhaustion.
3. Enhanced Quality of Work
Workations also enhance the quality of work. When employees have less pressure and stress and are more relaxed, they can work more efficiently and produce better work results. It will also avoid any backlogging of work.
4. Helps Employees Grow Professionally and Personally
When you go on a workation, employees get to meet many working professionals and like-minded individuals. They can interact with them and discuss each other's work and interests, which also helps in networking.
When they are not working, they can also explore nearby places with others, which will help employees grow as individuals and refresh their outlook toward various things in life.
5. Return to Work Rejuvenated
The geographical disconnection from the daily office environment has loads of benefits similar to taking a long break. Most employees feel that coming back from a workation makes them feel refreshed, relaxed, energetic, and with a new sense of purpose.
Challenges of Workation
While workation has its share of benefits, it also comes with certain challenges. Let's take a look at some of them:
1. Incurring Additional Costs
Workation can be costly, especially if employees choose to stay in a luxurious resort or hotel and want to extend their stay. Additionally, if they are on medium-term or long-term workation, traveling from one place to another and exploring different places, cuisines, etc., can add up to their costs.
2. Lack of Regular Routines
One of the major challenges is that employees are away from their regular routines. They may be used to going for a jog in the morning or hitting the gym after work, but in workation, it is difficult to follow. They must settle quickly into a new environment to start their work.
Be Prepared for your Next Workation
Workation, although not a fairly new concept, has lately become a new trend because of the multitude of benefits it offers to both employees and employers. The Covid-19 pandemic changed how people work, and it is no doubt that workations will continue for the next few months and years.
If a workation suits your company, then planning one can help provide your employees with new working environments and boost employee productivity. ITILITE's business travel management platform can help your employees book their travel as per your company's budget. We also offer 24/7/365 business travel support to them while they're traveling.
Get a free demo of ITILITE to try the various features yourself.