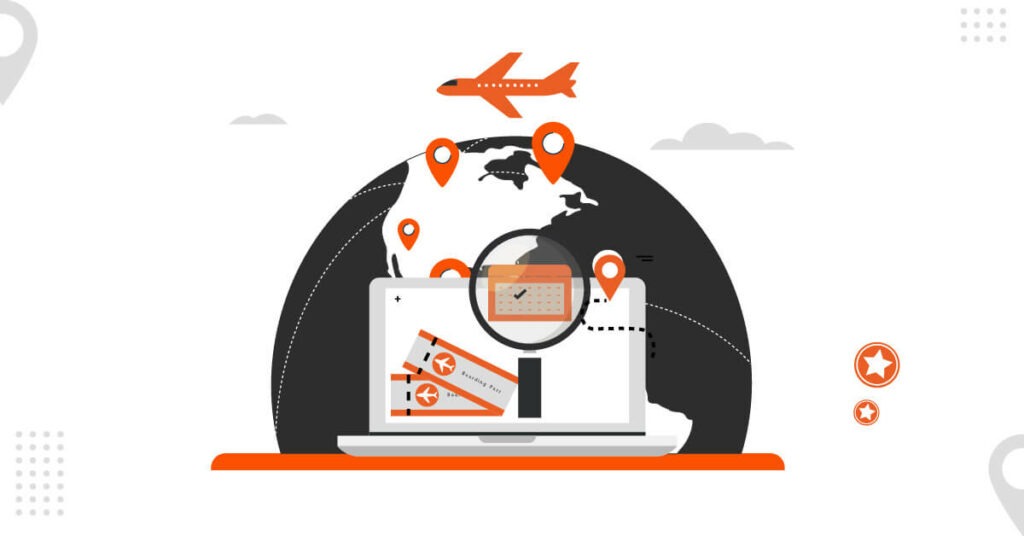 A study conducted by Statista reveals that the global business travel industry is expected to grow by 188 percent by 2028. Hence, with the increasing demand for business travel, companies are now looking to shift toward tools and services that will help accommodate this increasing volume of travel.
One way to do this is by adopting a travel management software. An online travel software not only helps you optime your travel management process but also helps you save a lot of time, money, and effort. 
Mentioned below are some of the online travel management software advantages over traditional methods:
1. Helps Reduce Costs
One of the most significant online travel management software advantages is it helps reduce business travel costs. The traditional method of managing business travel involves a lot of manual work and manpower to collate travel data, book flights, and hotels, analyze travel KPIs, manage multiple travel itineraries, and many more. More resources mean more costs. Moreover, it is very difficult to identify any areas of cost leakages with traditional methods.
Online travel software can help you reduce business travel costs significantly. The software automates most of these processes, which allows company owners and the finance department to reduce costs incurred on the workforce. Additionally, the software also provides you with in-depth travel insights such as travel spending, last-minute bookings, employee and department-wise spending, out-of-policy bookings, and many more.
This helps you identify areas of cost leakages and optimize costs. Hence, with the help of this software, you can actively keep track of all your expenditures.
2. Increases Efficiency
Travel managers can find the traditional approach to making travel arrangements for employees to be a tedious task. This is because they need to navigate multiple external websites to explore flight and hotel options before selecting the appropriate one. Moreover, they have to manage travel itineraries for multiple employees and keep tabs on all the expenses.
By opting for online travel software, you can get all flight and accommodation options in a single platform. In addition, the software features a user-friendly interface that enables your employees and travel managers to make reservations for everything using a single platform. They can even manage/modify itineraries and manage business travel expenses.
Additionally, online travel software provides real-time updates about flight delays or cancellations, allowing travel managers or employees to adjust travel plans as needed.
3. Instant Access at Any Time
While traveling for business purposes, your business travelers may require access to vital travel documents and the ability to modify their itineraries or update information while on the go. However, with a traditional method, this may not be possible as they have to get in touch with the travel manager for every minute change. This can cause delays in business activities and can be very overwhelming for both travel managers and employees with so much to do already.
You can overcome these issues with the help of online travel software, as all the data is stored in a cloud server. All you need to have is a stable internet connection. This is highly beneficial for both travel managers and employees.
From any location and at any time, employees can access travel documents, upload them, modify their itineraries, and even submit expenses using any device. On the other hand, travel managers can instantly approve expenses or itineraries and track employees from anywhere. This flexibility helps you with your business travel management process.
4. Ensures Smooth Data Flow
In your company's business travel management process, different departments, such as HRs, travel managers, accounting teams, admins, etc., should be involved. Generally, these departments use their individual applications or software for managing data.
However, to extract data, they must do it manually from other systems. For instance, if travel managers have to look at employee spending, they must get in touch with the other departments, or for any personal details of employees, they should contact the HR department. This traditional method is very hectic and takes too much time.
You can ensure a seamless data flow with online travel management software. The software easily allows you to integrate with various third-party applications. For instance, if HR updates any information, then everyone can access the information simultaneously. This ensures seamless data flow across all platforms.
5. Helps Reduce Errors Significantly
The traditional method of managing business travel involves repetitive tasks such as transferring data from one system to another and then analyzing them. Moreover, while managing receipts, employees have to physically collect all the receipts and submit them to the travel manager. They have to store these receipts and then carefully enter the details on the spreadsheet.
This process can result in high data-entry errors as it involves a lot of manual work. Even a small mistake can significantly impact your company's financial performance.
However, one of the online travel management software advantages is the reduction of data entry errors. With the help of online travel management software, you can automate these tasks and reduce errors and inaccuracies significantly. Additionally, the software also has Optical Character Recognition (OCR) technology which automatically extracts data from paper receipts and invoices, saving you time and effort from entering data manually.
6. Provides Employees with a Self-Booking Option
In the traditional method of managing business travel, employees cannot book flights or hotels by themselves. The travel managers must do it. With so many employees going on business trips frequently, it becomes difficult for travel managers to book hotels and flights as per employees' preferences while also complying with the company's travel policy. This process can be very tiring.
However, your travel managers need not worry; online travel management software provides employees with a self-booking option. When business travelers book their travel using this software, they get a wide range of travel options that will allow them to modify their trips as per their preferences while also being compliant with the company's policies. This also saves a lot of time for travel managers.
7. Ensures Travel Policy Compliance
With a traditional system to manage business travel, it becomes very challenging for company owners and travel managers to ensure policy compliance. This is because they have to manually verify to see if all employees have followed all the rules mentioned in the travel policy, which can be exhausting.
Hence, online travel management software helps you with policy compliance. Whenever your employees want to book their travel, they can get to see if the hotels or flights comply with the travel policy or not. Even if they manage any out-of-policy booking, the request is immediately sent to the approver, who can accept or reject it.
Additionally, in the software, you can customize the travel policy based on employees' preferences, and any update in the travel policy will be shown to them in real time.
8. Streamlines Approval Process
In the traditional method of business trip approval, employees must first mail their travel manager about the details of the trip, who will then verify it and send it to the accounting department for cost approval. But, travel managers and the accounting department, on a daily basis, receive thousands of such requests.
Moreover, different business trips require different types of approvals, which can create confusion among employees. Therefore, trip approval takes a lot of time.
With travel management software, you can streamline your approval process. Once the employee submits the request for trip approval, the approver is instantly notified about it. He/she can quickly review the trip request and approve it. Moreover, you can customize the approval process in such a way that a particular type of business trip can be directed to a particular person.
This helps prevent any delay and further streamlines your approval process.
Bid Good-Bye to Traditional Methods and Switch to Online Travel Management Software
The advantages of travel management software are clear. Whether you are a small business or a large business, using software can help you save time, reduce costs, and improve the overall travel experience for your employees.
If you are considering upgrading your travel management system, ITILITE is your ideal choice. ITILITE is an advanced SaaS-based travel management software that offers a wide inventory of travel options, helps you customize your travel policy, helps in cost reduction, ensures policy compliance, among many others. Moreover, our software offers an intuitive user interface where employees can book everything in one place.
To know more about ITILITE's advanced features, get a free demo now.