Navigating the Post-COVID World: A Checklist​
May 13, 2020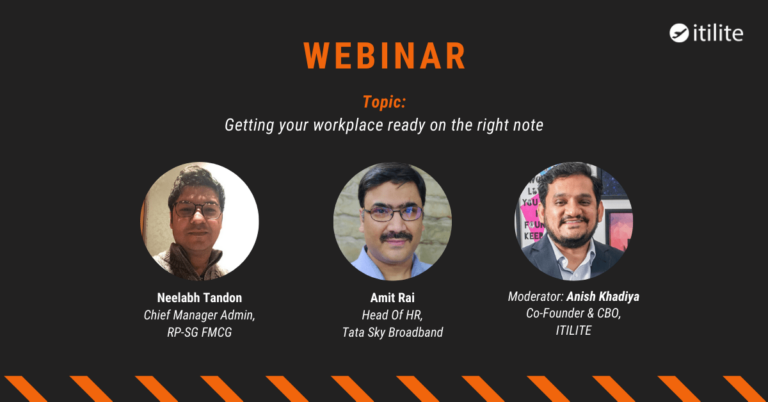 "We must get things back on track"
All companies today are echoing this thought, as an economy that had come to a complete standstill is now moving towards being active again. Everyone is talking about the "New Normal" but very few people have actually thought about what this will mean for each one of us.
There are a lot of changes on the way for companies:
Organizational roles and responsibilities are changing
Companies are shifting priorities
Basics of workplace interaction & operations are changing
At a webinar conducted recently with Neelabh Tandon – Chief Manager Admin, RP-SG FMCG, Amit Rai – Head Of HR, Tata Sky Broadband, and Anish Khadiya – Co-Founder & CBO, ITILITE, there were some great ideas that came out about the changing workplace, and some things were clear:
Admin and Human Resources teams are going to lead the way towards operational goals now
Employee-focused planning will be key to safeguarding workplace and business operations
Collaboration will be key to recovery – Find partners who can deliver the best impact rather than do it yourself
Go through the webinar "Getting Your Workplace Started on the Right Note" now, and see what you need to do, to get started towards this shift, and to lead your teams into the New Normal.
Author
:
Team ITILITE
Get the latest in your inbox
Subscribe to the Itilite blog and never miss a post!