Webinar Recording: Getting your Workplace Started on the Right​ Note
April 30, 2020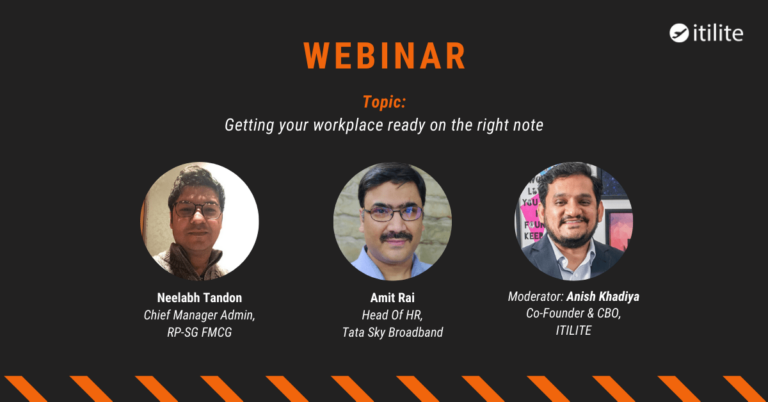 The World Health Organization says that the Coronavirus will be a part of our lives for a long time to come. In that context, restoring regular operations will not be as easy a matter as it may seem, in this new world. If we are to rally back, the future will have to be a collaborative one, not only within companies, but across the business ecosystem.
So, we at ITILITE took up the challenge to contribute towards building a community of active advisors for business leaders & owners who are looking to get back to work with renewed vigor. We began with a webinar: Getting Your Workplace Ready on the Right Note to discuss what we need as businesses, and business leaders on getting back to the work on the right note.
We had some great speakers with us: Mr. Neelabh Tandon, Head – Admin, RP-SG FMCG (previously with foodpanda & American Express) and Mr. Amit Rai, head of HR, Tata Sky Broadband (earlier with Hindustan Coca-Cola Beverages Pvt. Ltd.) and Anish Khadiya, Co-Founder & CBO, ITILITE

The webinar led to some great insights, and thought starters from our panelists, and visibility into what companies are doing, and what integrations we can include in our own plans.

Author
:
Team ITILITE
Get the latest in your inbox
Subscribe to the Itilite blog and never miss a post!