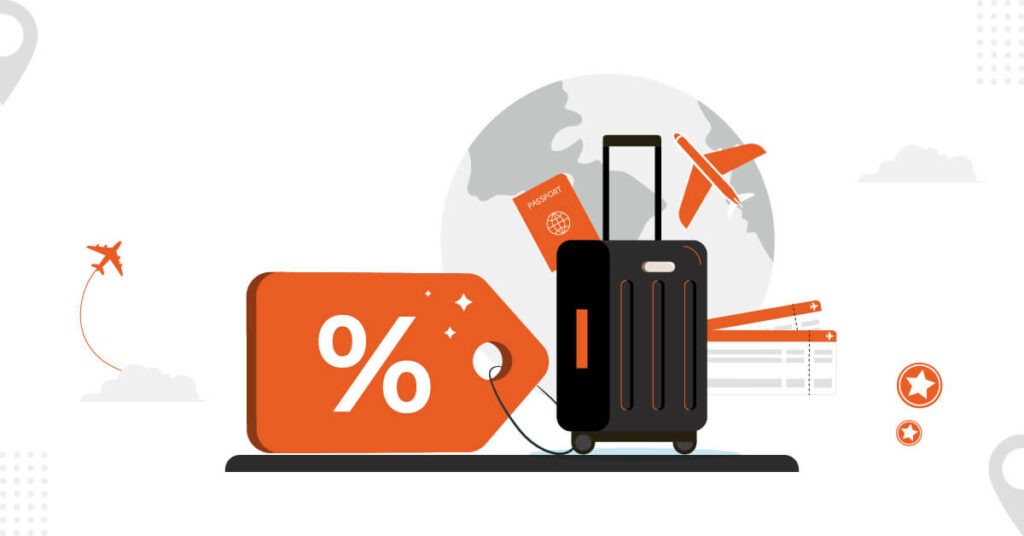 Travel can be a significant expense for businesses, especially those requiring their employees to travel frequently. And in today's rapidly growing business travel environment, increasing cost savings is crucial for organizations to remain profitable and sustainable. Hence, companies are always looking for effective measures to help them manage and save on business travel expenses.
This is where travel managers can leverage business travel discounts to save money and make the most of their company's travel budget. There are several ways to maximize travel discounts, right from negotiating with various vendors to utilizing credit card rewards and signing up for loyalty programs.
Let's see how travel managers can maximize business travel discounts.
1. Plan In Advance
The first step may seem obvious, but planning and researching travel options well before a business trip is important. Allocate additional time to compare the prices of whatever you want to book, be it flights, hotels, rental cabs, etc. This will give you an idea of how much the prices vary from one another.
By planning in advance, you can leverage early booking discounts and other promotional offers available. Additionally, you can choose the best available dates and times for your employees to travel, which can help you save business travel costs.
For instance, employees traveling on weekdays instead of weekends can get you affordable rates.
2. Partner with Hotels and Flights
During business travel planning, travel managers make the mistake of not looking for opportunities to partner with hotel and flight vendors.
However, when you partner with certain hotels and flights, you get to enjoy their corporate rates and discounts. Most hotel and flight vendors do not openly advertise their corporate travel discounts. Hence, don't be afraid to ask for any preferential rates. Negotiate with hotel and flight vendors if you weren't expecting such high rates.
When you reach out for negotiation, write to your preferred hotel or flight and their alternatives. This will help you benchmark not just rates and discounts but also the amenities. If the alternates are providing better rates, then the travel manager can use it as a comparison to negotiate with your preferred hotel or flight.
You can also negotiate by identifying the top destinations employees often travel to and their frequency. For instance, Los Angeles is one of the top destinations your employees often travel to. Then you must find out what the average costs for hotels and flights are. Based on that, you can negotiate.
Based on this, hotel and flight vendors can offer you business travel discounts which you can leverage. This helps you save money and optimize your business travel management.
3. Sign Up For Loyalty Programs
Loyalty programs are a great way to maximize your business travel discounts. Many airlines, hotels, and car rental companies provide loyalty points or miles for every dollar you spend.
For example, Radisson hotels provide Radisson Rewards for frequent domestic travelers. They also have a program for international travelers where travelers earn 20 points per dollar spent at Radisson.
Similarly, many passenger airlines offer airline loyalty programs or frequent flyer programs to keep their customers loyal to them. They usually have an 'earn and redeem' design, where business travelers can get a membership (mostly free) and earn miles and points every time they fly.
Some airlines with the best airline loyalty programs include Delta Air Lines, American Airlines, United Airlines, and Lufthansa, among many others.
By signing up for these loyalty programs, travel managers can earn points or miles on behalf of the company for business travel and use them to offset the cost of future travel. Additionally, some loyalty programs offer perks such as free checked bags, priority boarding, and room upgrades.
4. Leverage Travel Rewards From Credit Card Companies
Using a credit card that provides rewards for any travel purchases is another way to maximize business travel discounts. These credit cards are known as business travel credit cards or corporate credit cards. Many credit card companies offer products for business travel with various perks, such as getting cash back or earning points on your purchase.
Travel managers can help employees redeem these rewards for free flights, hotel stays, and rental car services, which will help you save a lot of money. When you register and use such credit cards, you're likely to get the following:
Cheaper rates for flights, hotels, transport, etc.
A point-based loyalty scheme for using certain services
Access to VIP or business lounges at airports for business travelers
5. Take Advantage Of Group Travel
Most travel managers may overlook this, but taking advantage of group travel helps maximize business travel discounts. If you have many business travelers traveling for the same event, instead of booking hotels or flights individually for each person, you must try to book as a group.
When multiple employees travel together, companies can often get subsidized rates/group rates on hotels, rental cars, and flights. This will help travel managers save significantly on travel expenses and stick to the company's travel budget.
Flight or hotel vendors typically offer these group rates to incentivize companies or travelers to book their services. These rates are much lower than the individual rates, which can provide your company with better savings while maximizing travel discounts.
For instance, airlines may offer discounted prices for many employees traveling together, or hotels can provide a deal on group bookings for any business event.
However, to leverage these corporate travel discounts on group travel, the company's decision-makers must first identify the employees traveling together and their travel needs. Based on this, you can reach out to hotels or flights and negotiate for group rates.
6. Make Bookings on Weekdays
According to GBTA, global travel prices are predicted to increase in 2023. Flight prices will increase by 8.4%, hotel rates by 8.2%, and rental cabs by 6.8%. With the surging prices for flights and hotels, your company should carefully consider making business travel bookings.
One way to do this is by booking flights or hotels during the weekdays. This is because 99% of the time when you book on weekends, flight and hotel prices are much higher.
Booking flights and hotels from Monday to Thursday is typically cheaper than weekend bookings. According to an analysis from the team behind Google flights, you can save up to 1.9% when you book flights on Tuesday, Wednesday, and Thursday.
Business Travel Discounts Can Help Your Company Save Costs
Reducing business travel costs is a major challenge most companies face. Especially post-pandemic, companies are seeking ways to reduce their business trip expenses. A better way to do this is by maximizing business travel discounts outlined in this blog.
You can also maximize business travel discounts by taking the help of a travel management company (TMC) such as ITILITE. At ITILITE, we help you get better corporate deals and discounts as we partner with leading flight and hotel companies from the industry. Our SaaS-based travel management software provides you with an extensive inventory, quick booking options, and personalized travel recommendations.
Book a free demo with ITILITE to learn more about our advanced features.