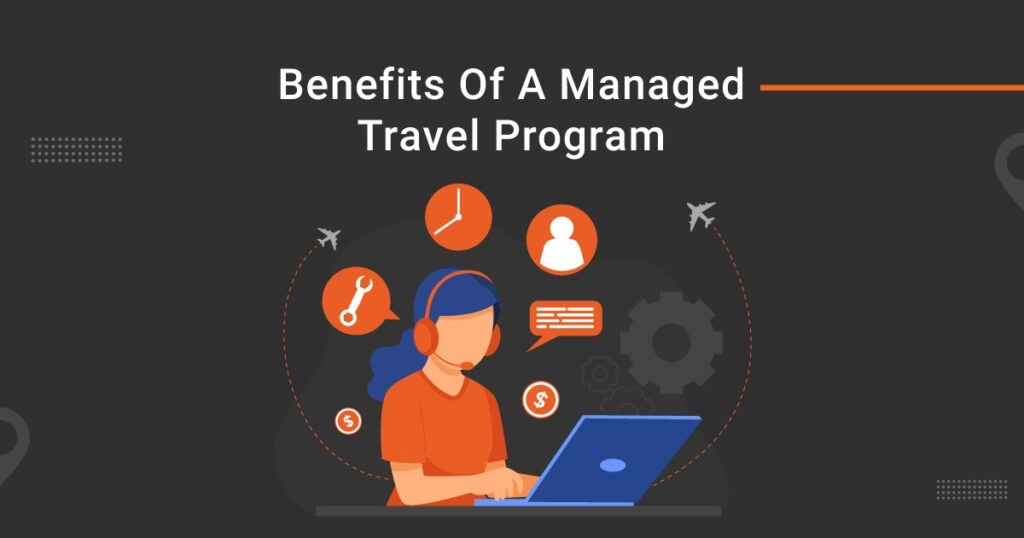 While many businesses feel that airfares and hotels can be found online, the cost does not constantly indicate total savings. A managed travel program balances the needs of a traveler with the goals of the company. It helps in streamlining the business travel processes and continually decreases travel spending for your company. While an employee enjoys convenience and comfort, a company can control travel expenses and meet their duty of care obligations.
In this blog, we will discuss the difference between a managed and an unmanaged travel program and how moving to a managed business travel program can help you save.
What is a Managed Travel Program?
A managed travel program is when a business outsources its employee travel logistics either through a TMC (travel management company) or a travel management solution.
The travel partner handles anything and everything concerning business travel so businesses can focus on other important tasks. It provides both advanced travel software and human support for easy corporate travel management. By outsourcing a travel partner, you can simplify the T&E process for organizations and employees.
Difference Between a Managed & Unmanaged Travel Program 
There's a lot of difference between a managed and unmanaged travel program.
An unmanaged travel program is when employees book their flights, hotels, car rentals on their own usually via the consumer sites or directly from the hotel or airline they prefer. This can lead to higher costs for the company as the employees are booking what they want without any guidance or support.
Also, there are times when they reach a bottleneck while getting approvals for their bookings which leads to higher costs as airfares and room rates increase. From a business perspective, the finance manager does not have any visibility over the travel spending until the employees submit reimbursement, post-trip.
Moreover, you would require more staff (travel administrators), as the number of employees traveling for business increases.
A travel managed program, on the other hand, helps address all these issues proactively. Modern travel partners handle all types of travel bookings for your employees, saving everyone time.
While a TMC usually handles bookings for your employees, a travel and expense management platform such as ITILITE gives the power to your employees to book their travel via a user-friendly tool. Both ensure that the travel spending is within the policy.
Also, since all the bookings happen from one platform, finance teams have better visibility on the overall travel spending of the company – department-wise, location-wise, etc.
6 Benefits of Switching to a Managed Travel Program
Here are the advantages of using a travel partner for your corporate travel program:
1. Travel Policy Adherence
Employees are often unfamiliar with travel policies, and therefore, adherence is spotty. With a managed travel program, you can make travel policy adherence easier. For instance, the booking platforms used by the TMC or the travel software can apply travel policies in their tool that can alert employees every time they make out-of-policy bookings.
2.  All Travel Data at One Place
When everyone starts booking from one place, you get consolidated travel data that will enable you to analyze the travel spending of your company. It will provide insights into travel patterns so you can make strategic decisions to help reduce costs.
Apart from reporting on cost savings, you can see where there are opportunities to build better efficiencies and approaches. For instance, if you find that your employees are using a specific car rental service frequently, you can collaborate with them and ask for group discounts.
3. Availability of Best Corporate Rates
Modern travel partners use advanced technology that provides your employees access to the best fares and rates not available on public internet sites. Apart from this, they also provide information on flight upgrades, waitlist clearances, and preferred seat assignments for your employees.
4. Efficient Booking & Other Travel Technology
While there is no doubt about the cost-saving benefits of a managed travel program, there are also significant traveler and travel arranger benefits. Both TMC and T&E management software allows you to use technology to empower your employees to take charge of booking and amend their travel. They provide them with travel options that fall within their policy.
When it becomes easy for your employees to self-book the options that meet their needs and stay within your travel policy, compliance increases. Whether they book travel online or offline, they benefit from a vetted and efficient single-source travel booking process. Other features that a travel partner provides include:
Experienced and dedicated travel professionals available 24*7 – Just in case you need any help or meet with any emergency, you can contact the help that is available 24*7 via multiple channels such as chat, call, etc.
Access to everything via a mobile app – Your employees can book, cancel, change, fill & send expense forms, get help – all from one app
Subject matter experts on call for all domestic and international travel needs – Your travel partner teams can provide insights on the travel guidelines, and how you can optimize your travel spend and make cost savings while getting a great travel experience
5. Duty of Care & Risk management
Whether your employees travel domestically or internationally, there are chances of risk especially post-COVID. Risk management is necessary to monitor employees from initial trip planning through their return. A travel partner lets you include your duty of care program for the safety of employees. You can:
Send alerts, do one-on-one communication when flights are canceled or in case of emergencies
Monitor and locate employees on the road with 24/7 travel dashboards
Get access to medical and evacuation service
6. Continued Improvement
With a managed business travel program, you can ensure that your company receives the return you make on your travel investment. With streamlined travel management, you can ensure that your travel plan is being followed by all the employees, making them more efficient and productive. And this, in turn, is effectively working to help your company grow on a worldwide stage.
What's the Best Way for your Business to Handle Travel?
Should you choose unmanaged or managed travel for your business? If managed, should you outsource a TMC or integrate a T&E management software? You should pick the option that keeps your employees' safety a priority and helps you save money.
Here are a few indicators to look out for to know if managed travel program is right for you:
Administrative bottleneck when employees submit travel requests for approval?
Travel policy compliance declining?
Are employees not satisfied with the travel booking process?
Travel credits going unclaimed as they are not stored in one single place?
Any one of these scenarios is a good reason for you to switch to a managed travel program – the sooner the better.
An integrated travel and expense software such as ITILITE will help you cut down on travel-related costs by giving you access to a global inventory of hotels & flights, dynamic pricing features, etc.
Also, it will help you craft great employee experiences by automating workflows and keeping them safe with the ITILITE Shield feature.
Want to know more? Book a demo with our product expert today!