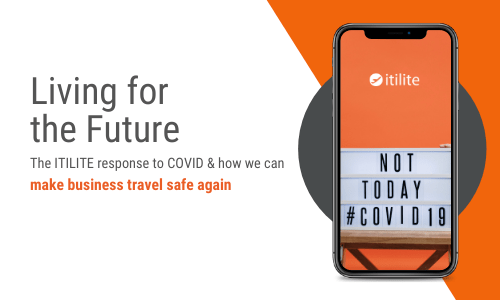 The ITILITE response to COVID, and how we can make business travel safe again
2020 for leadership across the globe has meant one thing: Duty of care.
With the pandemic becoming more and more complex to keep away from, every company has been focused on keeping their teams safe, no matter what.
At ITILITE, we have a duty of care towards every business traveler and our customers, and we take this very seriously. While in the early days, the need was to protect stranded travelers and bring them home safely, we are now looking at a new reality: The restarting of business travel.
Our core focus as we step into the New Normal is that we empower businesses to keep their road warriors safe at all times, but also that we understand the individual, and support them no matter what.
As we looked at the certain revival of travel, we knew that as business travel partners, we were the key piece of the puzzle when it came to keeping teams safe. After all, safety is not only about whether the hotel is clean, or the cab is sanitized. And travel is not only getting on a train, bus, or flight.
There are a few elements to the new normal for business travel, based on which we operated since the pandemic took hold:
> Action
> Information
> Preparedness
Action
The early days were about agile planning & swift action. Travelers were stuck in multiple locations, facing either an unknown risk, or a complete lockdown on movement. The team had only one ask at this time: Bring them home, or keep them safe till they could be brought home.
At the same time, this was when we started building on our insights. Travel was not going to return to a pre-COVID state very easily, so we had to ensure that our plans included a world where we were all living with the reality of COVID. The ITILITE platform had to be prepared for that reality.
Information
There were and still are diverse sources of information, but a data dump is not what a worried traveler looks for. Our aim was to bring verified information from multiple sources to the travelers and the customer companies to help them plan better
Realtime, updates information
As of today, we have added an entire section on the platform which delivers COVID-related updates to each traveler. It does not matter whether they are looking at Mumbai or Tumkur as a destination, the platform informs them of on-ground situations.
COVID-19 Safe Hotel Inventory
In our search results now, travelers can see a 'Safe++' tag for the hotels that are adhering to the highest standards of hygiene safety. The platform now has the largest catalog of business travel hotels that follow the Ministry of Health & Family Welfare' guidelines for hygiene and safety.
These hotels are tagged clearly for every hotel that fits the bill throughout the booking process, and is updated regularly with traveler feedback and regular check-ins with our partners.
Alerts while booking
While raising a trip request, travelers will be prompted with a warning in case their destination has reported a high number of infections in the recent past. This means that even in the case of an essential trip, they are aware that they must be cautious, and can be prepared accordingly
Preparedness
Business travel is at a slowdown, but we are already seeing clear signs of recovery. While the volume is small, the pickup is inevitable, and either way, safety is paramount. We created a "Safety shield" – a set of features and launches that were built off our insights into the gaps in the business travel support available today, and trends we saw taking shape.
COVID-19 Travel Helpdesk
There is a dedicated helpdesk available via a hotline set up for COVID-related issues where travelers can send in emails, or place a call. This team will ensure that any issues faced either while booking, or traveling, as a result of COVID would be speedily resolved. Further, in case of any queries while booking or while traveling, customers can reach out to their ITILITE customer support team and we are available to help at all times.
Massive upgrade to on-road travel
Localized and on-road travel was the first to show signs of recovery, and hence required attention at the earliest.
Not only about business
We realized that people were living away from their family or homes, and would choose to make those trips earlier than business trips. In order to extend the safety and support we gave to busines travelers, we launched ITILITE Clique for personal travel.



Read more about these new launches HERE in the detailed update.

The end goal for us is not only to make sure that we not only address the concerns of today, but protect and prepare for any concern which could arise in the time to come.

Get the latest in your inbox
Subscribe to the Itilite blog and never miss a post!