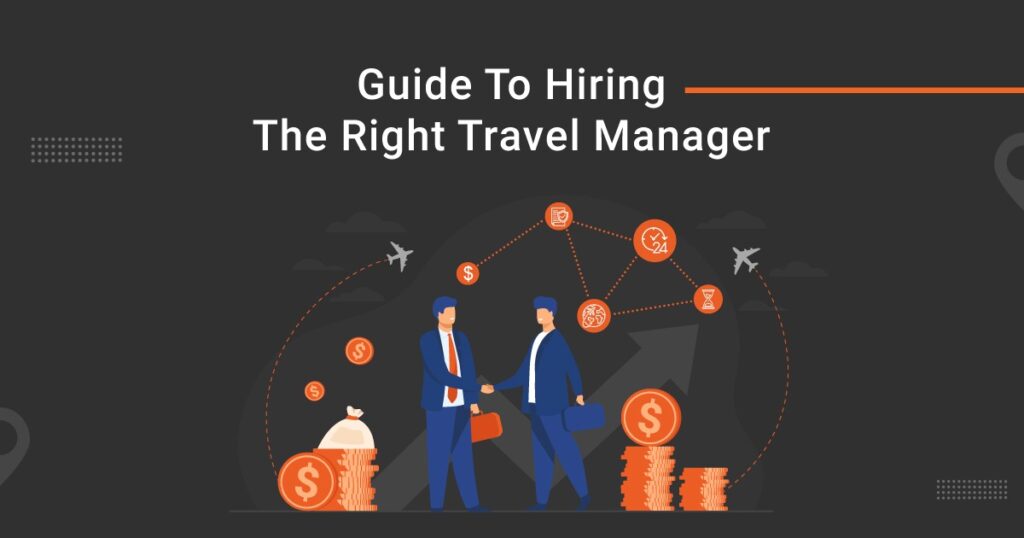 Hiring a corporate travel manager is a must for companies for smooth business travel operations. Not long back, travel managers were only seen in large corporate organizations, but with the ever-evolving landscape of travel, many small to medium businesses are also looking to hire a travel manager. The responsibilities of today's travel managers go beyond simply managing the travel itineraries of executives or writing a corporate travel policy.
This blog will help you understand the roles and responsibilities of a new-age corporate travel manager, and what qualities you should look for when hiring one. Read on!
Roles and Responsibilities of a Corporate Travel Manager  
Here are some roles and responsibilities of a corporate travel manager that you need to know when hiring:
1. Assessing Employee Travel Risk
Apart from drafting the corporate travel policy and ensuring that it is followed by all employees, a travel manager's role today involves risk management. From defining essential travel, assessing if the employee is fit to travel, knowing if the destination is safe to travel, and doing robust scenario planning – they have a lot to do.
2. Making Travel Plans and Arrangements
A travel manager works closely with travel agencies and travel management companies to make business travel plans and arrangements for employees. They are responsible for everything, right from booking cost-saving deals on safe hotels, to flights, to making road trips arrangements so that the employees feel comfortable and safe.
3. Managing & Forecasting Budgets
A corporate travel manager is responsible for managing end-to-end travel expenses. Their role involves setting spending limits, collecting travel receipts, and simplifying finance tracking. Apart from this, they are also expected to provide reasoning and forecast a budget before sending employees on business trips.
4. Analyzing Data
To ensure cost savings for the company, a travel manager must get complete visibility over the travel spend data, timely and accurately, and analyze it properly. They should analyze the ROI of business trips, compare them with previous reports, and suggest any policy or business travel-related changes to the management.
5. Evaluating New Technologies
A travel manager needs to be insightful and introduce new technologies and tools that streamline business travel and expenses, increase employee productivity, and provide better insight into travel-related spending. They are expected to collate information on various travel management software, analyze their offerings and suggest the best one to the management. You can share with them this checklist that will help them choose the best travel management software for your organization.

How to Draft a Job Description for a Corporate Travel Manager?
Hiring an experienced corporate travel manager requires a reasonable budget. Before hiring a corporate travel manager for your company, make sure you have the approved budget of about $70K to $110K (average CTC of travel manager in the USA). After you have an approved budget, draft a job description with the responsibilities and requirements of the travel manager.
Here is a sample of how a job description would look like:
1. Job brief
You are responsible for managing travel logistics and itineraries for all employees. Apart from this, you need to collaborate with multiple travel agencies to ensure that business travel is streamlined throughout the organization. You also have to work closely with the finance department and management to draft business travel policies, travel budget, and duty of care programs in travel.
2. Role & Responsibilities
While your day to day duties may differ across organizations, the core responsibilities are to:
Develop well-structured company policies for corporate travel and duty of care programs
Create proper advisory on travel documents, insurance, import/export regulations, etc
Manage and maintain healthy corporate relationships with travel agencies and vendors.
Provide cost-saving rates with travel agencies and service providers
Handle, operate and track all business travel arrangements (air, lodgings, etc.) for employees on day to day basis
Encourage team members to follow the travel policies and ensure policy compliance for all travel procedures.
Analyze T&E reports and also handle employee expense reimbursements
Do extensive planning to avoid any travel emergencies and respond to any emergencies if required.
Must be aware of the domestic and international laws related to corporate travel
Continuously improve the corporate travel programs and increase the standards of corporate travel management.
Research new opportunities and tools to improve overall travel efficiency
3. Job Requirements
Must have a prior experience of 3-4 years as a corporate travel manager
Good knowledge of national and international travel rules and regulations, customs, and currencies
Must have good knowledge of T&E reporting and processing
Working knowledge of MS Office and Corporate Travel Management/Global Distribution System solutions
A bachelor's degree and certification or diploma in tourism is preferred
Knowledge of the standard finance expensing process is a plus
Other Key Skills to Look Out for While Hiring a Corporate Travel Manager
Apart from what is mentioned in the job requirements above, here are some other skill sets to look out for while hiring a corporate travel manager:
1. Analytical and strategic mindset
You must look for a candidate with good analytical skills, critical thinking, and strong business acumen. The travel manager needs to analyze the data and make improvements in future trip planning.
2. Excellent communication skills
The potential candidate should have excellent communication skills (both verbal and written). Good communication is the foundation for developing a healthy relationship with clients and vendors.
3. Good negotiation skills
It is one of the most essential skills to look for in a potential candidate. During the recruitment process, you must check her negotiation skills as it will help in cost-savings for the company in the future.
4. Outstanding organizational skills
The person you are hiring should be great at planning, organizing, and execution. A corporate travel manager needs to manage multiple trips and travelers at the same time, in a well-organized and proactive manner.
Help your Corporate Travel Manager Streamline Business Travel with ITILITE
No doubt that an experienced corporate travel manager makes business travel smooth for employees and helps in saving travel costs for the company. But their strategic moves and business acumen can be better utilized when they have the proper T&E management solution to ease their work and improve their efficiency.
Our cloud-based integrated T&E solution, ITILITE, offers a global inventory of flights and safe hotels, inbuilt policy features, real-time tracking, and 24*7 customer support, reducing the workload of travel managers while ensuring that your employees are always safe. Get in touch with our product specialist today!

Get the latest in your inbox
Subscribe to the Itilite blog and never miss a post!