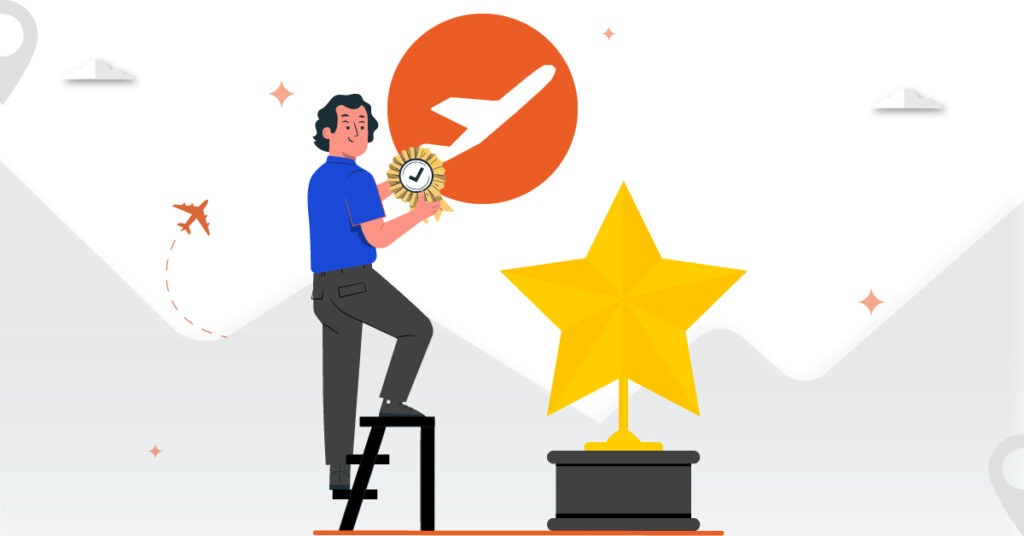 ITILITE, the innovative, feature-rich travel and expense management solution, is endorsed by GoodFirms as the Best Travel Agency Software and the Best Expense Management System.
GoodFirms is one of the most renowned and reliable research, review, listing, and ranking platforms delivering top-grade services, enabling businesses to make informed decisions.
Our innovative and advanced research methodologies and genuine reviews instill trust among companies looking for the best services and products in different domains.
GoodFirms continues to be the most authentic and well-founded global B2B platform that assembles thousands of service companies and products under one roof and helps them make better decisions and boost profits.
Why Is ITILITE the Best Expense Management Software?
ITILITE is a comprehensive, feature-packed, integrated travel and expense management software solution designed to ease travel and expense management for businesses of all sizes.
It is developed to help finance, operations, HR, and travel leaders streamline and control various business travel and expense operations, ensure enhanced travel experience, automate expense management & reimbursements, and reduce overall costs.
The software offers versatile tools to cover various aspects of travel and expense management. Besides, it allows 100+ reports, automated audits and fraud detection, incentives for cost-considerate employees, advanced analytics, and much more.
ITILITE provides two distinct modules for business travel management and expense management, as well as a combination of both modules integrated on a common platform. Businesses can choose either of these modules/packages or a one-stop solution integrating both, depending on their needs and budget.
The company enables diligent 24/7/365 customer support through various channels, including email, chat, and call to ensure that the customers do not face any issues in leveraging the software and their queries get addressed promptly.

Benefits of Using ITILITE Software
Offers comprehensive travel and expense management tools on a unified SaaS-based platform
Automation of business operations
Quick travel bookings
Faster reimbursements
Enhanced operational efficiency and time-saving
Conservation of various operational resources
Overall reduction in operational costs
Supports scalability for business growth
Flexible, value-based pricing
Diligent 24/7/365 customer support through various channels
Provides real-time actionable insights and advanced analytics for informed decision-making
Allows seamless integration with other existing systems like single sign-on (SSO), expense management, and human resource management system (HRMS)
Modules and Features of ITILITE Software
ITILITE software includes expense management and travel management features as below:
Expense Management Features
Third-party App Integration
Approval Process Control
Expense Tracking
Granular Policy Configuration
Invoice Management
Multi-Currency Support
Receipt Management
Reimbursement Management
Spend Control
Time Tracking
Workflow Management
Travel Management Features
Cancellations and Refunds
Client Management
24/7/365 Support
Personalized Flight Booking
Itinerary Creation
Payment Wallet
Custom Reporting
Pricing of ITILITE Software
ITILITE allows customers to choose between multiple packages, including a travel management module, an expense management module, and a combination of both.
The company offers a flexible yet reasonable SaaS-based pricing model for ITILITE. Besides, the company renders the privilege of pay-as-you-go and subscription-based payments with zero upfront cost. It thus allows the customers to pay only for what they need, ensuring that they get the best out of the software at nominal costs.
Performance Evaluation of ITILITE Software by GoodFirms
GoodFirms is globally well-known for identifying, listing, and ranking service companies and products based on their capabilities, innovation, performance, and authentic user reviews.
These rankings continue to be the most reliable, dependable, and prestigious recognition worldwide in the B2B sector, serving as an established ground for our users to make informed decisions.
The listed companies constitute market leaders and top performers who have earned and maintained a remarkable position through persistent quality and credibility.
Following an elaborate, unbiased, and systematic evaluation process, GoodFirms identified and ranked ITILITE as the Best Travel and Expense Management Software on its platform for offering all-inclusive travel and expense management tools under one roof, distinctive features, best-in-class functionality, and flexible yet reasonable pricing.
About GoodFirms
GoodFirms is a Washington DC-based research and review platform for software and services. GoodFirms empowers companies to choose the best software from its curated list of industry-leading software in various categories to enhance profits and grow beyond imagination.
It performs extensive research and analysis to evaluate and rank the listed software on critical parameters like features, uniqueness, ratings, and verified user reviews. This meticulously curated listing and ranking highlights the top performers for each software category and augments the buying credibility of the software.
About the Author
Lisa Brian is presently working as a Content Writer with GoodFirms, a Washington DC-based B2B research company well-known for its research methodology and listings of 60k+ software and services. Lisa's current role revolves around gathering information and crafting it in a meaningful form that businesses can leverage. She helps companies communicate their vision and mission through digital platforms. Lisa believes in developing a symbiotic business relationship where companies mutually support each other and grow together.

Get the latest in your inbox
Subscribe to the Itilite blog and never miss a post!