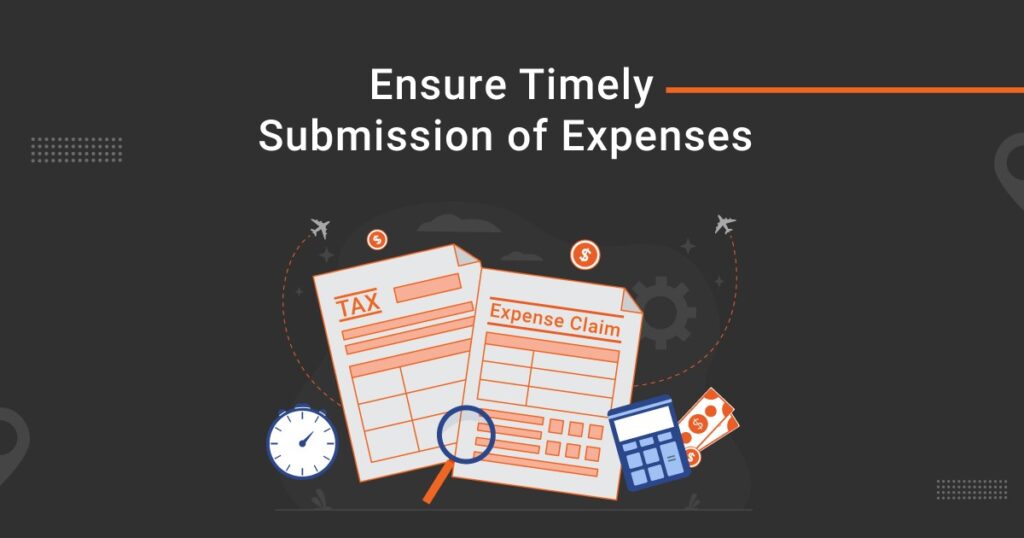 Does it take your employees an eternity for filing expenses? If yes, you are not alone. One of the key problems finance managers always face is the late submission of reimbursement claims. There might be many reasons for it – they might not like the expense filing process or it is too time-consuming!
Let's see the top reasons why employees file reimbursements late and how to fix them.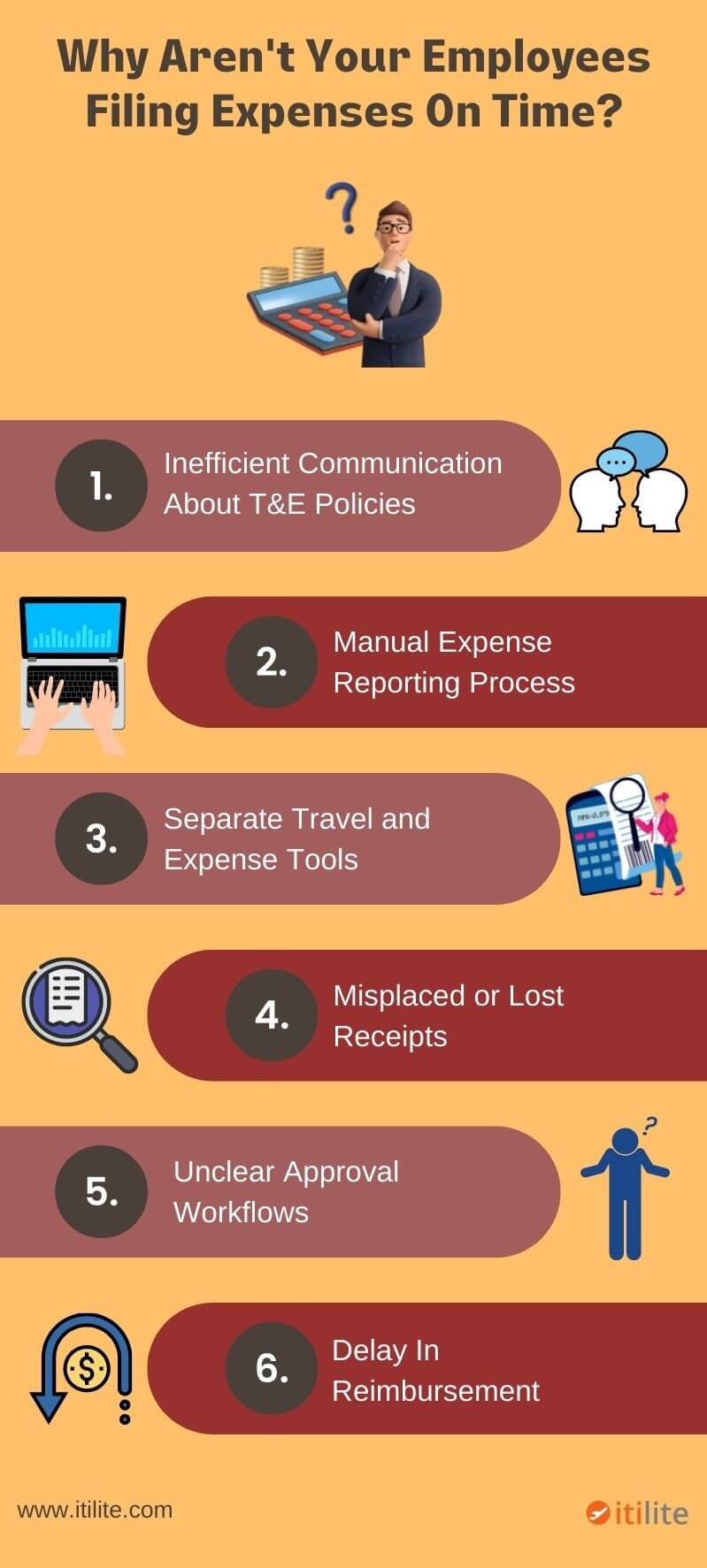 Top Reasons Discouraging Employees From Filing Expenses On Time
1. Inefficient Communication Regarding T&E Policies
Inefficient communication regarding travel and expense (T&E) policies Employees may not be aware of the rights and responsibilities as per the travel and expense policies of the company. Moreover, the policies could be too complicated for them to understand. Lack of information may lead to difficulty in execution, especially in the case of newly on-boarded employees.
How to fix it
Communicate about the travel and expense policies effectively to create awareness amongst employees. The best way to do this is to share all policies with employees via channels that are easily accessible like the intranet, slack, etc. You can also conduct regular training sessions, golf quizzes, and make announcements in mini gatherings regarding the travel policy to ensure 100% awareness.
Also, make sure your policies are written in easy-to-understand language. If you want to know how to draft an effective corporate travel policy or want to check if your existing policy is up to the mark, click here.
2. Manual Expense Reporting Process
Manually creating and submitting expense reports for every business expense incurred can be a time-consuming process. It requires a lot of effort and can get overwhelming for employees to manually arrange and update each entry in the expense report and then submit it. This could be one of the reasons for employees to report expenses late or not report at all.
How to fix it
Automate your travel and expense reporting processes. An integrated travel and expense (T&E) management software will help your employees with faster report creation and submission processes. It does not take much time for employees to file expense reports via software, take approvals, and submit for reimbursements. A T&E solution is also useful for employees as it keeps sending them reminders and notifications regarding their pending and unreported expenses. This way, it helps in reducing unnecessary delays.
3. Separate Tools for Travel and Expense Management
This can be a key factor in demotivating your employees to file claims. As 70% of the expenses are travel-related, having separate tools or vendors for travel bookings and expense reimbursements provides a broken experience to employees as well as finance managers. Imagine your employees booking for hotels and airlines on one platform and taking approvals and filing expenses on the other, making the entire process inefficient.
How to fix it
The right way of managing travel and expense is to adopt an integrated travel and expense management software that simplifies your entire travel & expense process. It will help you create a seamless experience for all stakeholders involved- employees, finance managers, travel managers, approvers, and the leadership. Imagine the entire end-to-end travel and expense from a single place – right from bookings to approvals, expense filing, audits, reporting, analytics, and support.
4. Misplaced Receipts
Collecting and maintaining receipts at every point of expenditure is difficult and tedious. It is more difficult when employees have to manage multiple receipts throughout their business travel. Hence, employees can easily lose these small paper receipts, such as restaurant or laundry bills. As per a report, more than 50% of employees have undergone a loss due to lost receipts. Due to this, employees don't file expenses or file them late.
How to fix it
Integrate a T&E management solution that has a mobile app with a receipt scanning feature to convert all physical receipts to e-receipts. The mobile apps are ideal for employees as they eliminate the need to collect and store receipts and they can file expenses even on the go.
5. Unclear Approvals
There are times when employees are not clear about approvals for a particular spend. Or there might be delays from their manager's end in sending approvals via email. This can lead to late submission of expense reports by employees.
How to fix it
Have an automated approval process. The system will send an alert to the manager asking if an expense be approved or not. And you can also set reminders to be sent to the managers if approval is pending or if the booking is out of policy. You can also enable pre-approvals, where managers can give access to employees over company money, while still staying in their budgets. This way, approvals won't be a bottleneck in employees filing their expenses.
An automated travel and expense management platform will help you enforce policy compliance. You can check this aspect and others to calculate the current health of your organization's T&E system using the calculator below.
Delay in reimbursement claims
Expense reimbursement delays can be a source of resentment and frustration for employees and can demotivate them to not file it on time. Around 60% of employees have issues with paying their bills due to the extended reimbursement process. It makes the employees unsatisfied, forcing them to leave the job in some cases.
How to fix it
Automate your reimbursement process so that money can be put back to employees' wallets sooner than before. You can set up a flow where the employee gets reimbursed as soon as approval comes from the finance team. If there is a delay from the approver's end, you can also set the automated system to trigger notifications to them to streamline the entire approval and reimbursement cycle. Also, with an automated system, the employees will know the real-time status of their reimbursement via alerts.
Streamline your Expense Reporting With ITILITE
To get reimbursement claims on time, employees need to submit their expense reports on time. Hence, it is essential to take measures that help in streamlining the expense reporting process. You need to pick a travel and expense management solution that matches your business needs, has an automated expense reporting process via an app, and is user-friendly.
ITILITE is an integrated travel and expense management solution that does much more than just streamline your expense reporting. Employees can download the software on their mobile phones and upload their receipts from anywhere at anytime. The software extracts the data directly from the receipts to file the expenses automatically.
Get the free demo of ITILITE to experience all the features.