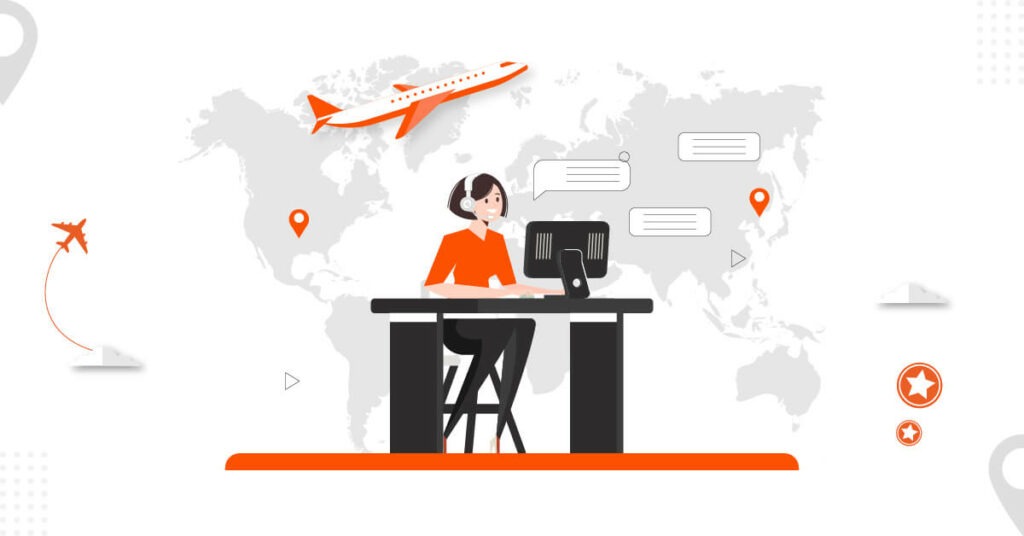 Business travelers have hectic schedules, and the last thing they want is for a setback to cause delays. Moreover, travelers also have the stress of staying productive and completing their business goals, even in unfamiliar cities. This is where travel management companies (TMCs) come in.
TMCs offer business travelers customer support that is crucial in navigating through different traveling challenges. From addressing security concerns to helping travelers with unexpected issues, TMCs ensure that travelers can work with peace of mind.
Some of the ways in which travel management companies help business travelers through customer support are:
1. Addressing Technology Issues
Business travelers often use booking tools to make reservations for flights and hotels. However, sometimes they may face server issues or slow loading time during bookings.
Travelers neither have the time nor the expertise to troubleshoot and solve these issues. Fortunately, travel management companies provide support to travelers on the go.
A Travel management company will address such problems quickly and provide travelers with step-by-step resolutions. This allows travelers to get back to focusing on their work without any major setbacks caused by technical glitches.
2. Managing Delays and Disruptions
Corporate travelers are often on tight schedules, and even a minor delay can affect their itineraries. Nevertheless, they often come across challenges such as disruptions due to weather, flight delays, and sometimes even major problems such as natural disasters.
As one would expect, travelers might need support from experts in taking the right decision during such situations. As travel management companies have pertenrship with multiple vendors, they can immediately arrange for the best alternative mode of travel in case of disruptions.
In addition, if a traveler's flight schedule is changed or excessively delayed, the customer support team can help in booking the next flight for free or at a reduced cost for the traveler. These teams are aware of the compensation policies of airlines and can help travelers take advantage of benefits.
3. Helping with Itinerary Changes
Business travelers often have to go through last-minute changes in their itineraries and may have to attend meetings on short notice. Therefore, it's crucial that they modify their travel plans robustly.
Travel management companies can quickly reschedule their flights, adjust ground transport and change hotel reservations. This ensures that travelers have a smooth experience on the road.
4. Assisting with Lost or Delayed Luggage
Losing luggage at the airport can be quite stressful and inconvenient for business travelers. In such situations, business travelers might panic since the luggage might contain crucial items such as laptops and documents.
However, they can contact the customer support of their TMC and ask them to assist them with finding their bag. Travel management companies then directly connect with the airport and coordinate with them to track the luggage as soon as possible.
Further, the support team can guide travelers regarding what forms to fill out and where they can file lost luggage claims. In addition, they keep travelers updated about the status of their luggage. This significantly reduces the hassle for travelers.
5. Assisting During Medical Emergencies
Travel management companies understand that unforeseen events can occur during a trip, such as accidents and health issues. To help travelers in such situations, TMCs stay prepared with corporate travel risk management plans.
They have access to a wide range of resources and contacts to mitigate crises and provide immediate help to travelers. This includes arranging emergency evacuations, coordinating with medical facilities, and helping travelers to adjust their travel plans as needed.
Travel support executives can also assist with communication to ensure that travelers' loved ones are informed and updated on the situation. This provides travelers with peace of mind regarding their health and travel safety.
6. Helping with Travel Documentation 
Filing travel documents is a tedious process, especially for travelers that aren't familiar with the process. Since travel management companies help multiple travelers with travel documentation such as passports, visas, and travel insurance, they are well aware of the requirements for each.
Travelers can connect with TMCs to apply for these documents with ease without having to spend too much time understanding the details. Further, TMCs also guide travelers regarding which travel insurance is best for them or what type of visa they are eligible for.
Getting expertise help ensures that all documents comply with the travel policy of the company while also minimizing the effort required.
7. Managing Expenses
Managing expenses properly is imperative for business travelers. Travel Management Companies can play a key role in helping travelers save money while maintaining a positive travel experience.
The support team can assist travelers by guiding them on foreign exchange rates and the best places to convert currency. For example, they may advise travelers to avoid currency exchange services at airports, which can be costly, and instead recommend using a local ATM.
They can also educate travelers on the benefits of loyalty programs offered by airlines and hotels, which many travelers may not be aware of. In addition, the support team can help business travelers track their expenses and properly file expense reports. This is beneficial for busy travelers who may not have the time to manage their expenses.
An integration between the travel and expense management systems is a great way to improve efficiency in your T&E system. In order to check the current health of your T&E system, use the calculator below and know what are your areas for improvement.
8. Ensuring Security
Business travelers are prone to security issues while traveling. Some of the problems they may encounter include cybercrime, theft, security concerns in risky locations, and political instability.
Travel management companies offer 24/7 customer support so that travelers can reach out to them at any time. They advise travelers to take preventative measures such as not using public WiFi, securing their rooms with portable locks, and ways to keep their things protected.
If the traveler faces security threats while traveling, the support team addresses them quickly. They connect with local authorities and help travelers reach a secure place as soon as possible.
The support team also assists travelers with filing complaints at the local police station. Moreover, they can help travelers retrieve the money for the losses they face by connecting with the travel insurance company of the traveler. This helps travelers feel safe while on the road.
Ensure a Smooth Travel Experience with Excellent Customer Support
The quality of customer support can greatly impact the success of your business trips. Therefore, it is important to work with a TMC that prioritizes customer service and has a proven track record of providing reliable support.
ITILITE is a travel management company that ensures exceptional customer support. We have a dedicated team that is available 24/7 to assist your travelers within 30 seconds of contacting us. Your employees can call, email or chat with us regarding any difficulty they may face while traveling. We'll ensure that we get it resolved in 60 minutes or less.
To know more about the benefits of ITILITE, take a free demo now.