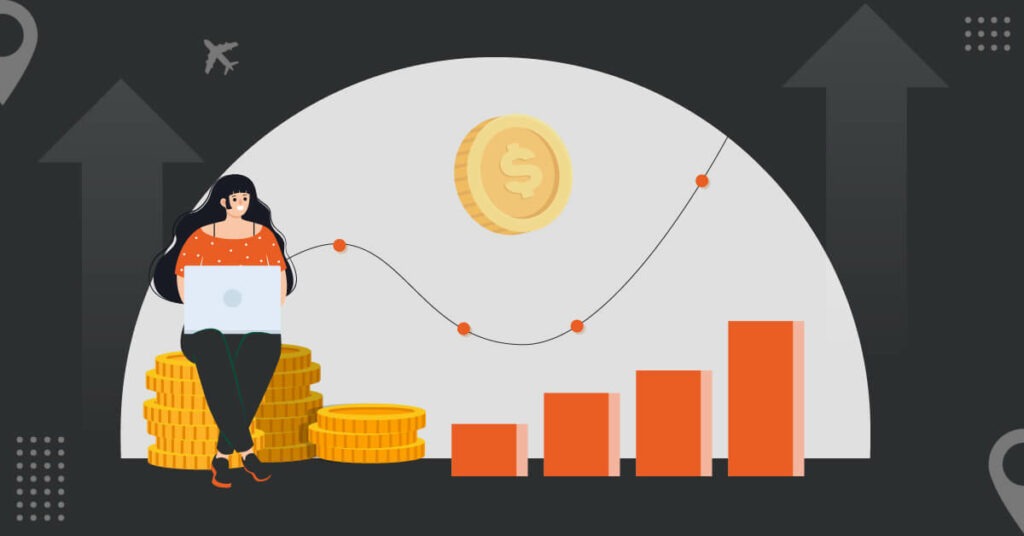 In the previous blog of this series, we summarized the findings from our interviews with 50+ customers and prospects regarding Travel ROI optimization in 2023. One of our most significant findings was that companies are shifting their focus from cost-cutting to increasing returns from each trip. Most C-level executives emphasized rejecting business trips with low ROI instead of the ones that incur more travel costs.
But what does optimizing ROI of business travel mean? And what are some actionable objectives companies are considering for ROI optimization?
Let's check out.
What is ROI of Business Travel?
Travel ROI is the metric that tells you how profitable each business trip will be for the company. It is calculated on a per-trip basis as follows:
ROI= Business outcome/ T&E Cost
Companies planning to increase their ROI must target two key areas- business outcome and overall travel cost. The scenarios that can enhance travel ROI are as follows:
The business outcome increases, but the T&E cost remains the same.
Here, companies should focus on ensuring that each trip yields the highest possible returns and require no additional investment. For instance, combining 2-3 deals in a single trip can help increase the travel ROI.
The business outcome remains the same, but T&E cost decreases.
In this case, the companies' main target is travel cost reduction. They can decrease costs through granular policy guidelines and stricter approval controls. For instance, companies can mandate booking only contracted hotels wherever possible to reduce accommodation costs.
The business outcome increases at a higher rate than the T&E cost.
In this scenario, companies should not shy away from approving trips with high financial outcomes, even if they require some extra investment. However, the catch is that the business outcome should always outweigh the additional costs. The travel ROI will remain optimal if the business travelers bring in more than the company is investing.
In our interviews, we discovered that our customers and prospects are implementing strategies to align their travel process with the abovementioned scenarios. For that, they have also come forward with specific technological requirements.
Here are the ways companies are planning to improve their ROI of business travel:

Ways Companies are Planning to Improve the Travel ROI
Enhancement of T&E Data Visibility
Having the entire travel and expense data on a single platform gives travel managers enhanced visibility, through which they can identify and fix leakages, create policy changes, adjust approval flows, and more. Hence, 70% of our prospects have shown a keen interest in ITILITE's integrated travel and expense management system.
Our prospects primarily want ITILITE's integrated travel and expense management solution because it can also capture travel data from off-channel bookings. Hence, they will get a single source of truth for all travel-related expenses of every business trip. They can then use this data to ascertain the cost of each trip and calculate the ROI.
This way, they can get greater control over travel spending by approving only high-ROI trips.
Reduce Travel Cost
Cost reduction can be a game changer for travel ROI optimization. Hence, companies are adopting strategies to eliminate unnecessary leakages from their travel process.
However, they also want to ensure that their road warrior employees don't have to suffer the consequences of the cost reductions. Hence, they aim to kill two birds with one stone by adopting traveler-wellness-oriented cost reduction policies. 
What's in?
Early Flight Bookings
Early bookings have always been a preference of our cost-conscious customers. The data on the ITILITE platform from Jan-Jun 22 depicted that 50% of the users were booking flights and hotels at least ten days in advance.
Moreover, from Jul-Nov 2022, the number of early bookings went up to 63%. Companies have been nudging travelers to book well in advance using the carrot and the stick approach.
In the carrot approach, they are offering employees rewards on early booking. Alternatively, with the stick approach, they have made last-minute approvals stricter. Hence, employees who book last minute must get it approved by a senior official instead of the regular approver.
Granular Policies
Companies are also modifying travel policies to weed out all the loopholes and increase compliance. They aim to create more granular guidelines covering every travel process aspect. According to the data from our interview, 25% of organizations have revised their travel policy over the last six months.
One example of a granular policy guideline we have seen our customers create is a dynamic policy limit. They are implementing diverse hotel pricing limits for different cities instead of a flat limit. So, a traveler visiting New York has a hotel budget of $300 for a "really good 3-star hotel", whereas the limit for the same traveler visiting Austin is $150.
Hard Approvals > Soft Approvals
Our customers are also aiming to tighten approval workflows. Hence, they have shown an inclination towards hard approvals instead of soft approvals. With hard approvals in place, authorities must approve a trip request before any bookings are made. On the contrary, with a soft approval policy, employees can make the bookings and then get them approved by their managers over the mail.
According to our survey, 70% of the companies have mandated hard approvals as it helps companies get greater control, avoid out-of-policy bookings, and save travel costs.      
What's out?
Lower Limits
Even though cost reduction is a key focus area, companies are not lowering budget limits or enforcing unrealistically low constraints that may compromise travelers' safety or well-being.
Red-eye flights
Companies are also not forcing travelers to take red-eye (late-night) flights.
Increase Business Outcome
The third pillar of travel ROI optimization is increasing the financial outcome of each trip. Companies are approaching their aim to improve the business outcome in a two-fold plan:
Enter the Expected Outcome of a Trip
The first step involves asking travelers to enter the monetary returns they expect before sending the trip request to the approver. This way, the managers can ascertain whether the trip will yield enough returns per the investment level. If not, they can reject the request.
The main question our C-level customers have asked us is, "Can your platform make it mandatory for travelers to enter the expected outcome of a trip before the trip is approved?"
Club Preventive Maintenance
Our customers are also taking steps to club regularly recurring trips to the same city. This way, they enhance the business outcome by making multiple deals in a single business trip.
To Sum Up
From our findings, we conclude that companies are planning to take numerous steps to improve travel ROI in 2023. In this process, their primary focus is on enhancing travel data visibility to gain greater control over spending, reducing travel costs without impacting traveler wellness, and increasing business outcomes per trip.
In the next blog of the series, we will see the wish list of companies to achieve high ROI of business travel and how the ITILITE advantage can support higher travel ROI. So stay tuned!