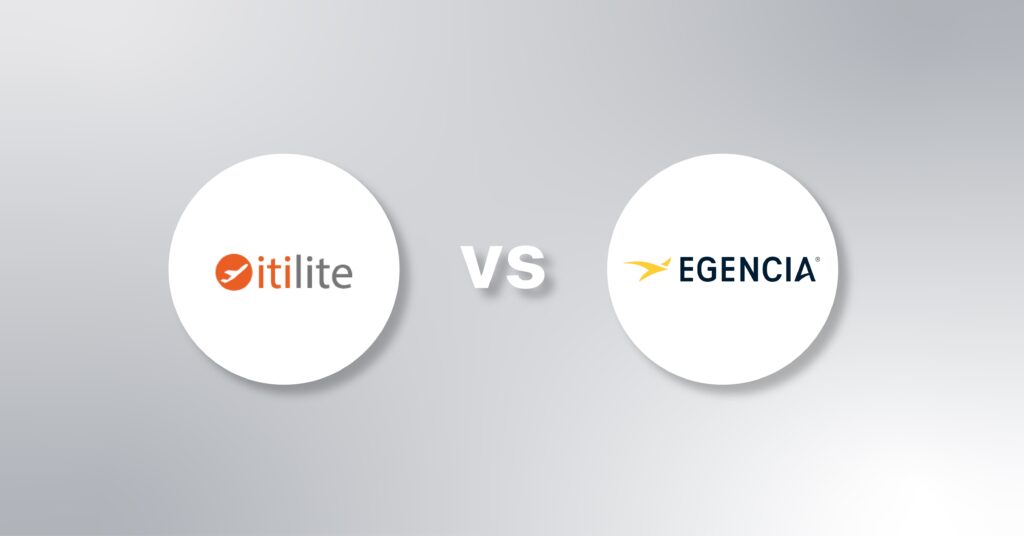 Discovering the ideal travel management solution tailored to your business requirements may appear challenging. Hence, many organizations rely on travel and expense management companies that streamline the booking process, provide expense tracking, and offer comprehensive reporting.
This blog will compare the 2 most popular Travel Management Companies (TMCs): Egencia and ITILITE. We will dive into the features and functionalities of ITILITE and Egencia to help you decide which platform suits your business requirements.
Egencia Overview
Egencia is a business travel management company recently acquired by American Express Global Business Travel (AMEX). The platform offers many features, including booking management, policy compliance, expense tracking, and traveler support. Egencia focuses on helping businesses manage risk, delivering a personalized travel experience while ensuring control and visibility and maximizing ROI.
ITILITE Overview
ITILITE is an AI-powered unified corporate travel and expense management solution that helps companies automate their travel and expense processes end-to-end, optimizing efficiency and reducing business travel costs.
The platform's state-of-the-art features help companies save up to 30% of their overall travel costs by providing cost-efficient travel inventory, ensuring 100% policy compliance, and providing in-depth travel data insights with the help of the world's first Virtual Travel Consultant- Mastermind.
Why is ITILITE better than Egencia?
Let us look at some of the key reasons why ITILITE outshines Egencia in terms of functionality, cost-effectiveness, and customer satisfaction.
Customer Support
Egencia offers 24/7/365 travel support to travelers wherever they are. The travelers can connect with their support team through their app, phone call, and Egencia chat box. Moreover, Egencia's travel consultants respond to over 80 percent of customer calls within 20 seconds.
However, their customer support has not lived up to the expectation of many users and travelers. Users have reviewed their customer service as terrible, and getting a good customer support representative is rare.
ITILITE, on the other hand, offers 24/7/365 free assistance to travelers in case of any emergencies. Business travelers or organizations can contact our live agents via various channels such as calls, live chat, and email.
Our in-house dedicated customer support team is available around the clock, even post working hours, to assist your team with any challenges they may encounter during their journey. Compared to Egencia, our support team operates at a 10-second response time or less via call and chat and less than 60 minutes through email. With this, you can ensure you are attended to promptly.

Booking through Support
With Egencia, there are different charges for bookings made online or through their support team. When you make a booking through Egencia's support team, you will be charged around $25-$40. This can burn a hole in your pocket as you have to pay an extra amount than your regular booking fee.
However, ITILITE offers transparent pricing. You pay only $10 when making a booking either through the platform or through the support team. So if your travelers want to make a business travel booking through our support team, you won't be charged an additional amount. It's completely FREE!
To learn more, visit ITILITE's Pricing Plan
All-in-one App for Bookings and Expenses
Egencia uses a single app to manage all its travel bookings. You can manage all your business travel needs from the Egencia app, whether booking (a flight, a hotel, a car, etc.), completing a draft booking you started with, or checking into your flight.
However, Egencia does not have any in-house expense management solution. They integrate their travel program with multiple third-party partners. This can be a problem as travel bookings happen on one platform and expense processes on the other, making the whole T&E process inefficient and time-consuming.
Contrary to Egencia, ITILITE is a truly integrated travel and expense management solution that not only helps simplify your entire travel and expense process but also creates a seamless experience for all stakeholders involved. When users make a travel booking through ITILITE (for cars, hotels, and flights), an automated expense draft is created.
And with respect to the finance department or the admins, they can know all expenses related to a trip. Transactions done are already known on the travel side as payments are via wallet and cards. Therefore, using an integrated T & E solution such as ITILITE can help you improve productivity by 50% and save up to 30% of the costs. This helps you save a tremendous amount of time and money.
To know how to get in touch with our experts now!
Incentives that Drive Savings 
Maximizing travel cost savings is essential to maintaining the company's bottom line. Egencia leverages data to find more savings in your corporate travel program. But only data does not do the job of helping you save business travel costs. You must implement other ways that can drive savings.
One of the best ways to ensure savings is by providing incentives as a part of your travel program. However, Egencia does not provide any incentives to your employees who book travel through them.
This is where ITILITE comes into the picture! There are two types of incentives that ITILITE provides:
a) Saving incentives: ITILITE's travel and expense platform helps you reward your employees who maximize travel cost savings by giving them a part of the amount saved on choosing cost-effective flight and hotel options.
This will encourage your employees to choose cost-effective travel options and make better decisions in the future. Moreover, this also helps you save money for the company and your employees.
b) Early booking incentives: With ITILITE, if your employees try to book their tickets well in advance, before the threshold timeline, they can earn a larger portion of the savings as an incentive. This will encourage your employees to book their flights early and avoid booking flights with skyrocketed prices at the last minute. You can save up to 2% for early bookings and 3% from incentives on annual spending.
Virtual Travel Consultant
Most companies have expressed their difficulty in obtaining comprehensive insights that could ensure travel policy compliance, find out areas of financial loss, or enhance their employees' travel and expense reimbursement experiences. The consultants assigned to them by partner Travel Management Companies (TMCs) or by some of our competitors generally did not meet their expectations for various reasons.
Step in ITILITE Mastermind-The world's first AI-ML-based virtual travel consultant. It provides actionable data-driven recommendations on potential opportunities for optimizing a company's travel & expense program. Mastermind is an in-built AI-ML engine with complete visibility of a company's travel & expense (T&E) processes and costs incurred.
The AI then learns from past data, leverages external industry data, and tells finance, HR, or admin teams how much they can save and what steps they can take to reach their T&E program goals. And do you know what's the best part about this? It's completely automated!
Try Mastermind for free now!
Custom Reporting 
With Egencia, you cannot schedule any custom reports; only standard reports are available. Standard reports include information such as all the flight details from the previous month, the total number of employees who traveled in the month of March, etc. Such standard reports will not provide you with detailed insights into your business travel.
With ITILITE, you can easily schedule your custom reports on a monthly basis. And with these custom reports, you can literally get whatever travel data you need. Meaning the deeper insights and analytics you require, you can quickly get it without any hassle.
For example, if you want to know how many employees traveled from New York to Chicago via Delta Airlines, you can schedule these reports, which will be readily available. Now, isn't that a steal deal?
Dashboards
While reports give you an in-depth insight into your business travel data, dashboards give you consolidated data of all your business travel activities. Be it related to travel, expense, or any other information. Egencia does not have any dashboards for visualization. If you need to access any consolidated data, you cannot access them, as only standard reports are available.
However, with ITILITE, you can get access to the analytics dashboard. The dashboard is very user-friendly and visually pleasing. You can easily find information based on department-wise, employee-wise spending, costs per trip, and many others. These personalized dashboards help your finance department and travel managers access real-time travel data conveniently.
Team Level Alerts for Exceeding Budget
More often than not, traveling in groups can strain your travel expenses. Moreover, it will be difficult for the finance team to track if the department has gone overboard with the assigned travel budget. Therefore, it is crucial that you have group-level alerts for going overboard with the budget, which, sadly, Egencia doesn't provide.
But you need not worry because ITILITE provides you with this feature. This is a boon for your company's finance department as ITILITE'S software immediately alerts them if any team or department has gone overboard with the assigned travel budget. This not helps you optimize your travel expenses but also ensures policy compliance.
Rule-Based and Parallel Approvals
Implementing an efficient approval system for business travel can enhance the efficiency of a company's booking process. Two critical business travel approval systems are rule-based and parallel approvals.
Rule-based approval is a specific rule that persists for an employee to make a particular booking. For instance, the department head must approve the trip request if an employee wants to book a Radisson or a Marriott hotel. These kinds of approvals help you ensure policy compliance, and at the same time, you don't go overboard with your budget.
If your company partakes in business travel regularly, creating parallel approval workflows by setting up multiple approvers for each employee is a good idea. With a few advanced travel management systems like ITILITE, you can create tier-based workflows with one or many approvers in a single tier, as required. You can also create multiple tiers for a more comprehensive approach.
| Features | ITILITE | Egencia |
| --- | --- | --- |
| Customer Support | 24/7/365 free live support via call and chat in less than 10 seconds and via email in less than 60 mins. | 24/7/365 support with a 20 seconds response time |
| Booking Through Support | $10 when making a booking either through the platform or through the support team. | Additional $25-40 through Egencia's support team. |
| All-in-one App | Integrated travel and expense management solution that simplifies the travel and expense process. | Only one app for travel. No in-house expense management solution, integrated with third-party partners. |
| Incentives That Drive Savings | Early booking incentives and savings incentives for flights, hotels, and car rentals. | No incentives for any booking made through Egencia. |
| Custom Reporting | Easily schedule your custom reports every month. | Cannot be scheduled. Only standard reports available. |
| Dashboards | Access to a user-friendly and attractive analytics dashboard for travel data. | No dashboards to check any data. Only standard reports are available. |
| Team Level Alerts For Overbudget | Group-level alerts for going overboard with the budget. | No group-level alerts for going overboard with the budget. |
| Approval Process | Rule-based and parallel approval process. | Only one-click approval configuration. |
ITILITE can Take you to Places that you Never Imagined!
In the realm of business travel management, ITILITE outshines Egencia as the preferred choice for organizations seeking a comprehensive, cost-effective, and user-friendly platform. With its robust functionality, customizable options, and emphasis on cost optimization, ITILITE enables businesses to streamline their travel processes, reduce expenses, and enhance employee satisfaction.
When it comes to choosing between ITILITE and Egencia, the evidence is clear: ITILITE emerges as the superior option, offering a comprehensive solution that caters to the diverse needs of organizations and delivers a seamless and cost-effective travel management experience.
To know more about our advanced features, talk to our experts now!