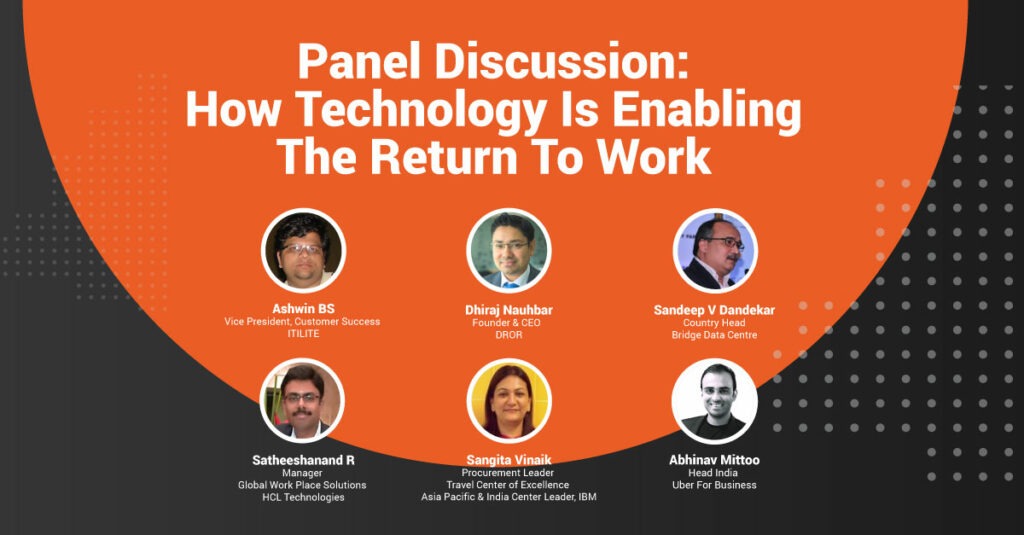 In a recent panel discussion organized by iNHFRA in partnership with ITILITE, we enjoyed talking to six thought leaders from the tech industry about how technology can enable the return to work and how companies can prepare to ensure a smooth transition to the new hybrid work culture.
We were joined by Ashwin B.S (Vice President, Customer Success, ITILITE), Dhiraj Nauhbar (Founder & CEO, DROR), Saandeep V Dandekarr (Country Head, Bridge Data Centre), Abhinav Mittoo (India Head, Uber for Business), and Satheeshanand R (Manager, Global Work Place Solutions, HCL Technologies). Sangita N Vinaik (Procurement Leader, Travel Center of Excellence – Asia Pacific & India Center Leader, IBM) thoughtfully moderated the conversation.
The discussion was thought-provoking and provided a unique perspective on how the modern evolving workplaces should remodel themselves for the new normal. In case you missed it, here are the key insights from the discussion:
1. Hybrid work culture is the new normal
All panelists agreed that the hybrid work culture is here to stay, and companies need to adapt to this new requirement. It could mean some employees may ultimately work from home while others will mix and match remote and office work schedules.
Whatever be the case, everyone recognized that covid has accelerated technology adoption and has carved a path for new technology innovation as well. Technology is now enabling secure work from home, safe commute to travel, and even ensuring social distancing at the office.
The discussion also cast some light on the challenges companies faced, as highlighted by Saandeep V Dandekarr, Country Head of Bridge Data Centres, "One of the challenges was ensuring the safety of employees while maintaining the logistics supply chain, especially through the containment zones." He further explained how it all seemed daunting at the start, but gradually, with network technology partners' help, they figured a way out.
However, everyone agreed on the massive benefit technology bought in transitioning quickly from office to work from home at the start of the pandemic. And now again as companies are planning for the reopening.
2. Build employee confidence as they return to work
As companies adapted to the new norm, employees' safety remained the top priority for companies. While most of the workforce was able to stay home, essential workers, especially healthcare professionals, were needed on the field.
"Ensuring they had a safe commute option available was our utmost priority at Uber," said Abhinav Mitto, India Head, Uber for Business. With the help of technology, Uber was able to connect with each of its drivers to provide the plastic separator and ensure the compliance of all safety measures to make travel safe for their drivers and the rider, he further explained.
Ashwin shared how most of their clients asked them how they could ensure employee's safety when they are on the move. And how ITILITE team used technology to ensure safe travels for business travelers.
"Even though companies allow most of their employees to work from home, some departments like sales and field executives need to travel as per the business demand. Assuring stay, which provides all the safety precautions, is a must for them. At ITILITE, we introduced ITILITE Shield that ensured that the employees are in a safe zone. With the Safe++ feature, we highlighted the hotels that followed norms. We saw almost 5X increase in the booking in the hotels that had this label." said Ashwin.
3. Rethink facilities and technology as you reopen your offices
When asked by the panel facilitator Sangita, if companies should start investing in technology solutions as a long-term strategy rather than a short-term quick fix, Dhiraj, Founder & CEO of DROR, pointed out that as companies see the benefits of letting their employees work from home with minimal or no productivity loss, the new hybrid work culture opened an avenue of cost-saving for companies. They have now started optimizing their real estates.
More than 60% of the workforce are now working from home. Companies need technology on two fronts, first for the employees working from home and the other for the employees who have started coming to the office and are regularly commuting.
As companies now have to ensure social distancing and adequate spacing in sitting arrangements; they have to opt for solutions like occupancy management systems, robotic fumigation, employee attendance with contactless geotagging and safe travel solutions.
The panel further highlighted that organizations need to gain employees' trust about their safety along with utilizing technology. Taking safety precautions and communicating the plan with your employees is essential to build confidence.
As Abhijit Sarkar, Vice President & Country Head iNHRFA, said, "Until the last year, tech in travel was just getting discussed. Today we see it in action." The new work culture requires a blend of processes, policies, and technology as companies return to work.
Finally, it was an insightful discussion about how companies should plan their return to work while ensuring employee safety. If you are preparing to reopen your offices, do ensure you do the following to help your employees return to work with confidence:
Prepare your workplace with all safety measures, from regular fumigation, thermal scanning to sensitization stands
Make sure to partner with technology companies to ensure contact tracing and social distancing
Determine the employees who need to return to work and build a back to workplace strategy
Provide training on safety measures for employees returning to the office
Lastly, make sure your sales and business teams, who need to travel a long distance due to work, are having a safe stay as they travel
Contact ITILITE product specialists to understand how we can help your company plan a safe stay for your business travel with ITILITE Shield while providing the most cost-effective accommodation and flight options. Schedule a free demo today!

Get the latest in your inbox
Subscribe to the Itilite blog and never miss a post!