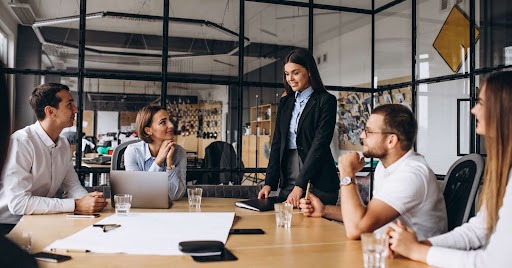 Going on international business travel provides immense growth opportunities. However, the process of organizing meetings across different time zones and overcoming logistical challenges can be overwhelming.
Successfully managing international business travel meetings requires careful planning, effective communication, and an understanding of cultural nuances. In this blog, we will guide you through the process of how to manage international business travel meetings.
Determine the Objectives
Determining the objectives of international business travel meetings is vital. It helps you make decisions effectively and attain organizational goal. A few examples of objectives could include discussing strategy or building relationships with clients.
Once you determine the overall goals, break them down into specific objectives. These objectives should be clear, measurable, and actionable. For instance, if the goal is to discuss strategy, specific objectives could be to develop a new marketing plan.
Based on the objectives, outline the agenda items that must be discussed during the meetings. Each agenda item should directly contribute to achieving the objectives.
Plan and Schedule in Advance
Planning international business travel meetings well in advance can help you ensure smooth coordination. If you start the scheduling early, you can secure bookings at better prices and have a higher chance of getting preferred choices.
In addition, scheduling well in advance allows you to align the availability of all attendees, considering their commitments. It gives participants enough notice to organize their calendars accordingly, increasing the likelihood of their attendance.
Create a Detailed Itinerary
Creating a detailed itinerary is crucial for proper organization of business travel meetings. To do this, outline the schedule of the meetings, including dates, times, and locations.
In addition, specify the duration of each session and allocate sufficient time for breaks, networking, and meals. You must also include information about local transportation options, such as taxis or car rental services.
Further, you can provide instructions on how to navigate the local transportation system. This includes providing any relevant maps, routes, or apps that may be helpful.
Throughout the planning process and leading up to the trip, provide regular updates and reminders regarding the itinerary. Communicate any updates promptly and ensure that participants are aware of the latest information.

Centralize Travel Arrangements
Using a centralized travel management system such as Travel Management Software (TMS) offers many advantages when it comes to streamlining travel bookings. It allows you to consolidate all travel-related activities in one place, making it easier to manage and oversee the entire travel process.
When making bookings for business travel meetings, by using a TMS, you can save time by eliminating the need to search for different travel options across multiple platforms. It enables you to compare prices, availability, and preferences quickly, resulting in more efficient decision-making and cost savings. This way, your business travel management process becomes more efficient.
Communicate Effectively
To start off on the right foot, it's crucial to communicate the purpose, dates, and objectives of the meetings to all participants. This ensures that everyone is on the same page and understands the goals of the meeting.
Next, share a detailed agenda outlining the topics, session timings, and any relevant materials ahead of the meetings. This allows participants to prepare and contribute effectively to the meeting.
Arrange for On-site Assistance
Arranging for on-site support during international business travel meetings is a valuable strategy to ensure smooth operations and address any challenges that may arise. A local support person can guide participants on local customs and business protocol.
Moreover, hiring a local event planner provides access to their expertise and knowledge of the destination. They are familiar with the local customs and regulations, which can help navigate any cultural issues.
If there are language barriers between participants and locals, having a translator who is fluent in both languages is beneficial.
Delegate Responsibilities
Business travel meetings usually involve multiple employees traveling together. Therefore, it is helpful to delegate responsibilities amongst them to ensure that the meeting goes smoothly. For instance, you can assign a team member to handle the meeting logistics. It helps ensure that all resources are prepared and available at the meeting venue.
Further, assigning a point of contact during international business travel is essential for ensuring seamless collaboration. As travel plans may evolve, this person will promptly communicate any changes made to the original plan. This keeps everyone informed and minimizes confusion.
Offer 24/7 Travel Support
Providing 24/7 travel support to participants traveling for business meetings is essential. It enhances their experience and ensures their well-being throughout the trip.
When traveling internationally, participants may encounter unexpected situations, such as lost luggage or medical issues. Having 24/7 travel support ensures that they have access to assistance around the clock.
Follow-up after the Meeting
Following up after international business travel meetings is crucial to ensure that the outcomes and actions discussed during the meetings are effectively implemented.
Prepare detailed meeting reports summarizing the discussions and decisions made during the meetings. Include clear responsibilities, deadlines, and any additional information necessary for participants to complete their tasks. Share these promptly with all participants to ensure a shared understanding of the outcomes.
Manage Business Travel Meetings with Ease
In conclusion, managing international business travel meetings can be a complex task, but with careful planning, it is possible to streamline the process and ensure successful meetings.
ITILITE is a robust travel management software designed to streamline your business travel meetings with unparalleled efficiency.
By leveraging the advanced features of ITILITE, you gain access to a centralized platform that empowers you to effortlessly make bookings and modify itineraries. Moreover, ITILITE goes above and beyond by offering round-the-clock travel support, ensuring that your travelers experience a hassle-free journey every step of the way.
To know more about the benefits, book a demo now.