Our goal is to position ITILITE as the number one internationally recognized expense management software, helping more and more companies around the globe to enhance their operational efficiency with our ingenious features, incredible functionality, and multi-industry utility.

Mayank Kukreja, CEO & Co-Founder, ITILITE
Mayank Kukreja, the CEO and Co-Founder of ITILITE, shares in his interview with GoodFirms how they created this world-class travel and expense management software to meet the needs of various industries and businesses with its boundless features, user-friendly interface, innovative design, and flexible yet reasonable pricing.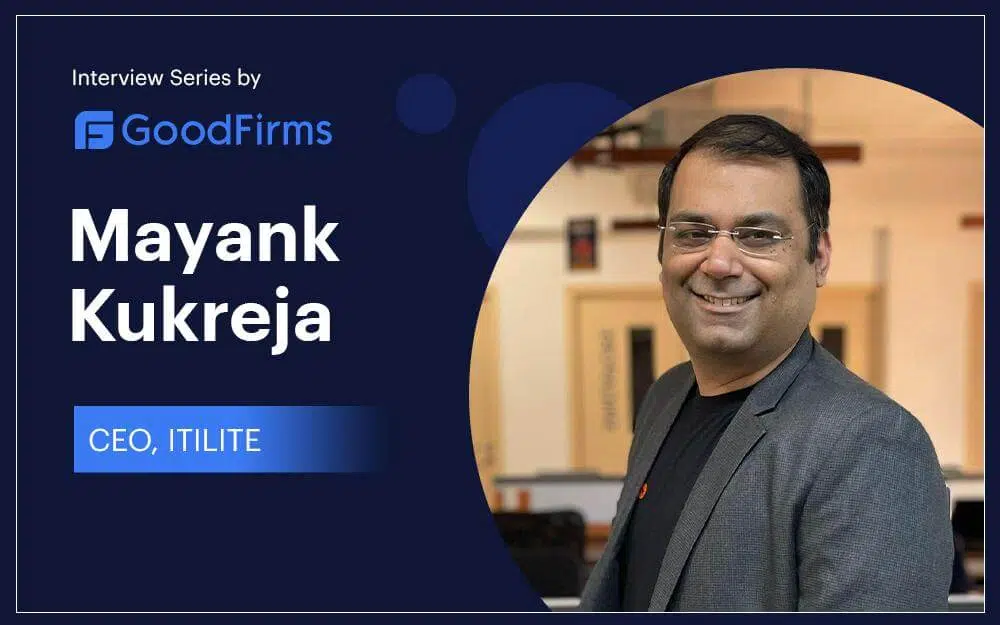 Based in Bengaluru, India, ITILITE is Software-as-a-Service (SaaS) based business travel and expense management solution that provides comprehensive tools to streamline and control expense management and travel management operations for businesses of all sizes.
The company offers two major software modules – business travel management software and employee expense management software integrated into a unified SaaS-based platform for businesses looking for both solutions under one roof.
ITILITE software enables versatile expense management features like approval process control, expense tracking, invoice management, currency conversion, receipt management, automated reimbursements, spend control, third-party integration, and more.
Moreover, ITILITE offers extensive travel management features, including personalized flight and hotel bookings, cancellations & refunds, client management, itinerary creation, real-time analytics, virtual travel consultant, payment processing, employee tracking, customized reporting, and more.
Artificial Intelligence (AI) powered ITILITE software doubles up as a fintech platform designed to automate employee expense reimbursement processes. It allows businesses to reduce costs and enhance business travel experience and efficiency.
Best-in-Class Travel and Expense Management Software
Initiating the interview, Mayank describes ITILITE as a tech-forward travel and expense management company offering integrated travel & expense management software. The AI-enabled ITILITE SaaS platform is designed to automate, streamline, and incentivize business travel and expense (T&E) operations.
The company also provides unique travel inventories that enable employees to make cost-conscious decisions and minimize company expenses while traveling, thus reducing the overall T&E costs by nearly 30%.
Mayank Kukreja also elaborates in detail on what motivated the company to create ITILITE software. He explains that they had first-hand experience dealing with inefficiencies in the offline nature of corporate travel in their jobs as consultants.
The laborious manual processes, archaic tech systems, and paucity of effective cost controls typically resulted in inefficient business trips, adding to unexplained increased costs and more problems for both corporates and employees. This massive dissonance between personal and business travel processes made them realize the need for efficient business and travel expense software.
The idea was to create a tech-forward travel and expense management company, which led to the inception of ITILITE.

Distinctive Features and Value Addition
Further in his interview, Mayank talks about the distinctive features and offerings of ITILITE software. He elucidates that ITILITE is the only product built for B2B, offering end-to-end digitization and automation for both T&E under one roof, unlike other players who provide either manpower or heavy services model or just partial digitization. Besides, the ITILITE app is designed with optimum user-friendliness, resulting in a smooth and fantastic user experience.
Mayank adds that the software offers a built-in savings-focused incentivization module that encourages travelers to comply with company policies, bringing behavioral change among employees.
Additionally, it enables a quick, less than 90-second booking experience through highly personalized option curation and automated approval workflows and five times faster reimbursements by automating approvals and reducing manual work hours.
Moreover, ITILITE travel and expense management software provides real-time actionable insights and consulting on the T&E program. The software offers advanced analytics to help businesses optimize the processes and save more on every step, including ticket costs.
ITILITE facilitates a granular policy & approval process to ensure compliance and organizational control on expenditure. Further, to ensure streamlined and smooth business operations, ITILITE allows seamless integration across organizational processes through single sign-on (SSO), expense management, and human resource management systems (HRMS).
Customer Satisfaction and Retention
Mayank highlights that customer satisfaction is paramount for the company. Through robust customer onboarding and support, they ensure that they deliver products that fully cater to customers' needs.
Mayank explains that they have a diligent customer support team that provides undivided and priority assistance 24/7/365 through various channels, including chat, emails, and phone calls. Besides, they conduct regular business reviews with the clients to get an in-depth review of the products and customer experience to improve the product and earn customer trust and satisfaction.
Talking about customer retention, Mayank proudly reveals that ITILITE has 100% repeat customers to date. He adds that even during the pandemic, while many businesses were struggling to survive, the company witnessed around five-times growth, and the bookings made through their platform elevated by 200%.
Dedicated Customer Support
Talking about customer support, Mayank again clarifies that the company has a dedicated customer support team working round-the-clock and ensuring that ITILITE customers' queries are promptly addressed and solved. Further, to avoid queuing customers on long calls with bots, the company provides priority assistance on phone calls, emails, and chat.
Besides, ITILITE offers comprehensive knowledge resources to help users better understand the product, including blogs, newsletters, and ebooks that capture the nitty-gritty details of the travel industry and suggest solutions to complex problems. Also, they provide case studies to help customers know how others are leveraging ITILITE and what more they can do to make the best use of the software.
With so much to offer, GoodFirms researchers have identified ITILITE as one of the best expense management software and top travel agency software for its versatile offerings, features, and flexible pricing model.
ITILITE – The Best Expense Management Software
"We are proud to have inspired the trust of 500,000+ customers globally across over 230 small businesses, unicorns, and Fortune 500 companies. It has been a long but truly rewarding journey," Mayank concludes.
With the broad features, amazing functionality, mobility, and cost-effectiveness that ITILITE offers, the company aims to establish ITILITE software as a market leader among the top travel and expense management solutions.
To know more about the offerings of ITILITE, one can also go through the detailed interview published at GoodFirms.
About GoodFirms
GoodFirms is a Washington DC-based research and review platform for software and services. It empowers companies to choose the best software from its curated list of industry-leading software in various categories to enhance profits and grow beyond imagination.
GoodFirms performs extensive research and analysis to evaluate and rank the listed software on critical parameters like features, uniqueness, ratings, and verified user reviews. This diligently curated ranking highlights the top performers for every software category and boosts the buying credibility of the software.
About the Author
Lisa Brian is presently working as a Content Writer with GoodFirms, a Washington-based B2B research company well-known for its research methodology and listings of 60k+ software and services. Lisa's current role revolves around gathering information and crafting it in a meaningful form that businesses can leverage. She helps companies communicate their vision and mission through digital platforms. Lisa believes in developing a symbiotic business relationship where companies mutually support each other and grow together.