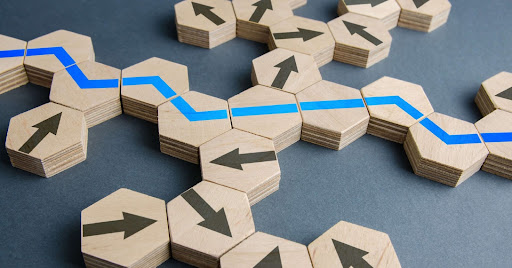 Business travel is an essential aspect of many companies. However, the success of these trips heavily relies on an efficient travel management workflow that supports the company's objectives.
Unfortunately, many companies struggle with outdated processes, leading to wasted time, money, and resources. To optimize the entire business travel manager's workflow, it's crucial to streamline each step.
Here are the ways in which you can improve each step of your business travel manager's workflow.
Step 1: Drafting Corporate Travel Policy
As a travel manager, drafting corporate policies is an essential part of your workflow. Corporate policies act as guidelines that define the rules and procedures employees must follow when traveling for work. The policy ensures smooth business travel while maintaining compliance, cost control, and employee safety.
How to Optimize this Step?
Conduct thorough research on industry best practices and benchmark against other companies' travel policies.
Collect travel-related data from past trips, expense reports, and employee feedback to identify areas that need improvement.
Keep the policy language simple, clear, and concise. Avoid unnecessary jargon and technical terms.
Set up a schedule to review and update the policy periodically.
Step 2: Budgeting and Cost Estimation
Budgeting and cost estimation are important components of a business travel manager's workflow. It means planning and controlling the money needed for business trips. It involves predicting, allocating, and managing the funds related to travel.
How to Optimize this Step?
Compare your organization's travel expenses with industry benchmarks and best practices. Benchmarking can highlight areas where your company can improve cost efficiency.
Leverage travel and expense management software to automate processes, track expenses in real time, and generate detailed reports. These tools can streamline budgeting and provide actionable insights.
Engage employees in the budgeting process, especially those who frequently travel for work. Their input can provide valuable insights into travel needs and challenges.
Step 3: Selecting Suppliers and Negotiating with them
This process involves identifying and partnering with travel service providers, such as airlines, hotels, car rental agencies, and travel agencies. In addition, securing the best deals and services for the organization's business travel needs.
How to Optimize this Step?
Encourage competitive bidding among potential suppliers. Request detailed proposals that outline their offerings, rates and any additional perks they can provide.
Regularly evaluate the performance of suppliers based on service quality, cost-effectiveness, and customer feedback.
Partner with a TMC to leverage their expertise in getting the best corporate deals from suppliers.
Step 4: Approving Travel Requests
Approving travel requests is a major responsibility of a travel manager. The travel manager receives travel requests from employees seeking approval to undertake business trips. These requests may come through an online travel request system, email, or designated forms.
How to Optimize this Step?
You can use a business travel management software solution with a multi-level approval system. This ensures that the requests are forwarded to the relevant managers based on department, cost, and purpose. The software also notifies managers of new requests, preventing any delays in the process. Further, employees can easily track their requests through the app, minimizing confusion and streamlining the entire approval process.

Step 5: Ensuring Travel Policy Compliance
Ensuring travel policy compliance is crucial to the business travel manager's workflow. It involves enforcing policies so that employees follow the rules while traveling. Complying with travel policies is crucial for employees so that they stay within the budget and do not risk their safety while traveling
How to Optimize this Step?
Conduct regular training sessions to educate employees about the travel policy.
Automate compliance checks using travel management software.
Integrate preferred vendors into the travel management system.
Create an incentive program to reward employees who regularly comply with the travel policy.
Step 6: Providing Travel Support
Travel support is a crucial aspect of a business travel manager's workflow. It involves providing assistance to employees before, during, and after their business trips. Business travelers usually need 24/7 travel support as travel-related issues can arise at any time.
A travel manager must ensure that the support team is trained to handle various travel situations. Further, they must be available even beyond business hours.
How to Optimize this Step?
Invest in thorough training for the support team to ensure they have the skills to handle emergencies.
Implement AI chatbots for common travel-related tasks, such as booking modifications, expense reporting, and itinerary changes.
Define clear escalation procedures for complex or urgent issues that require higher-level attention.
Outsource your travel support to a TMC that has a dedicated assistance team available 24/7/365.
Step 7: Analyzing Travel Data
Travel data analysis helps travel managers understand various travel-related KPIs. Through data analysis, managers can improve travel costs, policy compliance, and vendor management.
Travel managers consolidate data from different sources, such as booking platforms. Then they validate the data to remove duplicates, correct errors, and ensure data accuracy. Further, they try to find trends in areas such as vendor performance, costs, lost saving opportunities, etc.
How to Optimize this Step?
Establish a centralized data repository to store all relevant travel data from various sources.
Automate data collection process using travel management software.
Use automated reporting systems that generate regular reports on key travel metrics.
Use an AI travel management consultant to understand how you can leverage your data to optimize your travel program.
Step 8: Ensuring the Safety and Security of Travelers
Ensuring the safety and security of travelers is a paramount responsibility of business travel managers. Before sending travelers on a trip, travel managers must assess whether the location is safe. While the travelers are on a trip, travel managers must ensure that if the traveler encounters any risk, the team is prepared to handle it.
How to Optimize this Step?
Implement a traveler tracking system that allows you to monitor the location of your employees during their travels. This way, you can quickly locate and assist them in case of emergencies.
Establish partnerships with local providers who can offer assistance and support to travelers in case of emergencies. This could include medical facilities, security services, or legal assistance.
Partner with a risk management company. They specialize in identifying, assessing, and mitigating various types of risks across different industries.
Improve Business Travel Manager's Workflow
In summary, these tips would be beneficial to you in optimizing your workflow. However, to achieve true efficiency and streamline every aspect of business travel management, you must implement automation. By leveraging a reliable and advanced travel management software solution, you can upgrade your workflow from start to finish.
ITILITE is an advanced travel management solution that can help you automate approvals, data entry, and reporting. With ITILITE at your side, say goodbye to tedious manual tasks and welcome streamlined efficiency.
Moreover, ITILITE helps you achieve 100% policy compliance without manually verifying every booking. We also offer 24/7/365 travel support so that your employees feel safe on the road.
To know about more benefits, book a demo today!

Author
:
Rushmi Behrani
Rushmi Behrani is a content marketer at ITILITE. She specializes in writing content for B2B SaaS, travel and finance. A baking enthusiast by heart, her most cherished memory is opening a cafe during her college days.
Get the latest in your inbox
Subscribe to the Itilite blog and never miss a post!