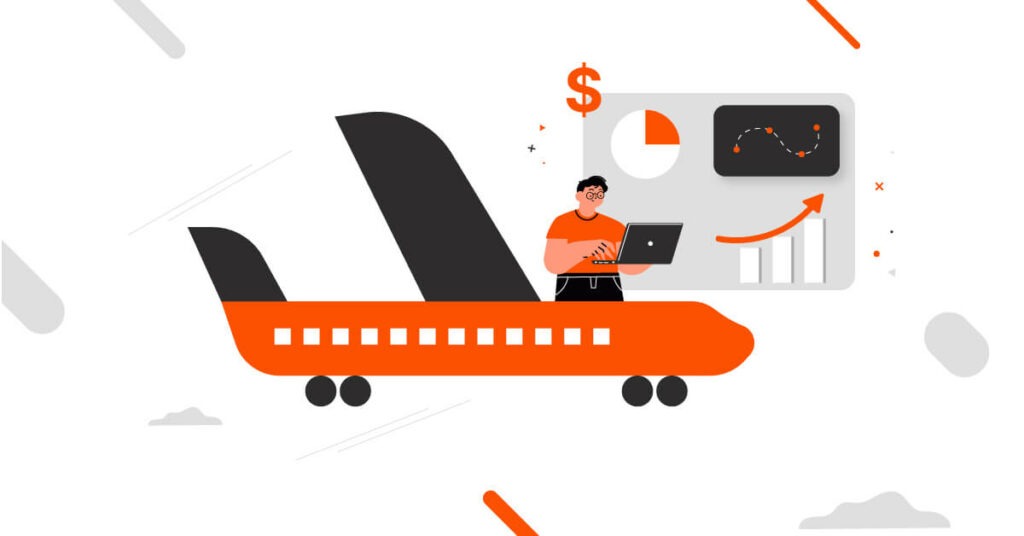 Business travel expenses can create a significant financial burden for companies. That's why many businesses are prioritizing strategies to manage these costs. A critical component of this cost management strategy is developing a clear understanding of the organization's travel needs.
However, it's important to recognize that the total cost of a business trip can vary widely depending on some factors. These include destination, the purpose of the trip, length of stay, and travel needs of individual employees. These factors affect average business trip cost.
That being said, on average, the average business trip cost of a domestic trip comes to around $990, whereas the average business travel cost of an international trip is much higher, at around $2,525.
This article gives you business travel insights on the breakdown of the average business trip costs.
Flights
Flight tickets can often be a significant expense when it comes to business travel. So, it is important to plan wisely to avoid exceeding your budget. One of the main challenges you can face is the fluctuation of airline charges. Understanding the factors that cause these price changes can help you keep your travel costs under control.
Some of the key factors that can affect the price of airline tickets include
Airline Carrier: The reputation and level of service of an airline carrier impacts pricing
Demand/Season: Prices are higher during peak season
Class of Service: First-class tickets cost more than economy class
Timings: Early morning flights tend to be cheaper
Stoppage: Non-stop flights are usually more expensive. According to Google Flights, they are 20% pricier than those with layovers.
Booking Date: Ticket prices shoot up if you book the flight closer to departure date.
Accommodation
One of the business travel insights is that accommodation expenses constitute the largest portion of business travel costs, accounting for 34% of the total expenses.
When it comes to lodging expenses in most US cities, the average business trip cost per night falls in the range of $150 to $250. You can obtain information on average lodging rates for various countries by utilizing this tool offered by the U.S. Department of State.
Further, the cost of lodging depends on factors such as:
Distance from the city center
Type of lodging (B&B, hotels, hostels, etc.)
Peak Season
Amenities and services
Star Rating
Overall cleanliness of the lodging
Ground Transportation 
The cost of ground transportation during a business trip can fluctuate based on the mode of transportation selected. There are various options available to business travelers, such as driving their own vehicle, renting a car, taking a taxi, or utilizing public transportation.
If business travelers decide to use their own vehicle, they will need to use a mileage tracking application to calculate the precise distance traveled. According to the reimbursement rates set by the IRS, the current rate for mileage reimbursement is 65.5 cents per mile.
In the case of renting a car, the average business trip cost can vary based on the location and type of car. For example, in Chicago, the average cost of renting a car is typically between $47 and $85 per day, while in New York, the range is usually between $68 and $111 per day.

Meals
The U.S. General Services Administration (GSA) sets the standard per diem rate for meals, which varies based on the traveler's destination. In cities where the cost of living is high, the per diem rate may be higher than the standard rate.
For instance, in New York, the total per diem rate for meals is $79, with an allocation of $18 for breakfast, $20 for lunch, and $36 for dinner. Additionally, $5 is set aside for tips.
Insurance
Travel insurance is a necessary safety measure for employees traveling on business trips and a crucial component of business travel management. It covers risks such as loss of personal belongings and protects against financial losses. Usually, the cost of business travel insurance depends on the following:
Length of trip: Longer trips may require higher premiums to provide coverage
Level of coverage: Single-trip insurance is cheaper than multi-trip insurance
Location: Some locations may be riskier or have higher healthcare costs. This can result in higher premiums
Type of Coverage: Coverage that includes trip cancellation, medical coverage, and emergency evacuation may be more expensive
Overall, business travel insurance can cost about 5-6% of the total travel cost. For example, the average cost of insuring a $10,000 trip can be $512. However, the rates can range depending on the above factors.
Passport and Visa 
The cost of a visa for business travel can vary depending on the country you are traveling to and how quickly you want it processed. On the other hand, the cost for an initial adult passport application is typically around $195, while passport renewal costs about $160.
To avoid extra fees and complications, it's important to plan ahead and give yourself plenty of time to get the required documents. Also, different countries may have different requirements and costs.
So, it is a good idea to check with the consulate of the country you're visiting to make sure you have everything you need.
Add-on Costs
Incidental Expenses
During a business trip, various minor expenses may be incurred, known as incidental charges. These charges may seem insignificant on their own, but they can accumulate quickly, particularly if the trip lasts for an extended period.
Some incidental charges include baggage handling charges, tips, ATM fees, currency conversion charges, parking fees, laundry, etc.
Business Expenses
You may also need to spend on other necessary business expenses. These include conference room bookings, event registration fees, offline advertising fees, business equipment rental, and shipping fees.
Concierge Services
Concierge services can be a valuable resource for business travelers. These services can help take care of various tasks and errands, allowing travelers to focus on their work.
Some of these services include restaurant reservations, event planning, translation services, pick up and drop off, etc.
Re-Bookings
Sometimes business travelers want to change the date and time of their travel due to last-minute changes in plans. In such cases, rebooking the flight is the only option. Flight change fees can vary depending on several factors, including the airline, the fare class of the original booking, and the type of change being made.
With the exception of Southwest Airlines, most major U.S. airlines have a policy of charging penalty fees for changing or canceling an economy-fare flight. The fees for these changes can vary widely, ranging from as low as $75 for a domestic flight to over $400 for an international flight.
Business Travel Insights from the Experts
With these business travel insights from industry experts, it's clear that many factors can contribute to the overall cost of a business trip. By carefully managing these costs, businesses can ensure that their travel expenses remain within budget. To manage travel expenses efficiently, you can use an integrated T&E management software solution.
ITILITE is an advanced T&E management platform that helps you get the best deals on hotels and flights from a wide inventory. Moreover, you can get deeper visibility into employee spending with the help of real-time reporting and advanced analytics. We also offer a virtual travel consultant that gives you step-by-step guidance on how to reduce your business expenses.
To know more about the benefits, book a demo now.