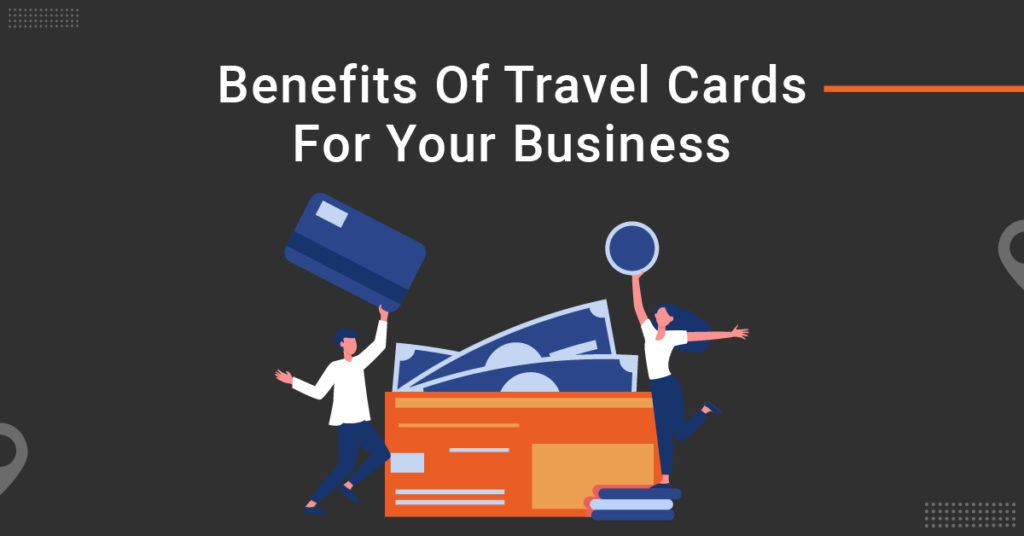 Are business trips frequent in your company? Do you keep shelling out thousands of dollars for business travel?
We understand controlling expenditure and maintaining compliance becomes difficult when employees travel frequently, especially when they use their cash or personal credit cards for expenses, and ask for reimbursement later. Moreover, the use of personal credit cards may lead to an increase in fraudulent expenses, over-spending, and employee dissatisfaction.
You can resolve all these issues by implementing corporate credit cards in your travel program. It gives employees freedom as well as helps finance managers monitor the expenses. Also, you can integrate business travel cards into your travel and expense management software for easy reconciliation.
Interested in knowing more benefits of using corporate travel cards in your travel program? Read on!
What are Corporate Travel Cards?
Business travel cards are credit cards issued to employees to spend on authorized expenses during business travel. They are issued directly to your company and you can have your employees' names printed on them. The company is responsible for clearing the payments in each billing cycle and managing the expenses of individual employees, once the account has been opened.

6 Benefits of using Corporate Travel Cards
Here are some reasons why you should allow employees to have corporate travel cards:
1. Better spend control and visibility
Not having defined spend limits and reviewing expense reports based on receipts are two main challenges for finance managers. Also, they do not get complete visibility over the actual business spending when employees use their personal credit cards and submit one statement covering the entire expenses of the trip.
With corporate travel cards, you can set a spending limit on the credit card, or on each transaction, before handing it over to the employees. Also, you can validate expenses as you have complete visibility over the spending. You can view each and every transaction and pull up details of any transaction from your travel and expense management software if needed.
While corporate travel cards can simplify expense management, a comprehensive travel management platform can help businesses achieve even greater cost efficiencies. To learn more, check out this page on cost savings.
2. Improved expense management
By integrating travel cards into the travel and expense software, the employees, as well as finance managers, can view it anytime.
Employees don't have to worry about saving paper receipts throughout the business trip as they can import transaction details directly from the expense system and create expense reports easily. It automates the expense process, saving a lot of their time. They will just "drag & drop" all the expenses onto the expense report, not having to check the receipt of every taxi and meal.
For finance managers, overall spending data (via the cards) pulled from the system can be easily analyzed using dashboards and can provide actionable intelligence for decision-making.
Moreover, as soon as the expense report is approved and sent to the accounting team, they can easily re-check all the details for accurate reimbursements.
Expense fraud reduction and increased compliance
When employees use their personal cards, there is always the potential for travel expense report fraud. Manipulation of receipts, submitting the receipts for reimbursement and then returning them, or buying business class seats and then downgrading it to the economy are a few examples of how expenses that might look legitimate may be a fraud.
But there is no chance of employees producing fake receipts or overspending with business travel cards. Since the finance managers have visibility over all the transactions, it puts an end to all possible loopholes.
Also, employees will not be able to get refunds processed into cards different to that used for the transaction. So, there is no scope for any potential fraud. Moreover, the finance managers can put spending limits so that there is no chance of over-spending.
4. Travel card rewards
Using corporate travel cards can also reward the company and employees using it. You can get rebates to discounts on transportation, accommodation, rental cars, etc., and cashback or gift cards that can be re-invented in travel and expense management or be put to the bottom line.
Moreover, you get an annual cash rebate on purchases. Some credit card companies also provide travel insurance coverage if the bookings have been made using the corporate travel card.
5. Advanced Security
Corporate travel cards are equipped with a high level of security for the prevention of any theft or misuse. Even if an employee loses the corporate travel card on a business trip, he or she can inform the travel manager.
The travel manager can then report it to prevent any fraudulent charges and get a new credit card issued.
6. Employee Satisfaction
Employee satisfaction is a benefit that should not be overlooked. With business travel cards, employees do not have to spend out of their pockets and wait for reimbursements. Whether they want to reserve a plane ticket or book accommodation, a corporate travel card makes it easy for them to purchase what is needed.
Providing corporate travel cards to your employees will help you send a message to them that the company trusts and cares about them.
Corporate Travel Cards: FAQS
Here are some common FAQs regarding corporate travel cards:
Are credit card rewards worth it?
If your employees travel frequently, a corporate travel card might be a good choice. You should choose the one that offers something in return such as points, cashback, or discounts.
However, you will have to ensure that you pay off certain bills each month and the balance in full every month to maximize the rewards.
How to record travel points on a business credit card?
Keep a track of any cashback, points, or miles you earn on a business credit card because you will have to subtract the value from your reported business expenses.
You can do it via a summary page online. While they're discounts, but they're discounts on a business expense, and therefore, the amount matters to the IRS.
How to apply for a business credit card for work travel?
There are many credit card companies where one can apply for a business credit card online. However, it is essential that you scrutinize the offers being made by these companies and compare them.
Most of them will offer very low-interest rates but with hidden charges. You should read all the policies and documents before choosing a credit card for work travel.
How do travel mile rewards work on a credit card?
Credit card providers reward customers for spending money with specific travel companies (mostly airlines). The reward points earned are often called "miles," but the term "miles" doesn't reflect the distance traveled, it reflects the amount a customer spends. Miles can be redeemed for free flights.
For instance, each time an employee books a flight with the company credit card, they'll earn a specific number of credit card miles based on the money spent on the purchase. The best airline credit cards offer about 1 reward mile per $1 spent as well as bonus credit card miles on certain purchases. Almost all companies have a portal where you can redeem your travel mile rewards.
Integrate your Business Travel Cards with ITILITE 
Corporate travel cards can help you control your company's travel expenses and monitor compliance. It's a win-win for both finance teams and employees. While finance managers do not have to reconcile all the transactions manually, employees don't have to spend out of their pockets and wait for reimbursements.
While Business travel cards do provide convenience to you and your employees, integrating them with travel and expense management software such as ITILITE can accelerate your expense management process with automatic reconciliation. It can increase the efficiency of your company's travel and expense management process.
Book a free demo with our product experts today to experience the benefits of using corporate travel cards.