During the pandemic, business travel took a backseat, and video conferencing replaced in-person client meetings and on-site visits. But now, in the post-pandemic world, the demand for business travel is increasing, and employees are ready to travel for work.
But the question arises: why do we travel for work despite technological advancements?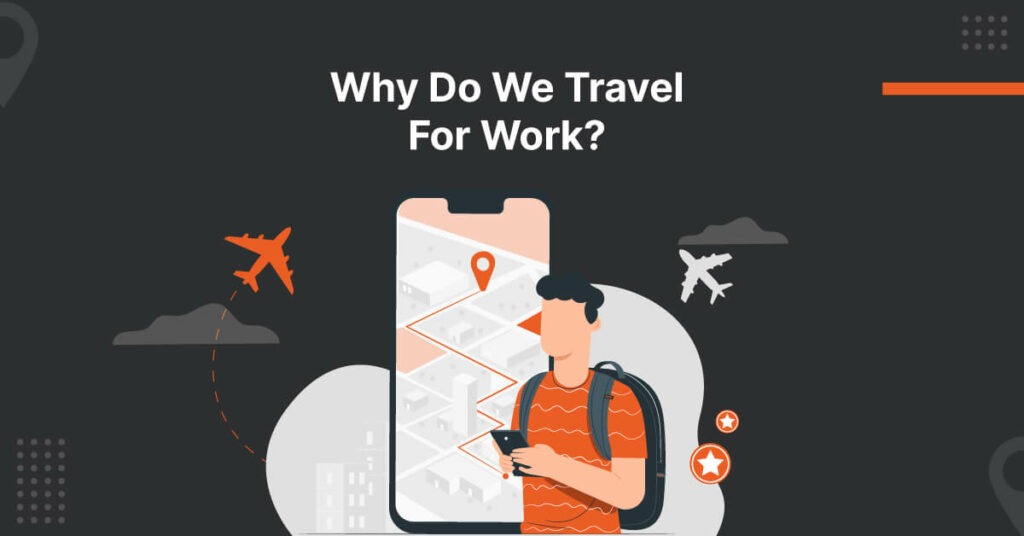 Traveling for work benefits both employees and companies in various ways. Employees get to visit new places and experience different cultures, learn new skills, interact with other people within the industry, and more. On the other hand, companies get to establish their business in different cities/ countries, onboard new clients, strike new business deals and build business relationships.
Let's look at a few reasons why we travel for work:
8 Major Reasons why we Travel for Work
1. To Meet Clients Personally
Video calling and conferencing are great communication methods, especially with the hybrid working mode. But, when it comes to making business deals and conducting meetings, nothing can replace face-to-face interactions.
Face-to-face meetings facilitate better communication and help build strong relationships as employees can interact with clients and new people. It also helps build organizational strength and promote productive collaboration in ways virtual interactions cannot.
Additionally, clients are most likely to select a company that has traveled all the way to meet and speak to them because it helps clients build trust, have direct conversations, and negotiate business deals.
2. To Grab Business Opportunities
Traveling for work allows employees and business executives to attend various business events and functions. During business events, employees get an opportunity to talk about their company, the services they provide, and how it is beneficial to others, among other things.
Moreover, when employees attend business conferences, they get a chance to meet and interact with like-minded professionals from the industry, where they can gain insights and knowledge about the industry, learn about various processes, grow their connections, etc.
Employees also interact with leaders, subject matter experts, managers, and stakeholders, which helps them identify new business opportunities, discuss business trends, and evaluate their current policies.
Traveling for work offers a great opportunity for small businesses to understand how other companies are faring in the market and how they can upscale their business by adopting similar strategies and policies.
3. To Streamline Communication
During regular office hours, employees have to interact with clients on a daily basis. Employees and clients may both be living in different time zones. This makes scheduling online meetings and conferences more challenging as both have to adapt to each other's time zones. Moreover, they have to plan in advance to schedule these meetings.
Hence, interacting with clients personally during corporate travel is an excellent way to communicate where employees or executives can express their thoughts and ideas and discuss the business, further strengthening business relationships.
Moreover, human interaction eliminates misunderstandings from written communications such as emails or chats. Sometimes, it isn't easy to interpret what the other person is trying to say, and employees may read it differently than what is being conveyed. Hence, meeting in person and interacting with others during a business trip is much more beneficial than written or virtual communication.
4. To Share Ideas for Economic Growth
Another main reason employees or company CEOs travel for work is to gain knowledge and ideas. As per a study by Harvard University, business travelers create economic growth through the information and ideas they share, as various countries and regions normally have proficiency in different fields of business.
On a business trip, employees meet experts from different fields and attend various business events, where they get to exchange ideas and share insights from their experiences that sometimes result in breakthrough thinking. Sharing ideas makes achieving the company's goals much easier as they get a deeper understanding of the needs and problems of the customers.
This helps companies expand their business, meet new clients, and analyze how others conduct business.
5. To Expand the Network
Networking with other professionals in the industry is an essential part of the business. You never know when or where your next collaboration may appear. If employees travel for work, being ready to talk about their work and the opportunities they are looking for may result in options they did not know about before.
Networking allows employees and companies to connect with various individuals to expand their professional/social network and connections. They get to meet new people from the industry and attend meetings and conferences, which they cannot do over video or phone calls. Business travelers can also socialize during coffee breaks or meal times which is an excellent way to have conversations and build business relationships.
6. To Build Company's Brand
When employees travel for work, they get to showcase the company's products and services in front of new people. This makes people aware of your company's brand. Employees and CEOs get a chance to exchange business cards, phone numbers, and brochures. Apart from this, they can also interact with potential customers about their business.
When employees present and communicate about their company's business attractively, it helps the business get more recognition and increases value. Having a well-known brand name helps establish your organization as a leader in your niche and gives a major boost for further expansion.
7. To Research About the Location
Most businesses are always looking for ways to enter the market. Traveling for work helps you with the research needed to expand your business. Companies, especially small businesses, can explore new markets and learn about diverse cultures. This further helps organizations cater to a wide range of customers.
When employees travel to different locations, interacting with localities gives them a clear idea of how businesses are faring in their city and how they can take steps to establish their business there. The new information can be of utmost importance during the decision-making process.
8. To Gain a Competitive Edge
Employees and company executives also travel for work to attend industry events and keep up with recent business trends, which helps them gain a competitive edge for your business. They will learn more about new products and services launched in the industry before competitors, which will help companies stay ahead of the curve.
With a competitive edge, companies can analyze their business's strengths and that of their competitors and learn how to take advantage of these factors. With this, they can create more excellent value for their organization and stakeholders, become market leaders in the business travel industry, gain better profit margins and market control, and help attract more customers, among many others.
Ensure Employees Travel for Work with Ease
Living in an age where technology has taken us to advanced levels of communication, some people still wonder about the need to travel for work. Although video conferencing and calls are great communication methods, real-life interaction creates better interactions and experiences.
If you or your employees travel for work often, ITILITE's business travel management software can help you with all your travel needs. We take care of everything right from bookings and free cancellations, providing personalized booking options and 24/7/365 customer support. Our SaaS-based software also offers a great booking experience where employees can book their trip within 90 seconds.
Get a free demo of ITILITE to try the features yourself.