In conversation with Jasminder S Brishan (Jassi) – Business Travel Expert, Industry Veteran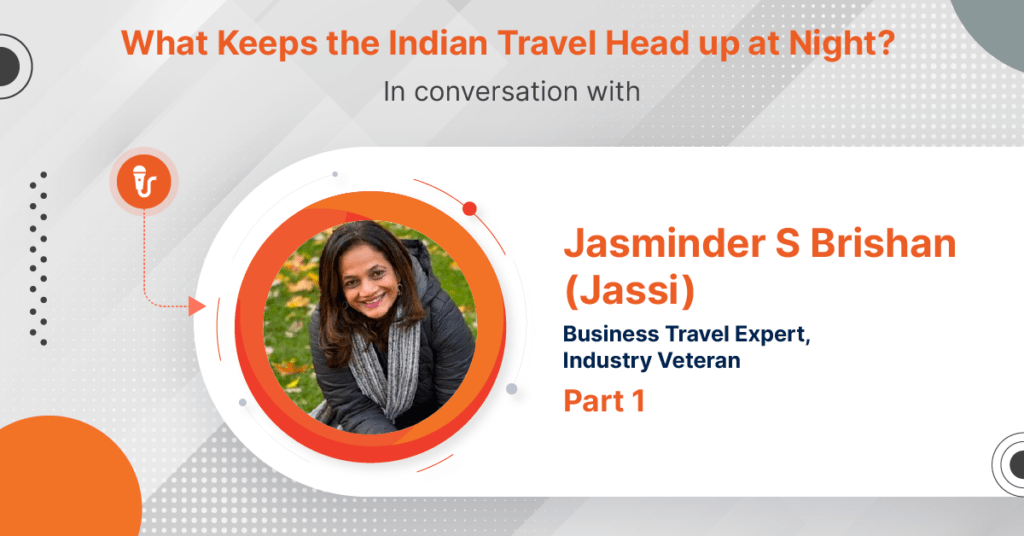 As India's domestic and international travel sectors scaled over the past few years, the demand for dedicated management in the business travel industry also grew. With a need for efficient travel booking, expense tracking, data analysis, and reporting to top management, companies are looking for experts in the field. That's why we reached out to Jasminder S Brishan (Jassi), a seasoned business travel professional, Global Travel Head, to gain insights on the latest trends in the industry. As we step into the new financial year, Jassi's perspective will provide valuable information for those navigating the evolving landscape of business travel.
IL: Thanks for meeting with us Jassi, let's start with a brief playback of your journey in business travel.
JB: As a business travel professional with over 15 years of experience, I've always believed that technology is key to staying ahead of the game. In my previous roles, I witnessed the old-fashioned way of working with travel agents and implants, which prompted me to encourage travelers to book trips on their own. To achieve this, I focused on providing adequate training, creating job aids, and offering personal assistance via screen share to guide travelers through the booking process. We also collaborated with our travel management company (TMC) to update policies on their tools, making it easier for travelers to book with confidence.
Over time, technology in the travel industry has evolved to not just cater to booking tools but also integrate expenses. Some companies still use their own ERP, but they also have the advantage of integrating with third-party tools. As a travel manager, I faced resistance from some colleagues who were not keen on adapting to technology. However, the need to adapt is critical, given how technology has taken over different fields like HR, payroll, and corporate services.
IL: With many companies encouraging employees to book themselves, and without help from the Travel team, should Travel Managers be worried?
JB: In today's world, technology adoption is crucial in managing global travel. Travel managers who do not adapt to technology should be concerned, as their management will eventually pressure them to move forward with technology. With companies encouraging employees to book for travel without the help of the travel team, the question arises: why do we need travel managers? It is daunting, however, this can also be an opportunity for managers to demonstrate their value and adapt to new technologies that enable cost-saving solutions.
The answer is that travel managers are needed to recommend better ways for the organization to be cost-conscious and to handle responsibilities geographically. By expanding their capabilities to handle multiple regions, not just one, travel managers can align themselves towards more strategic responsibilities rather than just assisting with online bookings. They need to position themselves as strategic thinkers, who can adapt to new technological solutions, such as SBT tools, to manage end-to-end travel without much direct contact. By doing so, they can save costs and elevate their roles, which can ensure job security and satisfaction in the future.
IL: You just advised travel managers to be on the lookout for better ways to improve their travel processes. Could new-age Tech platforms for business travel be the answer?
JB: I believe with the new age solutions in the market, its strategic adaption by the managers is crucial. As travel heads, we need to be on the lookout for better ways to improve travel programs by analyzing travel spends, identifying areas where the company is spending more, and targeting those locations to bring about a change. While online booking tools are available in the market, they are not the only tech platform that we should place a focus on.
A common Travel Management Company (TMC) may not be geared up to provide the kind of support that the travel manager needs, such as dedicated analysis of various travel related spends or sourcing corporate rates. In such cases instead trying quick fixes with tightening of policy rules, travel managers need to step up and shift focus to other viable options that present a win-win situation for the company and its travellers.
The dedicated tech solutions budding today offer a rewarding program with end-to-end travel fulfillment and much more. This is why the main concern for the travel manager today is related to manpower and technology in the organization, as travel budgets have shrunk, and offices have reduced in size. The management wants the travel manager to adopt technology and reduce manual intervention.
Therefore, the travel manager's role is vital in adapting to new technology and ensuring that the travel program is optimized to minimize expenses. I have no doubt that these niche solutions are going to be extremely commonplace and revolutionizing in a couple of years.
IL: Does travel inventory play a role in a 'rewarding business travel program' according to you?
JB: As someone who has had the primary KPI of making the corporate travel experience better for employees, I know that inventory plays a vital role in business travel. When it comes to travel, people are not limited to just visiting office locations; they may also travel to various other places for business purposes. Hence, it is crucial to have a wide range of options available in the inventory, especially for staggered travel.
However, I believe that the industry needs to rethink its approach to inventory management. The current trend of integrating with third-party providers like on common websites for personal travelling is not the right way to go about it. While these providers offer a plethora of options, they lack the personalization and exclusivity that a corporate travel manager requires. As a travel manager, I always prefer to have a refundable option and special corporate deals that is negotiated on behalf of the company. This personalized approach not only helps companies save money but also provides a more tailored experience for employees.
I believe that travel management solutions can achieve this by offering a more personalized service, even if it comes at a small fee.
IL: Speaking of quality inventory, NDC has become a buzzword in the industry currently. What are your thoughts on being NDC enabled or not? How does it add value to you?
JB: NDC, or New Distribution Capability, has been a topic of discussion in the travel industry for quite some time now. While we initially did not pay much attention to it, we have started to see its impact on our bookings. As one of our major travel partners, American Airlines has shifted to NDC, we have faced some challenges with our current booking processes. We have been unable to see fares on the platform and have had to deal with higher fares and limited assistance in rescheduling or cancelling bookings.
It is undeniable that NDC has become a crucial part of the travel industry. By embracing it, we can streamline the booking process and offer our travelers a wider range of options and services. It is a hope that both the travel management companies and airlines can come to a common ground and provide the necessary support required for corporate travelers.
While I cannot currently comment on the specific advantages of NDC for us, I believe that its adoption will ultimately bring value to our company and enhance the travel experience for our clients. I look forward to exploring the potential of NDC and staying at the forefront of the evolving travel landscape.
There are many things that keep a travel head like Jassi up at night. Stay tuned for Part 2, where Jassi tells us all about travel approvals, managing client relationships, reviewing travel data, and much more!
About Jasminder S Brishan (Jassi):
Jasminder S Brishan is a professional with nearly 20+ years of experience in corporate world of Operations – Strategic Sourcing, Procurement, Global Travel, Mobility, Administration, Event Management and MICE. She has a global experience in enhancing processes and reducing costs; accomplished in using optimization models to determine least cost efficiency and maximizing customer experience.