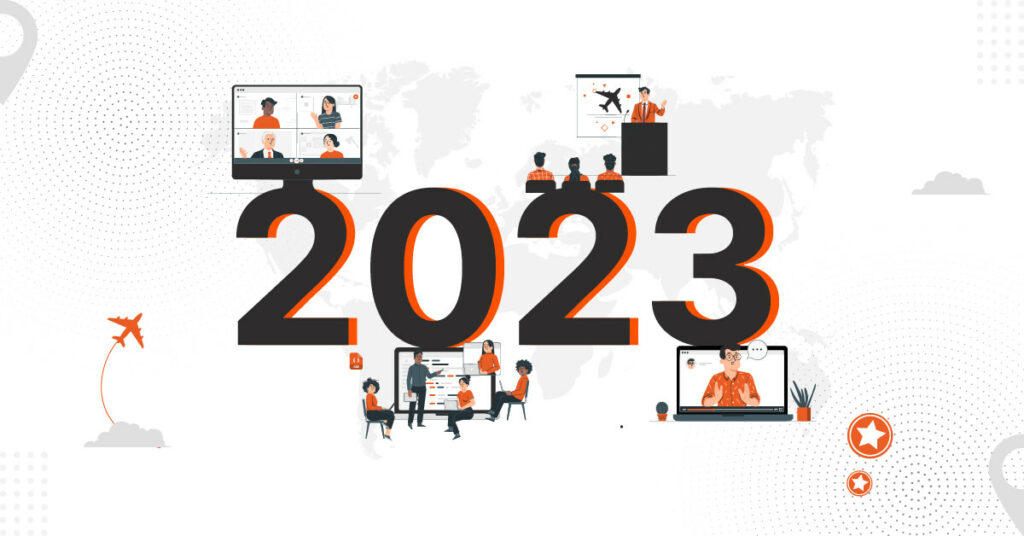 With the changing landscape and continuous growth of the business travel industry, keeping yourself updated with the latest developments and trends is vital. And what better way for professionals in the business travel industry to do that than attending corporate travel events, conferences, and exhibitions?
Here are the crucial 9 corporate travel events that you must not miss in 2023:
1. Las Vegas Travel Agent Forum
Dates: March 31st to April 3rd
Place: Las Vegas, Nevada
Hosted at the Paris Las Vegas Hotel and Casino, this is a premier corporate travel event for all travel agents. In this event, you can attend round table discussions, participate in educational sessions, meet multiple like-minded professionals, and have a great networking experience.
The Las Vegas Travel Agent Forum is a B2B travel agency-focused program that will allow business professionals to connect with the most popular and sought-after business brands and directly interact with travel suppliers while mingling with partners and peers. What better opportunity to immerse yourself in the world of business travel at the most happening places in the world?
You can register for this event here.
2. World Travel Market (WTM) Africa
Dates: 3rd-5th April
Place: Cape Town, South Africa
Any business travel industry professional looking to make their mark on the travel industry in Africa should attend this event! WTM is the leading and only B2B exhibition that will be taking place in Africa.
Hosted in Cape Town, South Africa, join over 6,000 industry professionals as they attend this mega event for both inbound and outbound African travel and tourism markets. This corporate travel event will allow you to showcase your brand, connect with peers, gain insights, generate new leads, enter new business markets, and more.
You can register by clicking here.
3. ITB India
Dates: 26th-28th April
Place: Mumbai, India
The ITB India 2023 conference will showcase exciting content from a wide range of topics, including MICE (Meetings, Incentives, Conferences, and Exhibitions), business, and leisure travel. This B2B trade show is curated to connect you with the Indian travel market.
ITB India will be held for three days at Jio World Convention Centre in Mumbai, India.
This corporate travel event will provide you with the platform to build new business partnerships and strengthen existing relationships with some of the important leaders in India.
Register to attend this event by clicking here.
4. Arabian Travel Market Show
Dates: 1st-4th May
Place: Dubai, UAE
For anyone trying to unlock their travel and tourism business potential in the Middle East, Arabian Travel Market Show is undoubtedly an event to be at. This event is for both inbound and outbound business professionals. Renowned names from accommodation, hospitality, tourism, destinations, innovative technology providers and airlines, and more will be present to provide deep and insightful views into the Middle-Eastern market and the business travel industry.
The theme for 2023 will be 'Working Towards Net Zero', which will cover how sustainable trends will evolve while identifying strategies for business growth. This show will be held at the Dubai World Trade Centre.
To register for this event, visit this site.
5. GBTA Canada Conference 2023
Dates: 15th-17th May
Place: Toronto, Canada
The Global Business Travel Association (GBTA) has had multiple business events and conferences this year. One such important event is taking place in Toronto, Canada. From addressing the present needs of business travelers to looking ahead to what's required most by travel buyers, suppliers, and business travelers, The GBTA Canada Conference is the Canadian business travel event of the year.
This event allows business travel professionals to network with thousands of peers and attend sessions with insightful speakers and leading experts from the business travel industry.
Here, the attendees can access tools and resources from the latest forecasts and data to the best practices for the road ahead for their business travelers. You can also block on-to-one meetings or networking opportunities you may have planned with other attendees.
To register, click on this website.
6. Travel Meet Asia 2023
Dates: 7th-8th June
Place: Kuala Lumpur, Malaysia
As a business travel professional, if you are looking to optimize your business travel management process, look no further than Travel Meet Asia 2023! This mega event brings together over 500 attendees and more than 200 invited buyers.
You can also network with other MICE, corporate, and leisure professionals from the industry. Seize this opportunity where leading industry professionals and experts gather together and engage in discussions to overcome the ever-changing travel trends and meet the requirements of business travelers.
You can register for this event at this site.
7. Business Travel (BTN) Show Europe
Dates: 28th-29th June
Place: London, United Kingdom
Looking for a space where you can meet business travel experts, visionaries, disruptors, and innovators? Then, Business Travel Show Europe is the place for you. This annual conference includes inspiring conference sessions covering the entire business travel sphere, keynote speeches on sustainability and other vital topics, and insights and knowledge on the most pressing industry issues. Past speakers include representatives from Siemens, BTN Group, and Virgin Atlantic, among others.
Grab your space now if you want to attend this event!
Register now by clicking here.
8. Destinations International Annual Convention 2023
Dates: 18th-20th July
Place: Dallas, Texas, USA
The last two years have been a roller coaster ride for people working with destination organizations. Factors such as the global pandemic, natural disasters, political unrest, and inflation brought about a series of changes in the world of destination organizations.
Business professionals looking for solutions for recovery post-pandemic, the Destinations International Annual Convention 2023 is the event you should attend. Take advantage of this opportunity to connect with peers and thought leaders from across the industry and gain new insights. The event will be held at Omni Dallas Hotel.
Registrations are to open soon!
9. Digital Travel Summit US 2023
Dates: 12th-13th September
Place: Hilton Head Island, South Carolina
Most companies nowadays are looking to re-imagine their customer journey. If you, too, plan on doing that, then Digital Travel Summit 2023 is the go-to event. This event is mainly for travel executives from airlines, OTAs, hotels, and transportation companies to share their knowledge and insights on enhancing personalization and improving online strategies for a seamless cross-travel experience.
The event will be attended by more than 300 travel leaders and will be held at the Westin Hilton Head Island Resort and Spa.
Spots for registration are yet to open.
These Corporate Travel Events are Worth Attending
Factors such as the global pandemic, inflation, natural disasters, wars, etc., severely impacted business travel in the last two years. However, the year 2023 looks promising, with an increase in the number of business travels. Hence, it becomes imperative that business travel professionals continue to network and build strong business relationships for business growth. You can do this by attending the above-mentioned corporate travel events.
If you look forward to attending these events, ITILITE can help you book your stays and flights. At ITILITE, we help you with bookings, provide personalized booking options, and round-the-clock corporate travel support. Our advanced travel management software also allows you to book flights and hotels with a turnaround time of 90 seconds.
Book a free demo with ITILITE to know how its advanced features help you with a seamless booking process.