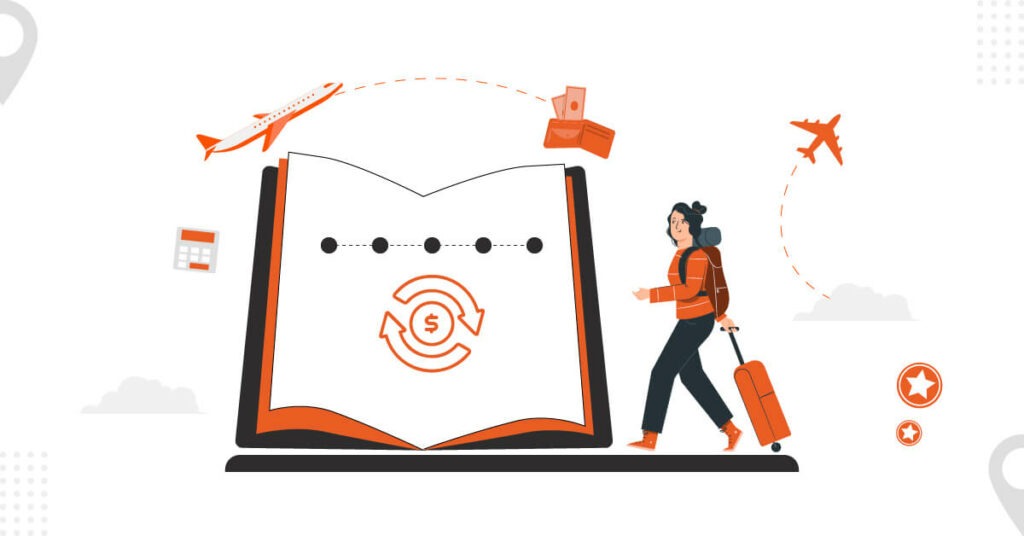 Traveling for business can be an exciting and rewarding experience, but it can also come with a fair share of challenges, including dealing with travel expenses. Business travelers may incur various expenses such as airfare, hotel accommodation, meals, and transportation. These expenses can quickly become a significant burden for employees if they are not reimbursed on time.
On the other hand, travel managers and the finance department must manage multiple expense receipts, which can be a time-consuming and tedious process.
In this blog, we will provide a comprehensive guide to the travel expense reimbursement process, which will help you understand the different types of travel expenses, the importance of the travel expense reimbursement process, and the best practices for it.
Travel Expense Reimbursement Process: Explained
Travel expense reimbursement is when an employer/organization compensates their employees for all the travel expenses incurred during a business trip. This includes accommodation, flights, meals, ground transportation, and other business travel-related costs.
The travel and expense reimbursement process generally involves employees collecting physical copies of their receipts or any other documentation as proof of expense, preparing expense reports, and submitting them to the finance department. The finance department or the approver reviews these expense reports, and either approves or rejects them. 
The primary purpose of a travel expense reimbursement process is to ensure that employees don't have a strain on their personal finances.
What are the Different Types of Travel Expenses?
During the travel expense reimbursement process, it is crucial for travel managers and the finance department to understand the different types of travel expenses.
The different types of travel expenses are as follows:
1. Transportation Expenses
These expenses include the money spent by business travelers while traveling to business trip destinations. They can claim the money for flights, cab fares, train tickets, etc. Alternatively, if employees are traveling by their own vehicles, they can claim fuel, parking charges, or other expenses as per the US mileage reimbursement policy.
2. Accommodation Expenses
These expenses include the amount employees spend arranging their stays during a business trip. Accommodation expenses include charges for hotel rooms, resorts, lodges, Airbnb's, etc. Here, you must reimburse the stay expenses as per your company's travel budget based on the trip type and duration of the stay.
3. Client Entertainment and Meals
These expenses refer to the costs incurred by employees to entertain or engage with their clients or prospective clients for business purposes. It includes going out with clients for sightseeing purposes or hosting them at live events such as karaoke, sporting events, or concerts.
Meal expenses generally include the amount spent on food and drinks while hosting a business travel event. These include meals purchased for themselves or for clients. If employees buy meals for themselves daily, then it is known as subsistence expenses or per-diem allowance. Here, employees get reimbursed for food, drinks, and other refreshments.
Employees who incur client entertainment and meal expenses will be reimbursed for the same.
4. Incidental Expenses
These expenses include nominal costs in addition to major costs that employees incur while using certain services, such as room service, laundry, tips to the waiter, etc. You can reimburse employees for such incidental expenses once they return from their business trip.

Why is the Travel Expense Reimbursement Process Important?
The travel expense reimbursement process is important for various reasons:
Record-keeping: A proper travel expense reimbursement process allows for accurate record-keeping of all expenses incurred by employees during business travel. This helps you maintain correct financial records, which is useful during tax audits and other regulatory inspections.
Cost control: This process helps control costs by setting limits on what can be reimbursed and ensuring that employees provide receipts for all their travel expenses. This helps prevent overspending, which can otherwise impact your company's financial health.
Policy compliance: Many organizations have policies and regulations around travel expenses, such as what kind of travel expenses can be reimbursed and what type of documentation is needed. A robust travel and expense reimbursement process ensures that business travelers are complying with these policies and regulations, reducing the risk of non-compliance and potential legal issues. 
Employee satisfaction: A streamlined and efficient travel expense reimbursement process helps boost employee satisfaction. When your employees are reimbursed in a timely and efficient manner, it improves their morale, and they feel valued.
Hence, a robust travel expense reimbursement process is crucial for your business travel management process.
Best Practices for a Seamless Travel Expense Reimbursement Process
Let's look at some of the best practices travel managers and the CFOs of an organization must follow for a seamless travel expense reimbursement:
1. Have a Robust Expense Reimbursement Policy in Place
The first step is determining an easy-to-follow and clearly explained expense reimbursement policy to distribute amongst your employees.
In the expense or travel reimbursement policy, you must include all important details, such as reimbursable and non-reimbursable travel expenses, guidelines on how the expense claims should be filed and submitted, and the deadline to submit the travel expense receipts.
If your employees require any pre-approval for certain amenities or purchases on behalf of the organization, make that specifically known. The more comprehensive your travel reimbursement policy is, the better it is for both employees as well as the CFOs and decision-makers. This prevents any misunderstandings and makes the travel and expense reimbursement policy easier. 
2. Use a Centralized System
A centralized system for tracking and processing travel expenses can help streamline the reimbursement process. This system should be easily accessible by your employees and should allow for easy submission and tracking of expenses. A centralized system can help ensure that all the necessary information is captured, and travel expenses are approved on time.
For example, with the help of expense management software, employees can click pictures of their travel expense receipts and upload them while on the go. The approver is instantly notified about this expense report which he can approve or reject. This reduces the risk of manual errors and ensures timely reimbursement.
3. Enforce Timely Submissions
Travel managers should enforce the timely submission of travel expense reports so that employees are reimbursed on time. Late reimbursements can cause delays in the travel expense reimbursement process, which can negatively impact employee satisfaction.
To enforce timely submissions, you must set a deadline and send out reminders before the deadline. This will ensure employees submit their travel expenses on time, and you get sufficient time to review and reimburse the travel expenses.
4. Verify the Legitimacy of Expenses
One of the most crucial steps that cannot be stressed enough is to verify if the travel expense reports comply with the company policy guidelines. According to a survey, fraud and expense abuse by employees can cost companies around 5% of annual revenue. Such instances can severely impact your company's bottom line.
With the help of expense management software, you can easily identify duplicate receipts and out-of-policy claims. Therefore, when employees file duplicate/false expenses, both employees and approvers are notified.
5. Communicate Regularly about the Reimbursement Process
Communication is key to a seamless travel expense reimbursement process. Travel managers should communicate regularly with employees to ensure they understand company travel reimbursement policy and the reimbursement process.
This can help ensure that employees submit expenses correctly and that there are no surprises during the reimbursement process. Regular communication can also help build trust and transparency between you and your employees.
Ensure your Company has a Robust Travel Expense Reimbursement Process
With an effective and efficient travel expense reimbursement process, organizations can maintain accurate financial records, enhance employee satisfaction, comply with tax regulations, and more. This guide will help you with following and implementing the best practices for the travel and expense reimbursement process. But for this, you may require the help of technology. 
ITILITE's travel and expense management software allows you to implement a robust travel expense policy, ensure policy compliance, detect fraudulent attempts, and many more. Our expense management software also automates your expense management process by integrating expense filing, approvals, and reimbursements in a single platform.
Request a free demo with our experts to know more about our advanced features.