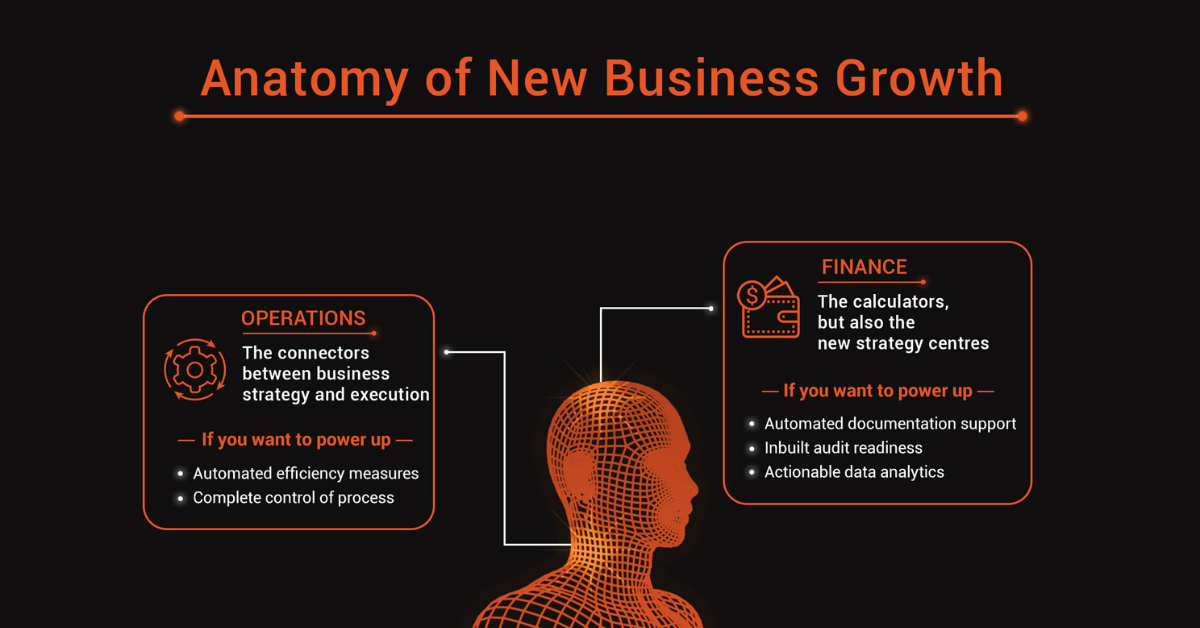 It is time to look forward. There have been many hurdles along our way over the past few months, but the show must go on, and must be a blockbuster! A lot has changed for companies this year, but the most positive change is the renewed focus on collaboration. Not only external collaboration, but also within the company machinery.
Since April 2020, there has been a focused, complementary approach to growing business in market-leading companies. While on one side there were reductions in spending, on the other, there were investments in efficiency. And this will be the norm for every successful company going forward. In essence, each company must start working with as much seamless integration as the human body!
So what really is the anatomy of the new business growth model?
Finance: The strategic planners
Finance teams will be instrumental in planning the company's spends and answering all the tough questions – where we need to cut back, what investments will be most fruitful, and how we can make the best use of your savings.
Sales: The movement propellers
Marketing and sales will go hand in hand to ensure complete consumer understanding for internal teams. They will renew the demand for a business's products and services through market analyses, targeted conversations and customer first approaches.
Admin: The heavy lifters
No business can function smoothly without an agile administration. What technology do teams need? How can they upskill better? Should outsourcing work be an option? The backend support for the enterprise, admins will be responsible to equip teams with all that they need to deliver quick, efficient solutions.
IT: The power source
In digital first business environments, constant IT support is a must. The right mix of tech, domain expertise and automated systems can save long hours of manual work and reduce turnaround time greatly. In case of a lack of this, there's a good chance that customers will move to competitors who are more agile to adapt to a rapidly evolving business landscape.
HR: The human connect
We can't forget the backbone of successful business all across- Human Resources. The HR department acts as the sync between all teams, to make sure that teams are safe, well taken care of, and employee morale is high. Remember, the happiness of internal teams is directly proportional to business success.
While each team will put their best foot forward, measurable growth also needs strong outreach, no matter the scale or industry of the business. That needs feet on the street, and strategic planning, for which teams need to interact with customers directly.
Business travel may have remained dormant for a while, but in the new normal, it will drive a holistic, agile upwards curve for companies. Customers are looking for not just innovation led solutions, but also the speed at which those solutions reach them, and the trust each one inspires. And we all know that there is nothing like a face-to-face meeting to create trust.
Many industry leaders have resumed travel for teams, depending on specific company needs, to stay at par with competition. The faster we are to adapt, the more growth we can achieve!
Get the latest in your inbox
Subscribe to the Itilite blog and never miss a post!