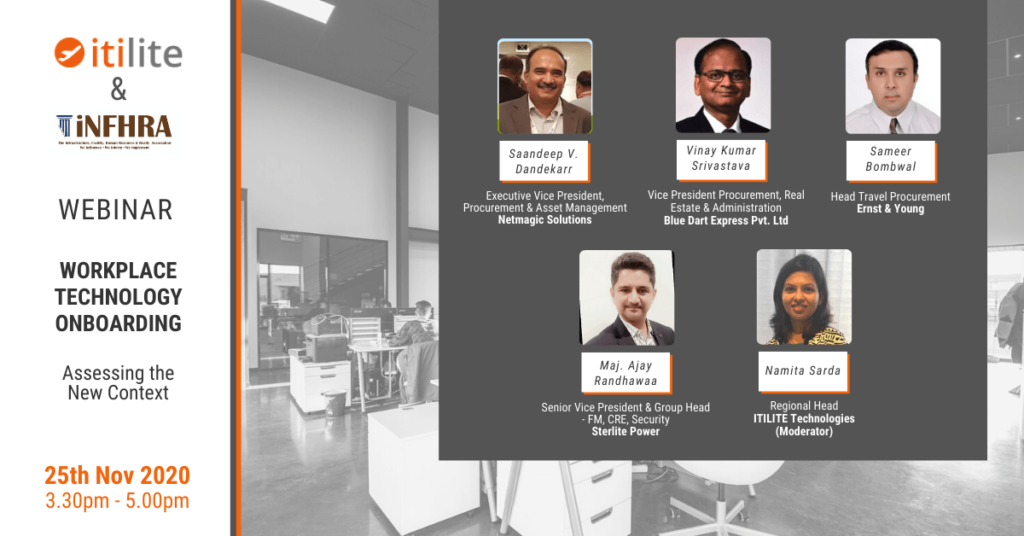 "There are plenty of great technology solutions available in India."

– Maj. Ajay Randhawaa, Senior Vice President & Group Head – Fm, CRE, Security, Sterlite Power
COVID has been the ultimate catalyst. Companies on the brink of expansion hit faster growth, product companies made headway into new cutting-edge technologies, and large organizations are now firmly convinced that their next long term technology partner is in India.
India's product landscape has grown massively over time, and more so recently. Product companies like ITILITE are upping our game every day to solve for the gaps that we can see in our customer organizations.
At our recent webinar Onboarding Workplace Technology: Assessing the New Context, Admin and Procurement leaders across industries shed some light on what they look for in their technology partners, and what they need for 2021.
The expectations are not unrealistic, in fact, as technology partners, these call-outs are just what the doctor ordered, to be able to deliver the best:
1. "Will growing with your technology cost me for every upgrade?"
"With time it is only natural that your technology has to keep growing upwards. And if that upward movement is not easy then technology ultimately becomes a constraint rather than an enabler."

– Saandeep V. Dandekarr, Executive Vice President, Procurement & Asset Management, Netmagic Solutions
Technology is expected to help you question the acceptance of constraints. As we develop more and more, we should be able to do more. The growth I expect from a tech partner should not be a burden, rather it should be an organic upward movement for both of us, together.
2. "Do not just sell your product and leave"
A vendor delivers one product or service and stays away for two years till the next upgrade. A consultant is your partner WITH the product or service. They invest in your problems, and help you build solutions. When it comes to assessing the impact of the latter, companies can look at cumulative RoI – a mix of experience, convenience, qualitative value, and monetary benefits
3. "I am not going to write to the head office in the US for a solve"
"The need for technology today is, it has to be reliable, robust, secure, and easy to understand & use"

– Sameer Bombwal, Head Travel Procurement, Ernst & Young
Technology today is carrying all our burdens. When tech breaks, the impact is much worse than ever before. If a partner cannot deliver instant bug fixes and scalable, agile, speedy upgrades, then I cannot see a future with them
4. "Your technology has to talk to my existing technology!"
A company is driven by many many processes running in tandem. Just like you cannot expect a team to deliver without cooperation from other teams, your technology is the same! Is it really a solution if technology is only solving one problem without assessing the operational impact of it?
5. "I will be your biggest support, you just have to inspire me"
No procurement or admin team will oppose a solution that delivers true value. But as a partner, you must convince them that you are the support they need for today, and the agile capability they need for the future.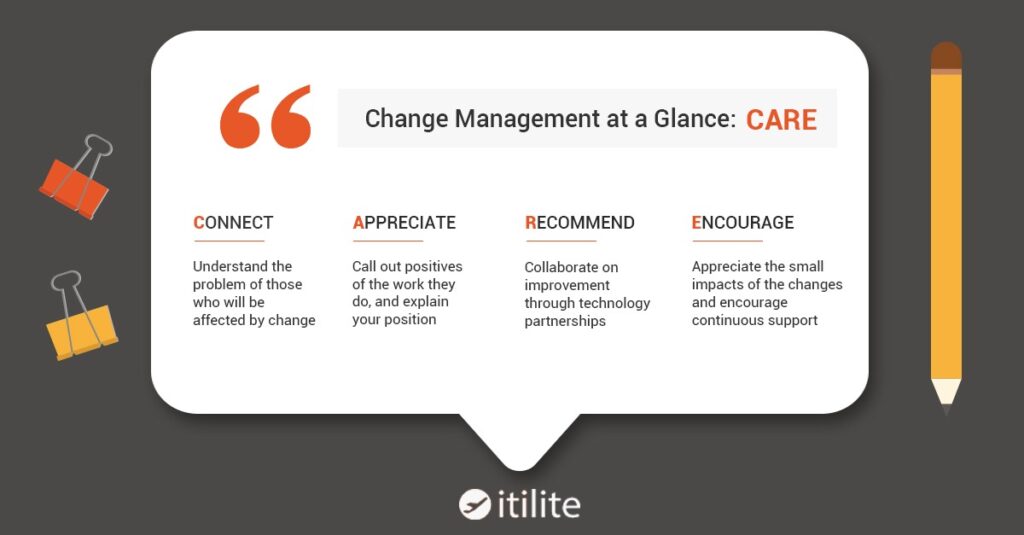 Vinay Kumar Srivastava, Vice President Procurement, Real Estate & Administration, Blue Dart Express Pvt. Ltd.
The future is tech, but it's not about products, services, demos, and sale. It's about sitting across the table from your customer, understanding their problem, and setting up a collaborative solution – using the great technology that India has to offer!
You can catch the webinar recording HERE

Get the latest in your inbox
Subscribe to the Itilite blog and never miss a post!