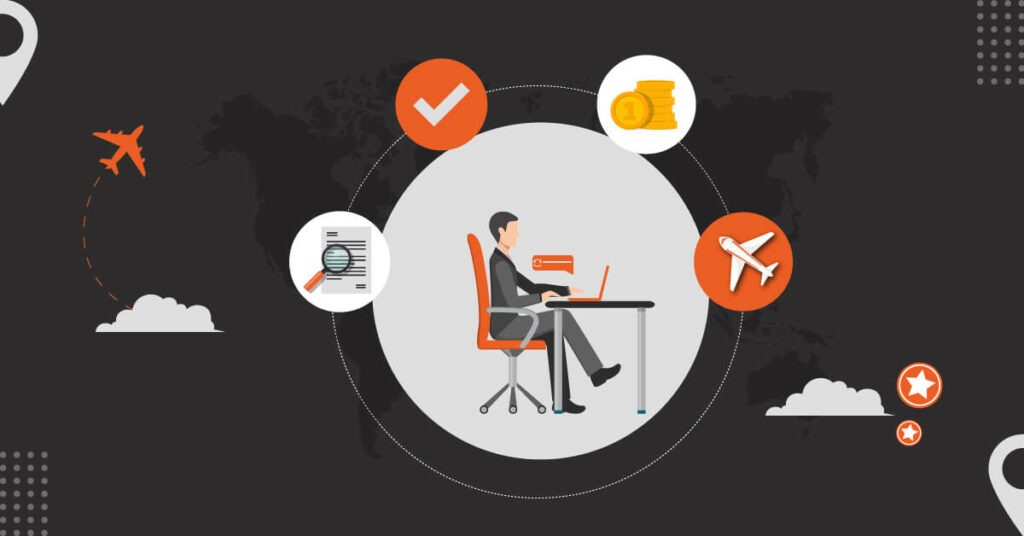 For small businesses with limited resources, the role of travel managers and HRs can overlap and expand to meet the needs of the organization.
In many cases, HR professionals are responsible for managing all aspects of travel, from booking flights and hotels to ensuring compliance with travel policies and procedures. They also ensure that employees are safe, productive, and compliant when traveling for work.
Continue reading to know more about the role of HR in business travel management.
Pre-Travel Planning
Understanding the Purpose and Scope of the Business Trip
HR can work with employees and their managers to identify the objectives of a business trip. This can help ensure the trip aligns with the company's vision and generates a positive ROI.
After clarifying the trip's purpose, HR can assist employees by providing the necessary resources. For instance, if the trip involves attending a conference, HR can help employees identify important sessions or speakers that match the company's goals.
Budget Planning and Approval
HRs are responsible for creating a realistic travel budget for the business trip. For this, HR needs to determine all the expenses for the business trip, such as transportation, accommodations, meals, and other costs. Further, HR should also consider any policies related to travel expenses, such as the maximum reimbursement rates or daily business travel allowances.
After that, HR should create a budget that outlines each expense category and the estimated cost for each item. The final budget should be presented to senior management for their review and approval. This ensures compliance with the company's financial policies and guidelines.
Managing Relationships With Vendors
Another role of HR in business travel management is maintaining positive relationships with travel vendors. They are responsible for negotiating terms with these vendors to ensure the company receives favorable rates and perks.
In addition, HR can work with the procurement team to identify suitable vendors and establish mutually beneficial interests. By managing vendor relationships, HR can help ensure that employees have a pleasant travel experience while also keeping travel expenses within budget.
Educate Employees About Travel Policies
To ensure compliance and a seamless travel experience, HRs must educate employees regarding travel policies. This includes information about travel expenses, travel booking procedures, and any limitations related to business travel.
Further, HR should provide training on the company's procedures related to business travel. They can do so by arranging seminars, online training sessions, booklets, etc.
Check out this ready-to-go travel policy template with all the essential details.
Identifying and Addressing Potential Concerns
Another important role of HR in corporate travel management is to identify and address problems that could arise during the trip. This includes delays in flights, problems with the hotel, or lost or stolen items
In the event of an issue, HR should support employees to help them manage the situation. For example, if an employee travels to a country where they do not know the local language, HR could guide them to use a translation app to communicate.
Ensuring Employee Well-being
To ensure employee well-being, HR must guide employees regarding health and business travel wellness. They must also provide information about local medical facilities, healthy food options, and resources for managing stress.
HR should also ensure that employees are aware of the company's travel policies related to well-being. These may include policies related to rest breaks and travel schedules. This can help prevent employee burnout or fatigue, which can impact their performance and well-being.
Maintaining Communication with the Employee
to make sure everything is going well, HR must stay in regular contact with the employees. This could involve regular check-ins through various channels like phone calls, or texts. It could also include setting up meetings with the employee's travel manager to assess the progress of the trip.
Post-Travel Management
Gathering Feedback and Insights from the Employee
Employee feedback is essential to ensure that employees have a positive experience during their trips. For this, HR should gather insights on all aspects of the trip, such as stay experience, events attended, and what they felt could be better. This can be done through surveys, 1:1 meetings, or feedback forms.
Reviewing the Success of the Trip
HR should work with the employee and their manager to review the trip's success. This includes things such as whether the employee was able to accomplish their objectives, whether the trip was within budget, and so on.
Based on this evaluation, HR should identify any areas for improvement in the company's travel program. It could be improving the booking process, negotiating better rates with vendors, or providing additional resources to employees during their trips.
Updating Policies/ Procedures based on the Learnings from the Trip
HR should update the company's travel policies and procedures to address any identified issues or concerns. For example, if there were safety concerns during the trip, HR may want to revise the company's safety protocols to better equip employees traveling to similar cities.
Best Practices for HR in Business Travel Management
Leveraging Technology and Automation to Streamline Processes
Technology helps streamline many processes of business travel management. These may include trip approvals, expense reporting, data entry, and consolidation of expenses. Travel management software for instance can personalize the trip according to the preferences of the traveler. It also gives you access to GDS, so that you can book tickets at economical rates.
Similarly, expense management software can automate the process of submitting and approving expense reports. This reduces the burden on HR and ensures compliance with company policies.
Partnering with Travel Management Companies to Optimize Travel Programs
Partnering with Travel Management Companies (TMCs) can help HR optimize travel programs and achieve better outcomes. TMCs can offer the expertise that may not be available in-house, such as industry knowledge, negotiation skills, and access to travel services.
They can also provide technology solutions, manage costs, and improve the overall travel experience. By partnering with a travel management company, HR can free up internal resources to focus on other important HR functions
The Role of HR in Business Travel Management Is Vast
In conclusion, the importance of HR's role in travel management cannot be overstated. They manage multiple aspects of the trip to ensure that it goes smoothly. However, to reduce the burden of multitasking, you can use a travel management software solution.
ITILITE is one such travel solution that can help HRs with travel management. It enables employees to book tickets themselves, ensures policy compliance, and also helps you track your employees. We also offer 24/7 travel assistance so your employees feel secure while on the road.
To know more about the advantages, book a free demo now.