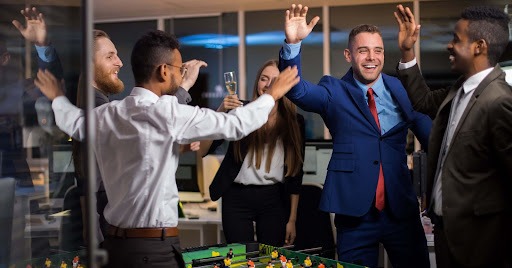 We have all heard the popular saying, 'All work and no play makes Jack a dull boy,' right? This holds true even with your employees. Employees are continuously working day in and day out to meet their targets and goals. This monotonous office work and environment can make them feel less motivated and bored. This, in turn, can impact their morale and productivity.
Therefore, organizing a company retreat is one of the best ways to boost employee morale, productivity, and engagement. Company retreats are crucial in fostering teamwork, boosting employee morale, and driving organizational success.
These off-site gatherings allow employees to step away from their daily routines, connect on a personal level, and engage in strategic planning or team-building activities.
However, organizing a successful corporate retreat is not as easy as it sounds. It requires careful planning and execution. Hence, in this blog, we bring you some essential tips for travel managers and HR managers on planning and organizing a company retreat.
1. Define the Purpose and Objectives
The first and most crucial step in organizing a company retreat is to define its purpose and objectives. When you define and set objectives, you have set the foundation for the entire planning process. HRs or travel managers should have a clear understanding of why you are planning the retreat and what you hope to achieve through it.
Team building: Many organizations use retreats to enhance teamwork, collaboration, and employee trust. You can include team-building activities, workshops, and exercises to strengthen relationships, break down barriers, and improve employee communication.
Strategic planning: Retreats serve as an opportunity for leaders and teams to step away from their daily routines and focus on long-term planning. You can dedicate company retreats to setting goals, developing strategies, and aligning the team's efforts toward achieving organizational objectives.
Innovation and creativity: Some retreats are designed to stimulate creativity and generate fresh ideas. HRs and travel managers can include brainstorming sessions, design thinking workshops, and activities encouraging out-of-the-box thinking for employees.
Employee well-being and engagement: You can also use retreats to prioritize employee well-being, recharge their energy, and boost engagement workshops and opportunities for relaxation and self-reflection.
Set Objectives: Once you have defined the purpose, you must establish specific objectives that align with the purpose. Objectives are the measurable outcomes or goals you want to achieve during the retreat.
2. Choose an Ideal Location
Once you have defined your purpose and objectives, you must choose an ideal location to organize this retreat. Selecting the right location is paramount to the success of your corporate retreat.
You must select a venue that aligns with your objectives, whether it's a serene nature retreat, a bustling city center, or a dedicated conference facility. Here are some factors that you must keep in mind:
Accessibility: Consider the accessibility of the location for all participants. Choose a venue that is easily reachable by various modes of transportation, such as airports, train stations, or major highways. If your employees are traveling from different locations, consider a location that offers convenient connections and minimizes travel time.
Accommodations: Evaluate the accommodation options available at the chosen location. You must ensure that there are sufficient rooms or lodging facilities to accommodate all comfortably. Check if the venue offers amenities such as conference rooms, meeting spaces, breakout areas, and recreational facilities that align with the retreat's objectives.
Amenities and services: Assessing the amenities and services provided by the venue is also important. Depending on your requirements, you should check for facilities like audiovisual equipment, Wi-Fi connectivity, on-site catering, and assistance with event setup. These amenities contribute to the overall convenience and smooth execution of the retreat.
Size and capacity: Ensure that the chosen location can comfortably accommodate the number of participants and activities you have planned. Check the meeting rooms' capacity, breakout spaces, dining areas, and any other venues required for specific sessions or events. During a company retreat, it's important that you have ample activity space and, at the same time, maintain an intimate setting that fosters engagement.
3. Develop a Well-Structured Agenda
Developing a well-structured agenda is crucial for a successful corporate retreat. An agenda serves as a roadmap for the event, ensuring that all activities, sessions, and breaks are planned logically and cohesively.
A well-structured agenda ensures that the retreat stays on track, maximizes participant engagement, and effectively achieves the desired outcomes. It provides a framework for organizers, presenters, and participants to follow, creating a cohesive and meaningful retreat experience.
Your agenda should include:
Duration of the retreat
Key sessions and activities
Detailed plan of the organizer's duties and responsibilities
Breaks and downtime
Topics and discussions (team performance, company growth, a vision of the organization, etc.)
Time allocated for each activity
Formal and informal interactions
Delivery mode for each objective (presentations, speeches, and Q&A sessions)

4. Build Fun into the Agenda
While having a well-organized agenda is necessary for a successful company retreat, it is also essential that you only have a few meetings or workshops. Company retreats are supposed to make your employees feel relaxed and comfortable, not exhausted and stressed.
Therefore, you must incorporate fun activities between the meetings, workshops, or presentations. These activities can help break the ice and showcase your employees' creativity and talent. Some of the fun activities you can include in your agenda are:
A quiz or a game night
Wine tasting activity
A guided tour around the local city or town
Improv games
Karaoke
Company field day (tug-of-war, badminton, sack race, kickball, etc.)
Treasure hunt
These activities boost teamwork and foster collaboration and the ability to think on their feet.
5. Develop Ready-to-Use Activity Templates and Communication Materials
A company retreat is a good break for employees to unwind from their regular hectic schedules. Therefore, as an organizer, it is important that you ensure the company retreat is very organized, engaging, and strategically planned.
Therefore, before any session begins, ensure you have all the materials and templates ready. This will help you understand what has been and is yet to be covered.
In order to conduct some activities, you will need to create communication materials and templates beforehand, such as scorecards and KPI dashboards. If you don't have them with you during the retreat, you may find conducting any sessions difficult.
Moreover, HRs or travel managers should also distribute the communication materials to all the employees before kickstarting the event so that they know what to expect.
6. Hire an Experienced Facilitator
If you want to make your company retreat a big success, hiring a professional or experienced facilitator is worth hiring. Facilitators are trained to host events, conduct workshops and activities, ensure all employees actively participate and strike productive conversations during the events. A facilitator also ensures that all your employees are clear on the objectives of the meeting.
An experienced or professional facilitator will enable effective, solution-focused discussions and equip your team with new working methods they can take with them beyond the retreat.
They are experts at handling any bottlenecks during the event or if someone isn't following the business event etiquette. Hence, hiring an experienced facilitator can be a game changer for you.
7. Provide Ample Time for Reflection and Feedback 
If you are a corporate travel management company looking to improve your organization's process, you should incorporate moments of reflection and feedback into the retreat agenda. Allocate time for employees to process their learning, discuss their experiences, and share insights.
Encourage open and honest conversations to identify areas for improvement and capture valuable feedback. This reflection time allows employees to understand the retreat's impact better and ensures continuous growth and development.
8. Evaluate and Measure the Success
After the company retreat is over, evaluate its success by measuring the outcomes against the predefined objectives. Leverage surveys, feedback forms, and post-retreat assessments to gather participant feedback.
Analyze the data collected to assess the retreat's effectiveness and identify improvement areas. Use these insights to refine future retreats and enhance their impact.
9. Gift your Employees with Nice Goodies
Finally, you want to make your company retreat very special and unique for your employees, isn't it? So, if you have the budget at the close of your company retreat, you can gift your employees some nice goodies. It could be a souvenir, a VIP bag, a personalized kit, local snacks, etc.
Handing over gifts at the end of the retreat is a great way to say "thank you" and close the retreat on a positive note. This way, your employees will have a good impression of the organization and return home with some amazing memories.
Have a Productive and Fun Company Retreat 
Organizing a corporate retreat requires careful planning, attention to detail, and a clear understanding of the objectives. Following the above-mentioned tips, you can easily host your company retreat successfully and without hassle. Moreover, your employees will also have a wonderful time apart from their regular work schedules.
If your employees travel frequently or work or other events, the ITILITE business travel management platform can help you ensure that employee book travel as per the assigned budget. We also offer 24/7/365 support to employees before, during, and after the travel.
Get a free demo of ITILITE to try the features yourself.