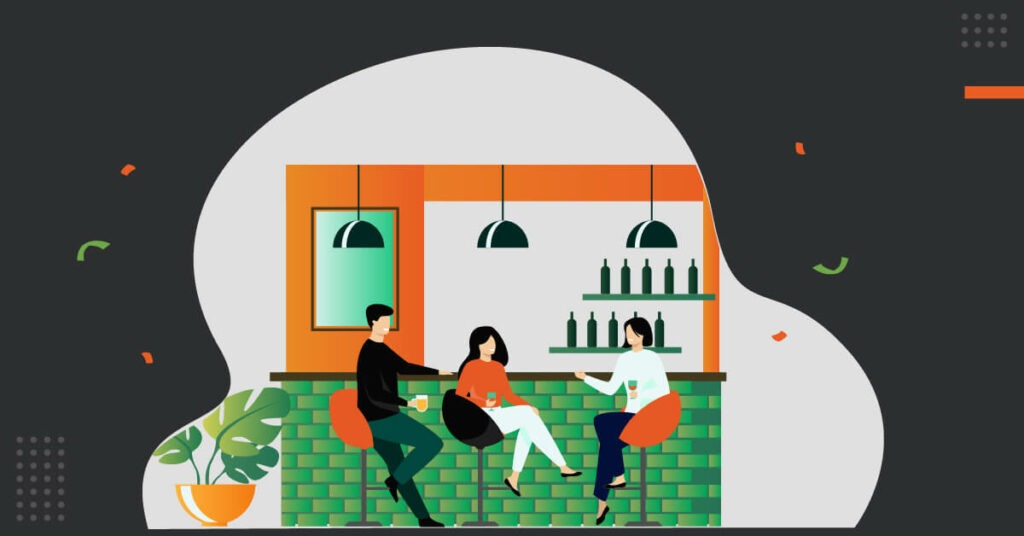 Office parties are a great way to show employees that you appreciate their hard work and dedication. Office parties not only give employees a much-needed break from work but also help employees build relationships, network better, and unwind. With the right planning, you can have affordable office parties that your team would love.
Listed below are 8 evergreen holiday office party ideas that you can use for your upcoming office party:
8 Amazing Office Holiday Party Ideas
1. Family Time at the Office
One of the best office holiday party ideas is inviting the family of your employees to celebrate the holiday.
You can plan fun activities for the day, have holiday-special food and hire entertainers such as comedians and singers to make the day even more special. This party would make your employees feel extremely valued as they would recognize that you are willing to go above and beyond to make them happy. Plus, it would be a great way for them to get to know their colleagues' families too.
Just make sure you plan activities and games appropriate for different age groups because people of all ages will be present, from kids to seniors.
2. Plan a Party At an Engaging Venue
If you're looking for ideas to make your office party more fun, why not try hosting it outside of the office? You could host a party at a place that's popular in your city, like a bowling alley, bar, ice-skating rink, indoor go-kart racing spot, or carnival.
This way, you wouldn't have to worry about planning many activities because the venue will be interactive enough to keep everyone entertained.
3. Host a Theme Party
Having a themed party can make your holiday celebration even more immersive. You can organize the party with decor, food, clothes, and activities that follow a particular theme. A few theme holiday office party ideas are :
Masquerade – People can wear a stylish formal dress and a mask throughout the party. You can decorate the venue with drapes and candles.
Retro – This themed party is all about drama! Bring back the 60s and 70s and disco dance to the groove of the music.
Marvel – Although it may be a bit risky, you could try bringing this idea to your employees and see how they react. Most people want to tap into their inner child, so this could be a fun way for them to let loose.
A few other themes to choose from are Hollywood Bash, Casino Royale, and Circus Carnival.
4. Christmas Tree Decoration Competition
This challenge is a great way to bring out creativity and have some fun with your employees ahead of Christmas. For this competition, you split the employees into teams and give each team one Christmas tree. The team members will then explain how they would like to decorate the tree. You can either arrange for ornaments or ask the employees to bring their own decorations.
To pick a winning team, you can either ask for votes from the non-participating employees or create a panel of judges. This game is a great way to promote team bonding, and the best part is that you can use the Christmas trees for office decoration afterward!
5. Gift Swap Party
Gift swap parties are a great way to enjoy the holiday season at your office. For this party, everyone has to get a wrapped gift which costs under a set price cap. The gift will be unmarked and kept together in the center.
You will have to create chits, each containing one number from #1 to #(number of gifts). All employees will pick up one chit, and the employee who draws chit #1 will start the game. He or she will pick up a gift at random and unwrap it. The next person will do the same, and then both people have the opportunity to trade gifts if they wish.
The game continues until each employee has had one turn to pick and unwrap a gift. Also, employees can only trade their gift only once with the people who have unwrapped the gift. In order to make the game fair, employees should be asked to bring gender and age-neutral gifts that most people would enjoy.
6. Karaoke Night
Karaoke is a great way to liven up any office party – especially if your employees are passionate about singing. To make sure your karaoke party goes off without a hitch, it is essential to first arrange for a karaoke machine and hire an experienced karaoke DJ who will keep the guests entertained throughout the night. The DJ plays a variety of karaoke songs that appeal to everyone's taste.
You can also add special effects to the party, like dim lighting, retro silver ball, spotlights, and fog, to create a fun and festive atmosphere. Last but not least, don't forget to serve cocktails, as it'll help even the shyest guests loosen up and enjoy themselves on stage!
7. Office Potluck
If you want to keep your costs low and still have a wonderful office party, then a potluck is the way to go. Potluck simply means that each employee brings their own dish and everyone enjoys the feast. For special holidays, you can have a themed potluck where employees can bring dishes that are a staple for that holiday.
Some classic holiday dishes include roasted turkey, pumpkin pie, corned beef, eggnog, gingerbread cookies, green bean casserole, holiday cranberry sauce, and garlic mashed potatoes.
The best part about hosting a potluck is that it allows employees to spark conversations easily over food. When employees praise each other for the food they have prepared, it deepens relationships and boosts morale. Plus, it's a great way for everyone to get to know each other's culture and traditions.
8. Volunteering and Charity Party
Getting involved in community service can be a great way to boost morale and feel good about yourself. You can host a party at your company where employees have to knit fleece blankets, bake cookies, cook dishes, and so forth and donate the products to people in need.
You could also travel off-site to help an organization with its mission. For example, if you want to help animals, go to an animal rescue shelter and ask them what you can do to help them. Other volunteering opportunities include beach cleaning, assisting elderly people, and planting trees.
Holiday Games To Choose From
No matter what holiday office party ideas you choose, you can make it one of the most memorable by incorporating a series of games that will have your colleagues laughing and cheering. A few holiday games you can play are:
Scavenger hunt – This popular holiday game gets the employees excited and encourages team building. For this game, you have to hide several items in random places in the office. Further, split the employees into 3-4 teams and hand over the list of items to them.
The game will be time-bound, and whichever team finds the maximum number of items by the time limit wins.
Musical Chairs – If you have medium-sized teams, this is a great game to get into the party mood. Most people would be familiar with this game as it is usually played at kids' birthday parties. However, that doesn't make it a less interesting game for adults.
Before playing the game, arrange the chairs in a single line with one less chair than the number of total players. Then, start a song and randomly stop it at some point. The players must then quickly scramble to find an empty chair to sit on. Whoever doesn't manage to find a seat is eliminated from the game. The game continues until only one player is left sitting – this person is the winner!
Guess Your Colleague – This game is preferable for smaller teams already familiar with each other. To begin, each employee will bring in a childhood photo which will be pinned to a wall in the office, and given a number. Once all photos are up, everyone will be given a piece of paper to write down the name of the person they think corresponds with each number.
Employees will have 5-10 minutes to guess as many pictures as they can. The person with the most correct guesses wins the game.
Holiday Charades – This is a great game for any holiday party! Simply write down specific holiday activities, songs, or movies on slips of paper and put them in a bowl. For example, for Christmas, you could write down movies like "The Polar Express," "The Grinch," or "Home Alone."
Then, teams can take turns pulling out a slip and mime to their team so they can guess the name of the movie within the time limit. One point is given if the team guesses correctly. The team with more points by the end of the game wins.
Benefits of an Office Holiday Party
1. Strengthens Team Relationship
Office parties are a great place to get to know your colleagues on a more personal level. This helps build deeper relationships which can, in turn, help strengthen your team. When everyone is more comfortable with each other, it makes working together more enjoyable and can lead to more productive collaboration.
2. Makes Employees Feel Valued
When you put in the effort to organize and throw an office party, you're letting your employees know that you value and appreciate them. They'll realize that you're willing to go the extra mile to make them happy, so they'll be more likely to give their best work back to the company.
3. Allows Everyone to Feel Refreshed
Office parties are a great way for employees to take a break from work and relieve some stress. They provide an opportunity to relax and recharge so that employees can return to work with fresh energy.
4. Helps In Networking
Employees of all departments are encouraged to attend office parties so that people who don't ordinarily work together get a chance to talk to one another. This helps to foster communication between departments and, as a result, collaboration.
Office parties are also a great opportunity to interact with the management team outside of the workplace and without the stress of work-related conversations.
Tips For a Successful Office Holiday Party
1. Create a Budget
Party planning can be a lot of fun but can also be overwhelming if you don't know where to start. It's important to have a budget in mind to plan your party accordingly.
This will help narrow down your choices and give you a better idea of what you can and cannot afford for your party. Once you have a budget, you can start looking at different activities, decorations, and food options that will fit into your budget.
2. Plan, plan, and plan
It's important to start preparing for your party well in advance, especially if it's during the holiday season. This is because all event venues, entertainers, and caterers are usually booked during this time.
Additionally, you want to ensure you have enough time to arrange all the equipment, decorations, and other items you'll need. By starting your preparations early, you can avoid any last-minute stress and ensure your party is successful.
3. Give Winning Prizes
The games during the party will be more enjoyable for everyone if there are prizes to be won. Plan to offer gifts to the person or team who wins each game. This will help to maintain a cheerful atmosphere and motivate employees to play the games. You can offer prizes such as gift cards, coupons, tech gadgets, or household items to the winners.
4. Serve Great Food
Hiring the right caterer for your party is key to its success. The food you serve will have a major impact on the mood of your guests, and it's also one of the most memorable aspects of any party. If you want your employees to enjoy your party and look forward to future events, make sure the food is delicious and the menu is top-notch.
Recommended Posts:
10 Creative Company Offsite Ideas
How to Plan a Successful Offsite Meeting?
Select the Most Relevant Office Holiday Party Idea
Office parties are a great opportunity for employees to bond with each other and have some fun. Allowing them to enjoy themselves will keep them content and motivated to work, which will contribute to the company's success. You can use your creativity to come up with different versions of the listed ideas and throw a unique and memorable party for your team.
If your company is looking for an efficient business travel management platform, ITILITE can streamline bookings, expense management, and reimbursements.
You can refer us to the concerned part and get lucrative rewards. Click on the below link to check out the offer in detail.