Half a million users' favorite travel & expense management platform is also the most awarded now. The latest feather in our cap is winning the G2 Best Software Award 2022 for being among the top 50 Accounting & Finance products thanks to the glowing reviews shared by our customers on G2's website.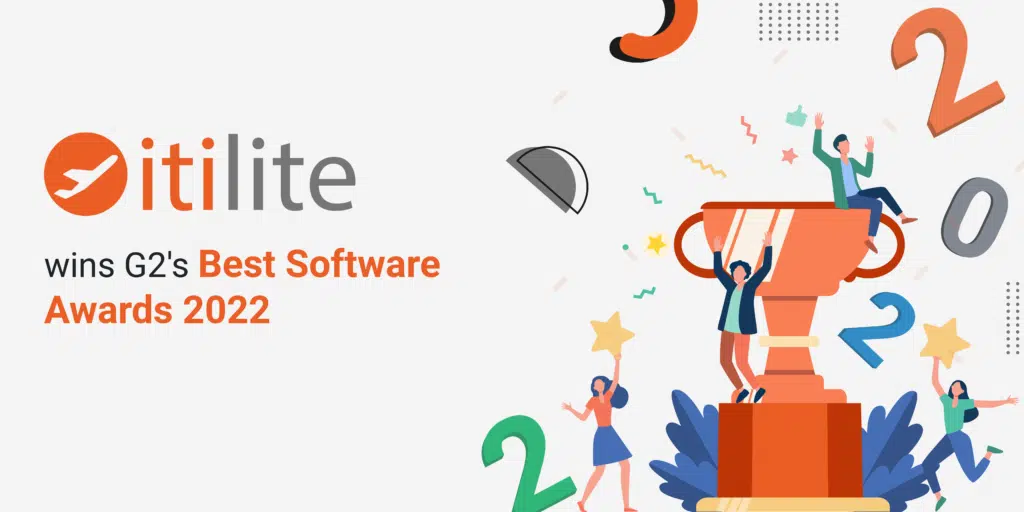 G2 is the leading marketplace for software products in the world. With over 1.5 million reviews published, G2 ensures that the users get the best software product available in the market. In light of this, each year they give out the Best Software Award to companies based on a number of parameters, such as Reviews, Customer Satisfaction, and Market Presence.
Finance managers and accountants at over 300+ businesses chose us and decided to share more than 120+ reviews with an average rating of 4.5. We also maintained an average Customer Satisfaction score of 90% throughout 2021 with the Net Promoter Score being 30% higher compared to the T&E industry. As a company, we have grown tremendously, recording over 15% employee growth on LinkedIn in just the past 6 months.
Here is what some of our users had to say when asked about the benefits of ITILITE travel and expense management.
The state-of-the-art features that got us G2's Best Software Award 2022
ITILITE has been a treat for finance professionals since managing employee travel spends and reimbursing them for the same has become extremely easy. Our main goal at ITILITE has always been ensuring not just customer satisfaction but going one step ahead and converting it into a delightful experience for them.
In the last few months, we've released several features to ramp up the user experience. Starting with Instant tag of hotels which provides instant confirmation mail once their accommodation has been booked, cutting down the hours of waiting time. Speaking of time saving features, our email triggered approval system is only a single click journey- you don't even have to log on to the platform! You can approve/reject directly from your email notifications.
Users can also draft expenses using their personal and corporate cards, which has been a game changer for our customers. Amplifying the UX further, we've also recently introduced partial approval on expense reports which has been a crowd pleaser so far.
And finally, the cherry on the top is our fraud detection feature. ITILITE identifies three types of frauds- out of policy violations, weekend and duplicate expenses.
Are you tempted yet? If not, head over to our G2 page to gather more customer insights on how ITILITE has been helping them streamline their travel and expenses. If yes, then schedule a free demo with us to be a part of this revolutionary T&E platform!

Get the latest in your inbox
Subscribe to the Itilite blog and never miss a post!