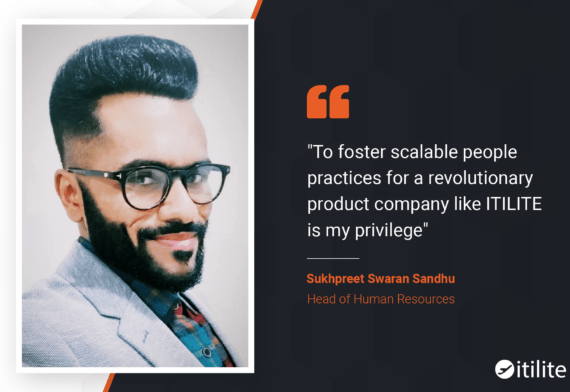 The last 18 months have been really exciting for the itizens. Not only has there been a 2x increase in the employees, but also a 3x increase in the number of customers.
We have always focused on building a more agile and a cohesive workplace for our employees as they are the primary focus for our organization's growth. Thus to add more firepower to this growth, we have on-boarded Sukhpreet Swaran Sandhu as the Head of Human Resources.
Sukhpreet comes with a decade and a half record of building diverse and dynamic teams & enhancing exceptional people experiences across continents. In his previous stint, he led the Human Resources function with Spinny & implemented new-aged HR strategies & scaled it with a range of agile human capital interventions. As we continue to grow rapidly across continents, Sukhpreet can help ITILITE take the employee experience to the next level.
Commenting on his new role with ITILITE, Sukhpreet says, "I am extremely excited to join the ITILITE team in its next phases of growth & success. Bias for action, agility, customer first, and people empowerment are a few foundations that ITILITE lives by day in and day out. From being a customer to now empowering this super talented team to drive global success, this voyage is going to be immensely joyful. My manifesto is very simple- ABC: build a more Agile, Balanced, and Cohesive workplace. It is my privilege to foster scalable people practices for a revolutionary product company like ITILITE.
In his previous strategic roles with Denave, Tolexo (IndiaMART Group), and Jabong, he took care of Global Talent and HR strategy & transformation, leadership development, etc. In 2018, Business World recognized Sukhpreet as one of the 'Top 100 Professionals and Leaders' adding a feather to his cap. In his new journey at ITILITE, he would be responsible to lead the human resource team and accelerate the organization's capability towards the next levels of growth.
Mayank Kukreja, Founder & CEO, ITILITE says "We believe that our people are the focus for the company's growth. In the post pandemic era, ITILITE has seen an immense growth in customers and doubled our team to 250 people. We are happy to have Sukhpreet join us to lead the Human Resources function and help us continue building an agile work culture and to make our employees feel empowered!".
Since its early days, ITILITE has strived to provide an inclusive work culture where the employees feel belonged and take responsibility for their own growth. With Sukhpreet, we aim to implement strategies to stay on the path of empowering employees & instilling the feeling of confidence. Employee satisfaction, according to the modern business dictionary, is what leads to the all-around organisational growth that we have been aiming for.
As we approach the end of the year, we see a lot of interesting developments, new growth phases, and a new level in our road to becoming a world-class business Travel & Expense partner.

Get the latest in your inbox
Subscribe to the Itilite blog and never miss a post!