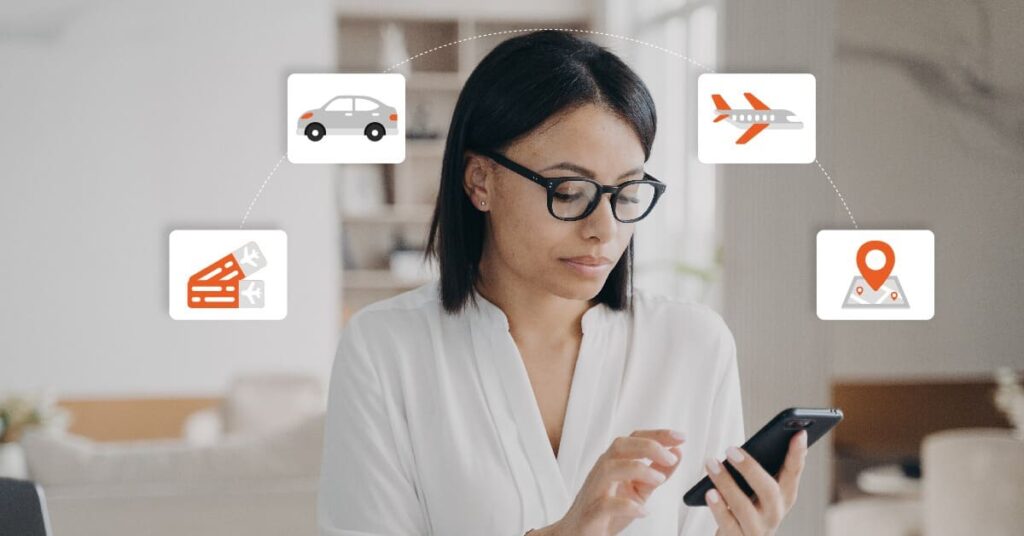 If you're a business travel manager, you know that juggling multiple tasks, handling travel arrangements, and collecting travel data can be quite challenging. Moreover, traditional travel management processes often require managers to spend extra time and effort, from booking flights and hotels to completing expense claims.
Nevertheless, you can overcome this problem with a business travel management app. Given below are ways in which the app can enhance your productivity.
1. Streamlined Approvals
The process of approving travel request forms through physical papers or emails is tedious and time-consuming for travel managers. In addition, manually tracking approvals and ensuring that the requests comply with travel policy leads to reduced efficiency.
A few other issues with the manual approval method is that employees may not know to whom to submit the trip request form. Plus, the approver may also miss seeing the trip request email, which could result in delays in approvals.
However, a business travel management app can overcome these problems and enhance the productivity of both employees and managers. The app forwards the trip approval request directly to the approver and enables employees to track the status, preventing any confusion.
Further, approvers can easily approve or reject requests with just a few clicks, all within the app. The app also provides a single dashboard for approvers to keep a tab of all requests. Another benefit of the app is that it notifies approvers of new travel requests. This way, they do not miss checking any requests, thus, preventing delays.
2. Consolidated Data
Travel managers often face challenges when it comes to managing and accessing data related to business travel. They have to categorize and store data in different folders manually. Even after such thorough categorization, the process of finding specific employee data or receipts can be time taking.
In addition, without a consolidated platform, it can be challenging to track and cut costs effectively. The productivity of travel managers is further decreased when they are unable to keep track of upcoming trips accurately.
A corporate travel management app solves this problem by providing a single platform for all business travel data-related needs. The app stores data on the cloud, and anyone from the finance team or management can access it as long as they have an internet connection.
Moreover, any changes made in the data are updated in real-time, ensuring that the information is always revised. By centralizing travel data on a single platform, travel managers can effectively track trip spending with just a few clicks.
3. Automated Data Entry
Usually, travel managers have to manually enter data from expense reports into spreadsheets. However, this process is not only time-consuming but also has a high chance of inaccuracies.
A business travel management app automates this process, resulting in increased efficiency. The app uses Optical Character Recognition (OCR) function, allowing employees to simply scan and upload their receipts on the app. It then automatically extracts the data from them and also stores the receipts on the cloud for reference.
After that, the software categorizes and saves the data, eliminating the need for manual entry.
4. Self-Booking Capabilities
Usually, travel managers have to book trips for employees based on what they need and prefer. However, sometimes, even with their best efforts, employees might not be satisfied with their bookings.
Moreover, employees have to reach out to travel managers to reschedule or cancel their bookings in case of last-minute changes in plans. This leads to a high administrative burden on the travel manager.
A business travel management app ensures the productivity of both employees and managers by letting employees book their tickets themselves. The app integrates with the travel policies, eliminating concerns about compliance. Further, employees can modify bookings at any time by themselves, resulting in an improved travel experience.
5. Automated Policy Compliance
Travel managers have to check whether travel expenses comply with the policies by manually reviewing expense reports. This may involve checking the date, type of expense, spending limits, and whether the receipts are genuine. However, manual checks are often prone to errors, require a lot of effort, and can cost the company a lot in terms of resources.
However, a business travel management solution automates this process. The software can enforce travel policies by automatically flagging any reports that do not comply with them. This allows travel managers to quickly identify any policy violations, ultimately improving their productivity.

6. Advanced AI Chatbot Support
Travel managers are often busy and have limited time and resources. This makes it hard for them to be available all the time to answer the queries of business travelers.
However, a business travel management app that offers 24/7 AI chatbot support can address this concern. The chatbot can answer all kinds of questions, like when the next flight is or how to apply for a visa. This means travelers can get the information they need without bothering their managers. Plus, it can help them get more done and be more productive.
7. Smooth Data Sharing Across other Systems
Inaccurate transfer of employee data across departments like HR and finance can result in data duplication and errors.
A business travel management solution boosts the overall productivity of the company by smoothly integrating with third-party software. It leads to the automatic sync of data across systems leading to consistent employee data. As a result, the coordination efforts of managers are reduced, and the workflow is improved.
8. Real-time Notifications
Business travelers have tight schedules, and missing updates regarding their trip can disrupt their travel plans. Without an automated alert system, managers have to spend more time on communication, such as making phone calls or sending emails.
A business travel management software ensures the productivity of both employees and travel managers by providing real-time updates regarding upcoming trips. This may include delays in flights, changes in hotel bookings, or updates in the policy. These alerts assist employees in taking timely action to prevent any issues in their plans, allowing them to make alternative arrangements if required.
9. Automated Reporting
Travel managers are responsible for cutting costs and ensuring their travel plans are working well. To do that, they have to gather and study data all by themselves. But doing it manually can be slow and not very effective. Plus, they might not get the data they need right away. This means they could miss timely opportunities to prevent financial losses.
Automated reporting of travel expenses through a travel management app eliminates the need for travel managers to manually collect and verify data from various sources. The app captures and categorizes data itself, saving managers time and effort.
Moreover, travel managers can opt for customized data reports and receive them on a monthly or weekly bases. This allows them to focus on more strategic decisions, eventually enhancing their productivity.
Use a Business Travel Management App to Ensure Productivity
To conclude, business travel management app benefits includes improving your productivity by automating repetitive tasks. Further, it improves the experience of business travelers as well.
ITILITE is a robust travel management app that can help you in achieving your travel management goals. It lets your employees book tickets themselves while ensuring policy compliance. Moreover, it offers a centralized platform through which you can get a 360-degree view of your travel program.
To know more about the benefits, book a demo now.