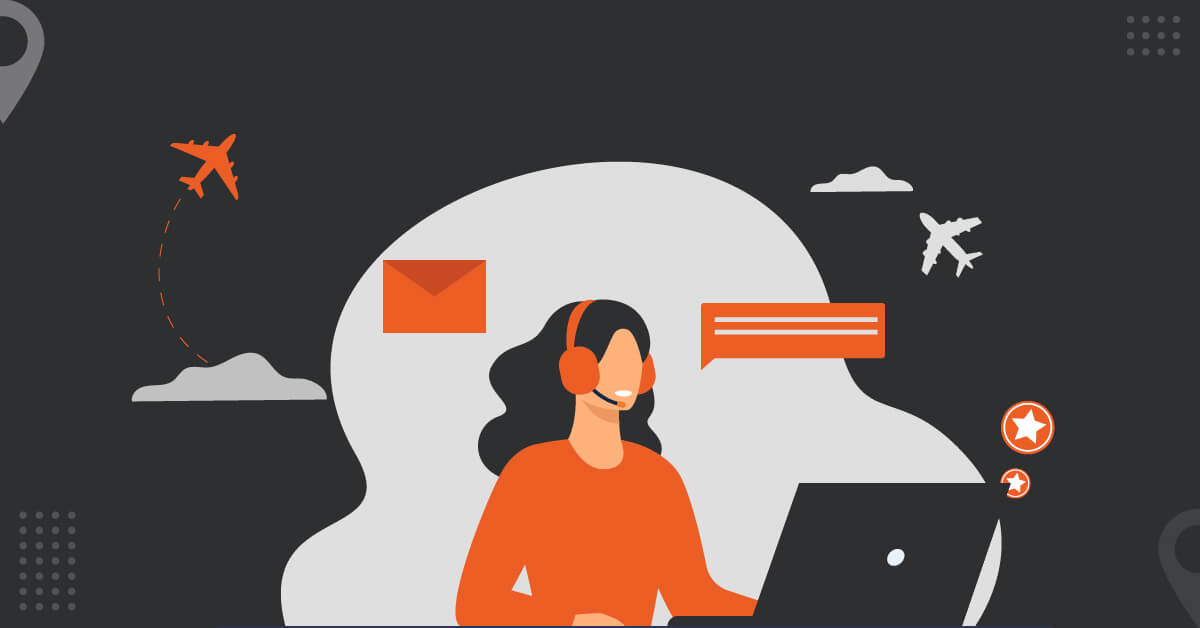 Business travelers often find themselves stuck in emergencies, from last-minute flight cancellations and lost luggage to navigating unfamiliar destinations. To help them overcome these challenges, providing round-the-clock, intelligent travel support is important.
Hence, before hiring a Travel Management Company (TMC), you must evaluate the support they offer business travelers.
Here is a list of questions you can ask a TMC to assess the quality of their support.
Q1) What are your Support Timings?
When traveling for business, problems such as unsatisfactory accommodation or an unplanned cancellation can occur anytime.
Hence, you need to ensure that the TMC you select provides 24/7/365 support. The TMC's support team should be reachable outside working hours and on weekends too.
Q2) Which Support Channels do you Offer? 
Given the fickle nature of business travel, ensure your travelers have access to multiple support channels (chat, call, and email).
It is common to see a traveler choose to chat for a schedule clarification while the same traveler decides to call an agent when they want to know more about an unknown destination.
Therefore, you should opt for a TMC that offers support via multiple channels.
Q3) What is the Average Response Time on Each Channel?
Support delayed is support denied. For business travelers, waiting 24 hours for a solution is just not tenable.
Hence, you must ask your TMC how long it takes for travelers to connect to the support team. If you don't get a clear answer from them on average response time, it indicates that they do not monitor this metric regularly.
According to contemporary industry standards, the best-in-class response times are less than 60 seconds on call or chat and under 60 minutes for email. Keeping this benchmark in mind, you can filter the TMC that will be the right fit for your company.
Various TMCs charge extra for business travel support, even if no transaction is involved. Some may also charge 3X more to provide support off-hours. Moreover, you won't know about all these additional charges before you get the final bill for TMC's services.
Hence, to get greater visibility on travel spending, you should ask the TMC if there are any extra charges for support.
Q5) Will the Company's Travel Policies and Approval Rules be Applied while Booking through your Support? Will you be Able to Apply the Rules while Providing Support During off-Business Hours as well?
One of the most well-known loopholes in the TMC support system is that if a traveler calls a support line after business hours, it is diverted to an emergency support desk. Such desks follow a 'No questions asked' approach and book anything the traveler requests without any policy check.
Therefore, ask the TMC if their support checks your company's travel guidelines while helping a traveler. An ideal TMC should assist policy-compliant bookings, whether made online or through support, even during non-office hours.
Q6) How do you Manage Peak Periods? 
If a TMC doesn't have special provisions for peak-hour support, your travelers may have to wait a long time to get the required assistance.
Hence, you should ask the TMC if many people from your company need support simultaneously; how will that be handled?
Ideally, your TMC should have automated systems that can broaden the support bandwidth by adding more people to help your company whenever required.
Q7) Is the Support in-House or Outsourced?
Support outsourcing is a common phenomenon among TMCs. However, without an in-house help desk, the cost of support increases, and the quality of service declines.
Hence, you should ask the TMC if they have an in-house support team or do they outsource support services. The TMCs that have in-house support have better control over the quality of resolution and attention they direct to each client.
Q8) Will any Transactions Done by Support be Available on the Online Platform?
Even though most TMC-led bookings are made through a centralized online platform, sometimes employees might also book offline using support. If your TMC doesn't record the offline transactions on the booking platform, it can be difficult to track overall travel spending.
Hence, before investing in a TMC, ensure that alongside the bookings made online by your travelers, those made through support also appear in the TMC's online tool. This way, you can get consolidated reports containing the entire company's travel spending.
Q9)  What Support KPIs do you Report to Customers? 
Evaluating standard KPIs is the only way to quantify and measure the quality of a TMC's support system. Hence, you should always ask your TMC about the support metrics they report to customers.
Here are a few standard metrics they should use:
Average Response Time: This measures the average time taken by the support team to respond to customer queries.
First Contact Resolution (FCR): This metric measures the percentage of customer inquiries resolved on the first contact.
Net Promoter Score (NPS): This metric measures the likelihood of customers recommending the TMC to others because of its support mechanism. It is measured by asking customers to rate the support on a scale from 1 to 10.
Ticket Volume: This measures the number of support tickets the TMC's support team receives over time. It can indicate the level of customer demand for their support services.
Total Turnaround Time (TAT): This metric measures the total time the support team takes to process a customer's request. It is calculated by subtracting the time of receiving the support request from the completion time of that ticket.
Q10) Is the Support Enabled by a Good CRM Platform?
A CRM (Customer Relationship Management) platform is a vital investment that prevents missed support request tickets and ensures a shorter turnaround time for closing tickets. However, some TMCs prefer handling the tickets through email.
This method is inefficient because a support executive gets hundreds of emails daily, making it easier for the support request to get buried under a pile.
Ideally, a TMC should have an automated CRM platform to process the requests. Automated platforms have multiple advantages. Firstly, the support executives get notified about incoming requests in real-time; hence, no requests get missed. Secondly, the requests get segregated based on the low-touch and high-touch resolution requirements, customer profile, and request urgency. This helps the support agents pick up the highest priority requests first.
Hence, before investing in a TMC, you should ask if they have an automated ticketing platform for better resolution. Moreover, ensure they have separate platforms for every support channel.
Q11) Does your TMC have an SOP for Typical Travel Difficulties?
A well-defined Standard Operating Procedure (SOP) for routine travel emergencies is vital for a TMC's functioning. An SOP helps support teams resolve crises quickly, prevent miscommunication or error of judgment, and ensure travelers' safety.
For instance, after a last-minute cancellation, if the traveler calls the TMC's support team for re-booking and the cost exceeds the company's policy, the support executive will get stuck in a dilemma of whether to book or wait for another approval.
In such situations, having a well-defined SOP can help the TMC's support team make the right decisions without contacting you repeatedly.
Select the Right Travel Management Company
With the abovementioned questions and answers, you can get a clear idea of what the best quality TMC support looks like. If you are looking for a TMC that can offer all of these services in support, ITILITE will be the right fit for you.
ITILITE is a tech-forward travel management company with leading-edge travel support as its core value. At ITILITE, we ensure your business travelers get the necessary assistance 24/7/365 via calls, chats, and emails. Our dedicated team of experts delivers quick resolutions within 10 seconds via chat and call and less than 60 minutes via email.
We also understand that travel emergencies are beyond the travelers' control. Hence, our support remains free even during off-business hours.
To get a first-hand experience of our world-class travel support, talk to our solutions experts now.