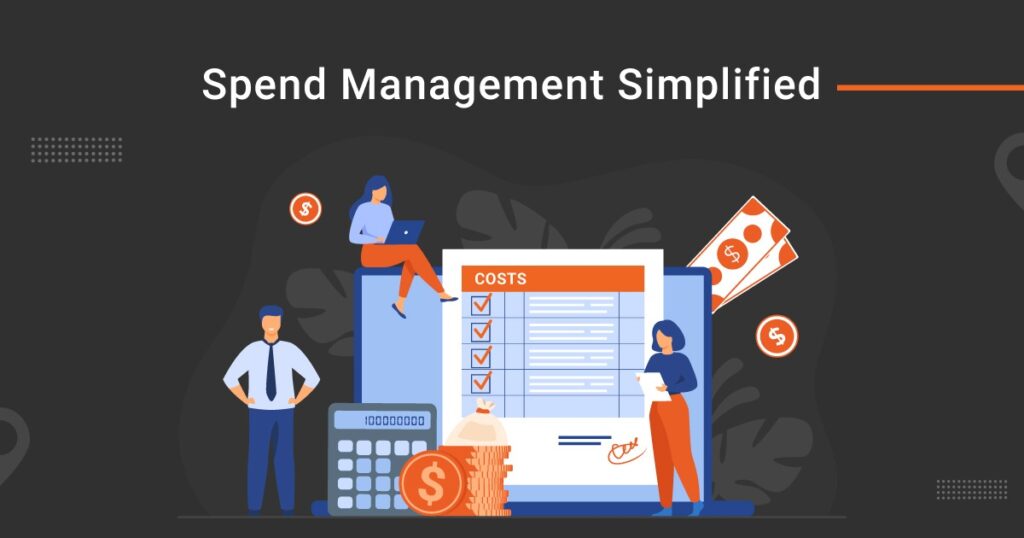 From significant employee salaries to small expenditures like office supplies, running a business requires spending money on a daily basis. Keeping a close eye on such expenses and plugging any unnecessary spending is crucial for business success.
More so, with the evolution of hybrid work culture and added spend categories, monitoring your business expenses and automating your spend management process must be your topmost priority. By having a solid spend management strategy and automating your processes, you can achieve business growth while ensuring operational efficiency.
This blog will help you in creating a spend management framework for your business and executing it flawlessly. Read along!
What Is Business Spend Management?
The process of constantly monitoring, analyzing, and controlling business expenses is called spend management. It aims to reduce a business's operation cost, mitigate any financial risk, and maintain supplier relationships.
You can quickly achieve these goals by planning a detailed strategy and using spend management software to streamline your processes. It will help you pinpoint high spending categories, provide real-time data insight, and better financial forecasting.
Areas To Focus On When You Build A Proactive Spend Management Strategy
You need to pay attention to these 4 major areas when you are building a spend management strategy for your organization. These will help you keep your focus on the right things!
1. Requisitions: A strong requisition process is extremely important. Without proper care, spending on requisitions can sometimes lead to forgoing policies and breaking the rules. Sometimes it may even lead to fraud. Automating this process will eliminate manual approvals and the filing of requisitions.
2. Approvals: Authorization of purchases before spending is a must to avoid sunk costs. When there is a delay in approvals, it leads to more waiting time, which increases the overall cost. Automation of this process will help bring in controlled approval workflows. It also helps send alerts and notifications to the authorizers so that the employees do not get stuck.
3. Purchasing & Receiving: Poor purchasing can be disadvantageous to any company in the form of unnecessary extra costs. In the process of receiving, the company has to cross-check every item, its quality, quantity, etc. Automation of purchasing & receiving will help stick to the budget by allowing orders according to the inventory requirements. Increased data visibility here helps in better expense management.
4. Accounts payable: This is an otherwise completely manual process that can take excessive time and may contain errors. Incorrect or delayed payments to the suppliers can be harmful to supplier relationship management. Automating it will help with on-time and error-free vendor payments, purchase orders, etc.
How To Increase Adoption Of Your Business Spend Management Strategy?
Spend management, when done right, can be a source of growth for your business. To get there, your spend management strategy must be widely accepted in your organization. We have compiled some ways in which you can increase the adoption of your spend management strategy:
1. Automate processes
Creating step-by-step processes for speed management and making them accessible to the employees helps in increasing the adoption of the spend management strategy. When all the processes are automated using the right tool, there will be better data visibility. A smart data-driven platform like ITILITE can give complete spend data visibility and control to your finance teams. This will include showing policy before spending making it easier for employees to adopt it.
2. Make flexibility an option
After strong policies and processes are in place, you need to focus on making them flexible to meet business needs. Employees should be able to choose a different option provided there is a valid justification for doing so. This will increase the adoptability of the strategy. For instance, if the company has chosen a certain hotel or airline, the employee must be allowed to choose a different hotel or airline when there is a valid reason.
3. Involve leadership teams
Finance teams should be able to communicate easily with business leaders about spend management. With spend data-backed systems and support from the leadership teams, your spend management strategy can be a source of growth for your organization.
4. Train your teams
The adoption of new technology is always a challenge for companies and it is important to train every person on the team who will be using the new tool. Exhaustive training, seminars, and conferences can help in the effective use of the spend management tool.
5 Spend Management Questions Every Finance Leader Should Consider
With the pandemic majorly affecting the business world, it is time for finance teams to adopt a proactive spend management strategy. The reason being that making smart changes to the spend management strategy right now can have a higher payoff in the near future for your company. Adopting technology can help you be better prepared for any future market risk. To help you make informed decisions in this process, here are some questions you should know the answers to as a finance leader.
Does your expense management solution support your policies?
Your expense management solution should help employees abide by the company policies. It should ideally prevent out-of-policy expenses and be flexible enough to add or remove policies.
Are you focusing on invoices?
Checking invoices and approval of invoices has generally been a manual task. This process is better when executed with an automated tool. A good spend management tool will have a scanner that allows employees to scan receipts, therefore, digitizing them. Also, it is easy to approve it as it is reconciled with the system.
Is your company adapting to new spending challenges?
New spending challenges may include the possibility to add more spend categories like internet or data charges, furniture charges, etc. to the employees in the work-from-home setup. Adapting to the new spending challenges with an automated tool can help your finance teams immensely. For instance, automated tools allow finance managers to add new categories which is otherwise an extremely tedious process.
What is expense management experience like for users?
It is important for the employees to have a user-friendly digital tool or platform where they can easily file reimbursements, get approvals, etc. all at the click of a button. It is even better when the tool has a mobile app with which they can scan and send receipts anytime, anywhere.
Does your current expense reporting platform meet your needs?
Using a seamless expense reporting platform is extremely important to meet the needs of your company in terms of spend management. A good expense reporting platform like ITILITE can help your finance teams with everything from approvals to reporting with its best-in-class technology.
Streamline Your Spend Management Process With ITILITE
Automate your finance teams' time-consuming tasks with the right spend management tool. Automating and streamlining your business spend management process with data-driven software like ITILITE can help your organization a lot.
ITILITE can help you convert spend data into actionable insights in turn driving business decisions. With real-time visibility into spend data, you can also manage budgets efficiently.
Get a free demo of ITILITE today to check out the advanced features yourself.