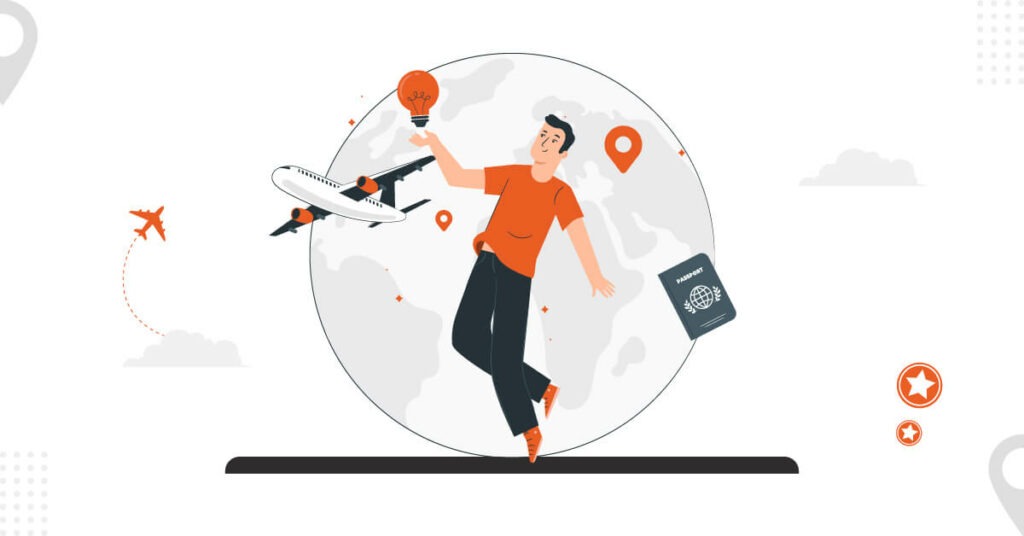 If you are traveling to the U.S. for the first time, there are certain tips you must follow to ensure a successful business trip. From attending important meetings to networking with potential clients, you want to make sure that your trip is seamless.
Moreover, proper preparation can help reduce travel-related stress and ensure that you leave a positive impression during your trip.
Listed below are 12 US corporate travel tips that can help you stay efficient on your journey.
1. Prefer Using Carry-on
Taking a carry-on bag is beneficial for business travelers because it allows them to travel with ease. With a carry-on bag, you do not have to wait in long lines to check your bags, and there is no risk of your luggage being lost or delayed during transit.
Further, it also helps you save time by avoiding baggage claims after the flight. In addition, using a carry-on bag lets you pack only the essentials and avoid overpacking, making your travel more organized.
2. Have a Reasonable Budget
The U.S. is typically an expensive country to travel to, especially cities such as New York have exceptionally high costs of living. Therefore, you must ensure that you have sufficient funds allotted for accommodation, transportation, and meals.
According to GSA, the daily meals of corporate travelers can reach about $74 in Los Angeles. The cost breakdown includes $17 for breakfast, $18 for lunch, and $34 for dinner. Additionally, $5 is set aside for tips.
3. Use T&E Management Software
Travel and expense (T&E) management software makes the process of filing expense reports a lot easier for business travelers. It simplifies business travel management by allowing travelers to click a picture of their receipts and upload them on the application. Next, the software extracts receipt data to store it on the cloud.
T&E software not just helps travelers track their expenses conveniently but also expedites the reimbursement process, which is crucial for most employees.
4. Stay Aware of Different Time Zones
The United States has six time zones: Eastern, Central, Mountain, Pacific, Alaska, and Hawaii-Aleutian. When traveling to the U.S., properly coordinating your itinerary with the time zone differences will help ensure that you are punctual for scheduled meetings.
Further, it's also important to be aware of daylight saving time, which is taken into account in most US states. The start and end dates for daylight saving time vary each year, so be sure to check ahead of time to avoid confusion.
5. Pack Vitamins and Melatonin
During business travel, you need to stay fit and have high energy levels. Moreover, you want your immune system to stay strong to be able to adapt to different types of environments. For this purpose, you can take vitamins. Vitamin C helps boost your immune system, while vitamin B enhances cognitive functions and reduces stress.
Melatonin is another beneficial supplement that can help you regulate your sleep cycle. However, it is important to consult with your doctor before taking any supplements.
6. Sign Up for the Rewards Program
As a business traveler, participating in rewards programs can offer several benefits. These programs, typically offered by airlines and hotels in collaboration with credit card companies, allow you to earn points or miles on eligible purchases made using your credit card.
These rewards can then be redeemed for various benefits, such as cashback, gift vouchers, upgrades, VIP access, and more. By accumulating rewards, you can save money on future business trips and enjoy additional perks during U.S. corporate travel.
7. Access Airport Lounges
Airport lounges can be a valuable resource for business travelers during their U.S. corporate travel. With amenities such as comfortable seating, complimentary food and beverages, and access to charging ports and printers, lounges offer a convenient and peaceful place to relax or catch up on work during layovers or delays.
8. Invest in Travel Accessories
Travel accessories can make your U.S. corporate travel more convenient and efficient. Some of the best travel accessories to invest in are:
Noise-canceling headphones: These help block out ambient noise and allow you to sleep or focus on your work in flight.
Power bank: This is essential to keep your devices, such as laptops and tablets, charged on the go.
Portable hotspot: It allows you to stay connected to the internet while traveling without risking cyber attacks from public WiFi.
Compression socks: These can help improve blood circulation during long flights.
9. Research on the Corporate Culture of U.S.
Local culture is an aspect of US corporate travel tips.To avoid cultural misunderstandings and network better with locals, it is important to research the US business culture. Adapting local business practices, such as individualism and respecting work-life balance, can help you navigate the environment easily. This way, you'll also be able to convey your message more effectively and negotiate better.
Cultural adaptation is also essential to avoid risking offending someone unintentionally by violating their norms. Tipping, for instance, is a common custom in the US for services such as dining, housekeeping, and transportation.
10. Pack a First Aid Kit
A first aid kit is an essential item to pack for US corporate travel. It can come in handy in treating minor health issues, such as bruises, cuts, or minor illnesses, providing immediate relief and preventing further complications.
Your first aid kit must include scissors, adhesive tape, antiseptic wipes, a thermometer, analgesic, antihistamines, hand sanitizer, and a pain reliever.
11. Workout to Manage Jet Lag
If you reach your destination feeling jet lagged, the best way you can overcome it is by working out. Exercise regulates the body's circadian rhythms and makes it easier for you to adjust to the local time zones. Further, it reduces stress and promotes relaxation, enabling you to have a sound sleep.
12. Take Out Time for Sightseeing
You shouldn't be shy to take out time for yourself during a business trip. In fact, visiting local U.S. attractions and exploring the traditions can help you feel rejuvenated.
For instance, traveling to NYC, you can visit Central Park, Times Square, and the Statue of Liberty. In San Francisco, you can visit the Golden Gate Bridge and the Cable Car Museum.
By taking a break from work, you can increase your overall well-being and feel motivated to get back to your tasks again. Moreover, sightseeing enhances one's creativity and appreciation for diverse cultures.
13. Stay Wary of Cybercrime
Business travelers are vulnerable to cybercrime when they are on the road. This is because they are more likely to connect with public WiFi, such as at airports and hotels, which hackers may create to steal sensitive information. Moreover, your devices may also be prone to remote Bluetooth connections.
Therefore, you must take steps to keep yourself safe. A few US corporate travel tips to avoid cybercrime are:
Avoid ATMs in crowded areas as they are vulnerable to fraudsters who attach skimming devices to steal card information
Avoid public WiFi as they are often unsecured
In case you have to use public WiFi, encrypt your data by using VPN
Use these US Corporate Travel Tips to Ensure a Seamless Journey
As a business traveler, staying productive on your business trip is a priority. However, for this, you must have access to the right tools. Consider the above corporate travel tips before traveling to United States.
ITILITE is a travel and expense management software solution that can help you navigate through your business trip efficiently. With ITILITE, you can book your tickets from anywhere and modify your itinerary on the go. Moreover, you can easily track your expenses and file your expense report in just a few clicks.
To know more about the benefits, book a demo now.