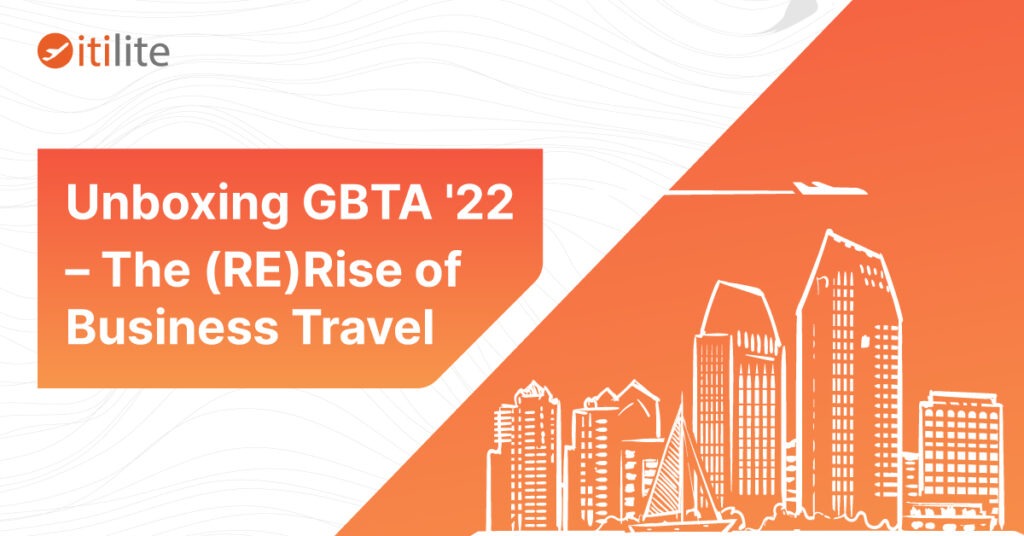 As GBTA 2022 approached our calendars, I, along with the team at ITILITE booked our trips on— well… ITILITE, and set off to show and celebrate the defining trends of business travel. The theme of this year's GBTA Convention (RE) Connect, (RE) Imagine & (RE) Create was so apt, that it set the perfect atmosphere to welcome back industry professionals from around the world. It captured everything the business travel industry resonates with.
It was exciting to see colleagues from the travel industry, engaging with others and celebrating the remarkable recovery of business travel. All the power-packed sessions, robust conversations at the booths, fun activities, and games made the whole experience one to remember, and it was great to hear 'Virtual meetings cannot replace the experience of in-person conversations' in (almost) every conversation.
As I mentally unpack from yet another successful convention of GBTA, I picked up some of the very defining points that are going to shape the travel industry as we know it.
1. Technology First, Every Time, and Always
Businesses seem to prioritize technology more than TMCs. Every travel manager was actively looking for the latest tech innovations at the expo and how they can solve their challenges. Many forward-thinking companies have started to consider travel tech products as a suitable alternative as opposed to TMCs. There is an increased interest in one-stop tech solutions that do almost all the heavy lifting of a process rather than appointing human resources from different departments for the same. Everything today is technology-driven, why shouldn't your travel be too?
2. AI Revolutionizing Data Analysis, a Trend to Follow
AI was the top-of-mind subject for everyone, and the number of people attending ITILITE's education session 'Dashboards are Dead' was one of the things at the convention that proved it. Though dashboards can be categorized as smart by some measure of thought, there is no denying that AI takes it to the next level. There is so much that is being done with AI-driven travel programs and yet there is a lot more room for advancement. Dashboards and reports can give you tons of data but making sense of it can be gruesome. Imagine being able to get analytics and actionable insights without having to spend days analyzing the data. That's exactly where we are headed.
3. Sustainable Business Travel is here to Stay
A company's travel policies affect its work culture and also the environment. In the GBTA sustainability report 2022, it was noted that 89% of the business travel industry considers sustainability as their priority. This is why 'Sustainability' was a welcome topic throughout the event. GBTA inspired the attendees to practice sustainability by walking the talk. In addition to other "going greener" efforts, GBTA offset all carbon emissions from the Convention and related staff travel for an estimated 835 metric tons.
4. Increasing Consciousness of Traveler Experience
Many companies are gearing towards employees having the freedom and flexibility to choose their travel options, within compliance with company policies. They need robust support and analytical capabilities, but not at the cost of employee experience. A seamless travel experience, better duty of care, and safety, all available on a mobile app that rivals the b2c apps is emerging to be a must-have for everyone.
To sum it all up, being at GBTA after a long time is indicative of the travel industry's recovery. We at ITILITE are now more keen than ever to lead way for the future of business travel and we are very excited to be building a product that checks out all the boxes!
See you in GBTA'23 at Dallas next year!

Get the latest in your inbox
Subscribe to the Itilite blog and never miss a post!