SaaS products (Software as a Service) are software applications that we can access over the internet from anywhere at any time and from any device. All you need to do is open your browser, put in your login credentials, and start working. A SaaS platform is entirely cloud based. A Saas software is hosted by a central provider and offered to customers through the internet. We help you choose the best SaaS tools for your small business or startup.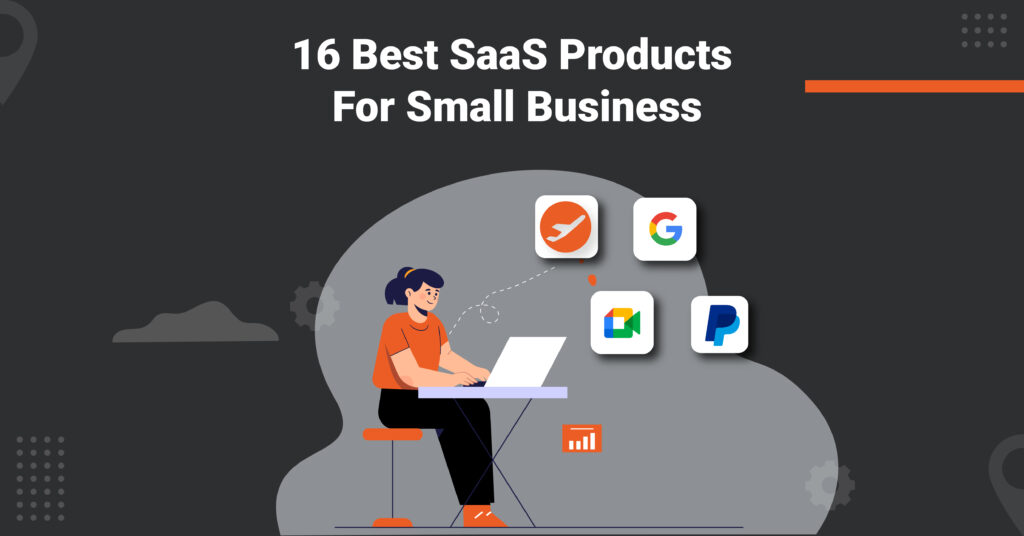 Investing in the right software tools for your small business can greatly impact your company's performance. Therefore, it's essential to research the SaaS products that will work best for you and your business goals.
Top 16 SaaS Products for Small Businesses
Zoom
Google Meet
Lattice
Bonsuly
Microsoft Teams
Slack
Google Workspace
Asana
Paypal
QuickBooks Online
Itilite
Salesforce
Calendly
Mailchimp
Zendesk
Gusto
Below is a list of the best SaaS products for your small business that you can consider investing in.
For Online Conferencing
1. Zoom
Zoom meetings is an easy-to-use video conferencing software application that allows people to collaborate over virtual meetings, webinars, and live chat. The basic version of Zoom is available to download for free, and users can create as many meetings with up to 100 participants and a time limit of 40 minutes.
You can also benefit from features like screen sharing, virtual workspaces, whiteboards, meeting recordings, transcripts, breakout rooms, and polls. It is one of the most widely used conferencing SaaS products, making it a reliable tool for your business needs.
2. Google Meet
Google Meet is a versatile SaaS product for your online conferencing requirements. It offers similar benefits to Zoom, including screen sharing, virtual backgrounds, in-app chat, and participant spotlight.
In addition to that, it offers a few benefits over Zoom. In Google Meet, you can host your meetings for 60 minutes compared to 40 minutes in Zoom in the free plan. Also, you get 15 GB of cloud storage for meeting recordings, whereas Zoom users do not get access to cloud storage in the free plan.
However, there are some drawbacks as well. For instance, the features of breakout rooms and meeting recordings are only available in the paid version of Google Meet.
For Team Engagement
3. Lattice
Lattice software is a comprehensive tool that HR managers can use in order to track employee engagement effectively. It allows you to set actionable goals, foster communication between team members, track employee progress, and perform reviews. Plus, it enables you to identify activities that keep employees engaged and find ways to maximize their performance.
Additionally, in-app surveys can be used to collect valuable feedback from employees in order to improve the employee experience and create an engaging work culture. This SaaS product also provides a detailed analysis of employee activities so that you can get periodic insights into their performance.
4. Bonusly
Bonusly is ranked as the 4th easiest-to-use employee engagement SaaS product in G2. It helps employees stay motivated and feel appreciated for their hard work. The main feature of Bonusly is the monthly Bonusly allowance that all employees receive.
With this allowance, users can give small bonuses to their colleagues, managers, and other company employees whose work they want to recognize. People who receive these points can redeem them for rewards in a digital catalog.
Bonusly has a host of other features that are essential for any employee engagement application, such as employee surveys and feedback, workflow integrations, detailed analytics and reporting, and a seamless admin experience.
For Communication and Collaboration
5. Microsoft Teams
Microsoft Teams is one of the best communication tools because of its versatility, ease of use, and integration with Microsoft Office 365. The term Teams here signifies the group of employees or departments in an organization, such as the marketing department. This software tool works well for businesses of all sizes. This application is a hub for collaboration via chats, video conferencing, document sharing, and integration with third-party applications.
Each team consists of individual "channels" or group chat rooms for a more focused purpose. There are mainly two types of channels. Private channels are used for confidential communication, whereas the standard channel allows anyone to access and view shared information.
6. Slack
Slack is an instant messaging software application that is great for collaboration. Employees can work in dedicated digital spaces, which are called channels. You can create multiple such channels for communication which can be used for various purposes. For instance, you can have a particular channel for a project, private messages, and other internal meetings. This makes it easy to keep track of conversations and ensures everyone is on the same page.
All employees have access to the same searchable information on Slack so that everyone can find what they need easily and quickly. Moreover, when all employees are connected together in channels, the company can send information to them simultaneously to make more efficient decisions.
For Document Management
7. Google Workspace
Google Workspace enables you and your team to keep all your documents and files in one place that can be accessed from any device. One of the significant advantages of using the app is that the latest version of every document is automatically saved in Google Drive, so you don't have to worry about manually saving it again and again. You can also share and collaborate on documents with your colleagues and set permissions so they can view, comment, or edit it according to your needs.
Additionally, all documents are secured and can be accessed via a single sign-on or 2-step verification. Google Workspace is not just a great tool for document management but also a robust collaboration solution that offers a vast array of work-specific features such as Google Sheets, Forms, Meet, Doc, Drive, and many others.
For Project Management
8. Asana
Asana is one of the best SaaS products for project management. It allows you to manage complex projects by breaking them down into smaller tasks. You can also collaborate with your co-workers to work on the same project in a shared workspace. Additionally, with the help of a calendar, you can view all your responsibilities assigned time and day wise.
Asana is a great way to manage tasks by viewing them in a list, board, or timeline format. You can also automate repetitive tasks using Rules that then trigger actions such as task assignments. In addition, Asana allows you to create templates for your best workflows so you can quickly use them when starting another similar project. It can also be integrated with email so that you can stay informed of any upcoming tasks.
For Online Payment
9. Paypal
Paypal is an online payment software tool well-suited for small businesses and entrepreneurs owing to its easy setup and user-friendly interface. It charges a standard rate for domestic transactions, which is 3.49% + $0.49.
It is the most widely adopted payment method since it is convenient and can integrate with most applications, from accounting to eCommerce. Currently, it has approximately 429 million users making it the largest online payment platform globally.
PayPal is a great choice for businesses since the checkout allows the customer to pay via a variety of payment methods, such as debit cards or credit cards. Another benefit of using PayPal is that it enables businesses to automatically pay their monthly recurring bills and subscriptions.
For Accounting
10. QuickBooks Online
QuickBook Online is a versatile software solution for managing your business' finances, filing taxes, and monitoring income and expenses. With an intuitive UI, QuickBooks is ideal for businesses of different sizes and complexity. QuickBooks also makes accounting more straightforward while organizing your data on the cloud. It enables you to connect your bank account to import transactions and organize them in the dashboard automatically.
This application also has robust features, like invoice tracking and payment reminders, to help you keep up with your business' finances. You can also view your business's performance on the dashboard with the help of customizable reports. Additionally, it allows managers to clock employees' billable hours and add them to invoices. You can also collaborate with your accountant on this application and manage the finances efficiently.
For Business Travel Management
11. ITILITE
ITILITE is a unified travel and expense management platform. It offers employees an AI-based self-booking tool with personalized travel options, allowing them to book travel within 90 seconds.
Moreover, with an easy-to-use admin interface, travel managers and admins can easily manage travel from anywhere at any time. They can create custom policies as per department, employee level, etc., with multi-level approval workflows to streamline approvals and curb policy violations.
Moreover, with ITILITE, employees can upload receipts to create online expense reports so they can get reimbursed from anywhere. ITILITE also offers safety features for employees, such as safe hotel tagging, live location access, and 24/7 business travel support.
Another benefit of this software is that it offers complete spending visibility to the finance team. This allows them to track where money is being spent and helps cut down unnecessary expenses. Moreover, the software's automatic fraud detection feature ensures that employees do not file fraudulent and non-compliant expenses.
For Customer Relationship Management
12. Salesforce
As a business owner, it's important to have a system in place that helps you manage your customer data well so that you can find more leads, connect with prospects, and close deals. Salesforce is a cloud-based Customer Relationship Management (CRM) platform that enables businesses of all sizes to do just that. With its help, businesses can manage and leverage their customer data in a beneficial way.
Salesforce also helps you enhance the customer experience by allowing you to identify their likes and interests. Moreover, you can provide seamless customer service from anywhere through email, phone, or chat, as Salesforce helps you manage all channels from a single dashboard.
The calendar is another beneficial feature because it lets you schedule meetings, plan projects, and keep track of your outreach in one place. This way, you can prioritize your time according to the status of your sales funnel and quickly transform your prospects into customers.
For Scheduling
13. Calendly
Calendly is an appointment-scheduling SaaS product that allows entrepreneurs and organizations to schedule meetings. This application lets your clients book appointments with you and automatically blocks that slot on your calendar. The software is straightforward and convenient and offers a seamless experience whether you are using a phone or laptop.
Calendly also offers a variety of other features, such as personalized notifications, group events, team scheduling, advanced reporting, and more. Additionally, the application has a time zone detection feature that prevents any confusion between you and your client when booking meetings. Moreover, you can set reminders on the app that notify you of upcoming appointments and texts from your clients. With the help of this application, you can stay on top of your schedule without any hassle.
For Email Marketing
14. Mailchimp
Mailchimp is an email marketing automation tool that allows businesses to manage their email outreach from a single platform. It enables you to reach out to your target audience and analyze how well your campaign is performing. Plus, with Mailchimp's extensive features, you can create custom email templates, manage your email list, nurture your leads and automate your campaigns.
In addition to the benefits mentioned above, Mailchimp also allows users to pretest their email before launch, geotarget their email campaigns, and access advanced reporting to gain insights for future campaigns. A recent feature that has been beneficial for companies is the Subject Line Helper. This helps you create mail subjects that will grab the customer's attention and make them want to open and read the email.
For Customer Service
15. Zendesk
Keeping your customers happy and satisfied is a crucial part of every business. Zendesk is a customer support software solution that makes it easy for businesses to give their customers the solutions they need in a timely manner.
By using Zendesk, you can improve your company's productivity, reduce costs, and, most importantly, keep your customers satisfied. The customer self-help portal gives customers 24/7 access to online support so they can find solutions to their problems on their own.
The ticketing system creates a ticket whenever a customer raises an issue, allowing businesses to track and manage issues from multiple channels in one place. Other features include a community forum, knowledge base, and analytics tools, all of which work together to give the best possible customer service experience. Zendesk is one of the most-widely SaaS products in the market.
For Payroll
16. Gusto
Gusto is a comprehensive HR SaaS product designed to automate payroll tasks for small businesses. It is reliable and intuitive, allowing you to manage employee benefits, file taxes automatically, and onboard new employees with ease. Additionally, Gusto can handle payroll processing for both full-time and contractual employees. This is especially helpful for small businesses that often hire freelancers for short-term projects.
The time tracking feature enables you to track remote employees, ensuring that all employee time is recorded and automatically integrated into payroll. You can also build custom payroll reports with this tool in addition to agency payments, pay stubs, and contractor payment reports.
Gusto is also helpful in the hiring process, allowing HRs to send offer letters and create onboarding documents that can be saved on the cloud. If you are looking for a single software solution for your human resources team, you can surely consider it.
Invest in the Right SaaS Products for your Business
Investing in the right SaaS products for your business can be intimidating, especially when you're just starting out. The choices you make can have a big impact on your business's profits and productivity. That's why it's essential to research and pick up the best SaaS products..
ITILITE is one such SaaS product suitable for businesses of all sizes. It is an integrated travel and expense management software that allows you to manage your company's business travel on the go.
You can book a demo to try out the benefits and see if it's the right fit for your company.