ITILITE – ICICI Partnership: Effortless Travel Booking And Payment Options
October 20, 2021
ITILITE – ICICI Partnership : Effortless Travel Booking and Payment Options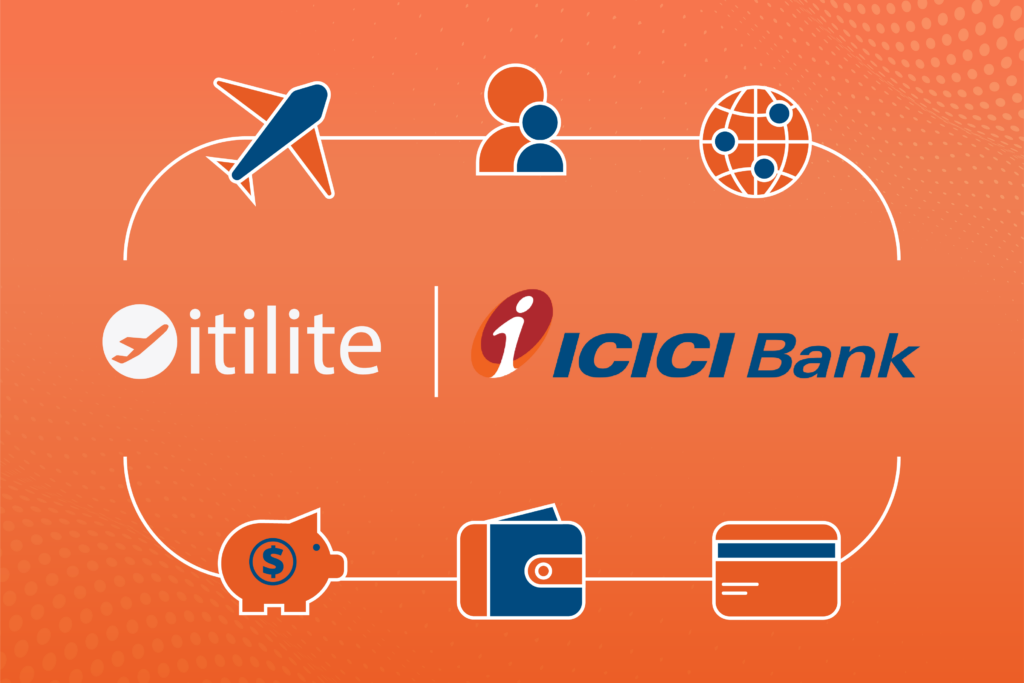 For the last five years, ITILITE has been on a mission to make travel & expense seamless/frictionless. From pioneering the unified platform for the processes end-to-end, to introducing new abilities like employee incentivisation, gamification and in-product safety measures, we have been on the forefront of development. We are excited to continue the momentum and join hands with ICICI Bank, one of India's largest financial institutions to bring in a new layer of comfort – streamlining travel bookings and payments.
With this partnership, companies can now get an 'ICICI Bank Central Travel Account Card (CTA card)'. The CTA card will ensure cost efficient travel bookings with some more benefits stated below.
Seamless and Synchronized Travel Booking Experience
Companies struggle with travel booking payments due to multiple payment gateways used by different employees. It gets difficult for the finance folks to document every transaction and the reconciliation cycles run longer. We try to make this process easier by unifying the transactions and centralising the payment system. While at it, we also bring in additional benefits like ITILITE wallet which allows all the employees from a single company to make transactions from a single account, thus making it a seamless process. This wallet can be integrated with a credit card.
The partnership with ICICI can benefit the companies to avail a longer credit period.The Bank will issue the CTA card to businesses and they can use it to top up their ITILITE wallet and then book travel on their employees' behalf. Employees can also make their own reservations using the wallet.
Sudipta Roy, Head- Unsecured Asset, ICICI Bank said "We believe that armed with the 'ICICI Bank Central Travel Account Card (CTA card)' and the ITILITE platform, businesses will be able to strengthen and streamline their employee travel and expenses processes."
Flexible Credit Line At Minimal Rates
With this partnership, on using the CTA card, the organizations can avail a credit period of up to 50 days, while ITILITE will provide a digitised, automated, and cost-effective travel and expense management platform. This ensures a cost efficient hassle-free travel booking experience. Companies can be onboarded with itilite and have their itilite wallet recharged using an ICICI corporate credit card. They can enjoy a flexible credit line at a much lower rate than the market rate with an ICICI card. Visa, a long standing partner of ICICI Bank, has brougth this value addition to its travel and expense solution for the Bank's clients through ITILITE.
Mayank Kukreja, CEO, ITILITE said "Across the country, and the world, companies are moving towards digital solutions for better experience, safety and optimized processes. With ICICI Bank, now we can create more value for their Travel and Expense Management journey."
Digitization has led to industry wide transformation which in turn has resulted in automation of processes. The post pandemic times have bolstered digitization whilst cost sensitivity still persists. This partnership will ensure easy and streamlined credit and payment options. Not only that but it will also create an opportunity for its clients to avail the most economical travel booking options. For more details, book a free demo or write to us at get@itilite.com.
Author
:
Veronica Khathuria