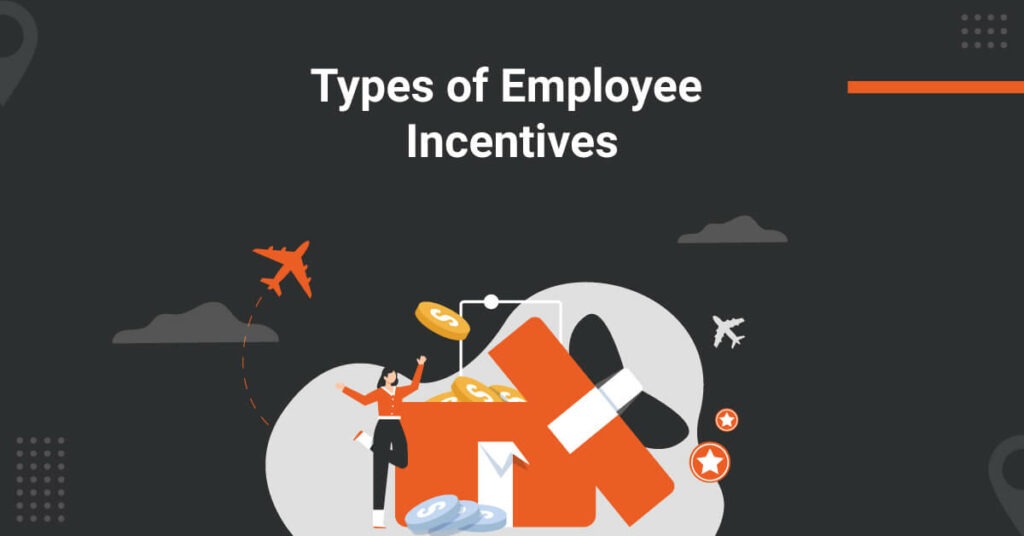 Employees have a lot to juggle on a daily basis, from attending meetings to hitting monthly targets. This can cause them to feel overwhelmed and stressed out. Hence, companies should try to alleviate some of the stress by appreciating the employees through employee incentives, so they feel motivated and happy.
Employee incentives are benefits or rewards offered to employees to encourage them to do better or show appreciation for achievements. They have a positive influence on employees and can help boost business output. Employee incentives are also helpful in creating a productive work environment.
There are many different types of employee incentives that companies can choose from. So, it is vital to understand them before deciding what would work best for your business.
1. Profit-Sharing
Profit-sharing is an arrangement where the company gives a portion of the profits earned back to the employees. This is often seen as one of the best employee incentives because the amount received by the employee is directly proportional to the company's income. Hence, it encourages employees to work harder in order to generate more profits for the organization.
Profit sharing also fosters a sense of ownership among employees, and they are motivated to be more accountable and committed to their work. Moreover, employees are invested in the long-term vision and strategy of the company because the company's success would also mean an increase in their bonuses.
2. Business Travel Incentives
Business travel incentives are usually given to an employee or team who has done exemplary work for the company. It's a way of showing appreciation for all their hard work and usually comes in the form of an all-inclusive paid trip. This is more memorable than a monetary reward as people often forget about the money soon after receiving it, but the trip is remembered long after it's over.
Since business travel rewards are typically given to the top performers in the company, it promotes healthy competition amongst employees. Additionally, it improves the company's retention rate as employees feel satisfied if they are rewarded appropriately for their work. This program also helps in talent acquisition as potential employees see that the company acknowledges the employees' efforts.
3. Learning and Development Programs
Learning and development (L&D) is the process of upskilling employees and helping them improve professionally. According to a Forbes, 76% of employees are likely to stay longer at a company offering continuous training, and 55% say they need additional training to perform better in their roles.
L&D is a great employee incentive program because it appeals to employees and increases retention. Not only that, but it also attracts new talent as such programs build a good reputation for the company.
L&D programs are a win-win for both the company and its employees because they improve their skills and productivity. A study shows that companies that invest in L&D see a 24% higher profit margin than those that don't. Therefore, along with the individual development of the employees, the organizational performance also enhances.
4. Health Incentives
Health incentives and wellness programs are key for companies that want to encourage physical fitness and mental well-being among employees. These employee incentives boost productivity and engagement levels. Additionally, research suggests that such programs reduce employee absenteeism rates and save $5.82 on absenteeism costs for every dollar spent on employee wellness.
When starting such wellness programs, companies can offer simple, tangible items that promote wellness, such as fitness bags, health kits, running shoes, and water bottles. They can also offer subscriptions to health magazines or gym memberships.
Another way to incentivize employees to maintain their health is by offering rewards for reaching goals like walking 10,000 steps daily. These employee incentives can motivate employees to go the extra mile to maintain their health and create a healthy work environment in the process.
5. Bonuses
Bonuses are rewards that can be either monetary or non-monetary. They are given to employees in addition to their base salary on successfully completing a task. A few important bonuses are listed below.
Signing Bonus
A signing bonus is a one-time monetary bonus given to employees when they first join a company. These are often used as an incentive for candidates to accept the job offer and to deter them from choosing another job.
Usually, signing bonuses come with certain clauses that state conditions, such as if the employee leaves the company before a set amount of time has passed, they may be required to pay the bonus back.
Performance Bonus
Performance bonuses are usually given to those employees who meet or exceed their professional benchmarks. Companies use these bonuses to reward employee achievements so that they continue to deliver quality work and maintain high productivity levels.
Retention Bonus
A retention bonus is typically a one-time, lump-sum payment given to an employee to keep them with the company. It is usually offered during crucial times, such as mergers or acquisitions. However, this type of bonus may also be given to employees on an agreement basis if the company feels that its competitors might try to poach them.
Referral Bonus
A referral bonus is an incentive given to an employee by their employer when they refer a qualified candidate to fill an open position at the company. This type of bonus benefits the company by reducing the cost per hire and time required to fill a position. Referral bonuses are typically offered if the company finds it challenging to recruit good candidates. So, the company uses this bonus to tap into the employee network and boost its recruitment efforts.
6. Recognition Awards
An employee recognition award is a token of appreciation given to the employee in honor of their outstanding work. Companies often hand out awards such as "Employee of the Month" to keep employees motivated and inspired to do their best.
Awards like these improve employee morale, as the employees feel recognized and appreciated by their peers. Furthermore, it inspires other employees to improve their performance so they can achieve an award the next time.
7. Group Incentives
Under a group employee incentive program, companies reward teams for their performance rather than individual contributions. The rewards, such as cash payments, gifts, and coupons, are given to teams that meet their goals within a specific timeline.
Group incentives help the employees learn about the importance of collaboration and allow them to nurture professional bonding between the members. These employee incentives often result in a more productive and positive work environment as employees feel more obligated to work together towards a common goal.
Not to mention, it allows employees to get to know one another on a more personal level, deepening the sense of camaraderie within the workplace.
8. Tuition Reimbursement
Many companies offer tuition reimbursement as an additional perk to their employees. Every year, US companies spend $28 billion on tuition reimbursement. Tuition reimbursement means the employer pays a part or complete amount of the education degree of employees as long as they follow certain guidelines. It usually covers the cost of tuition, books, and other related costs.
Tuition reimbursement is one of the employee incentives that is extremely beneficial for employees owing to the rising cost of education.
For employers, this program creates a more skilled workforce and helps retain exceptional talent. According to IRS, employers can deduct $5250 annually per employee for tuition reimbursement, and for any amount above that, they may have to pay payroll taxes.
9. Employee Discounts
Companies often offer discounts to their employees to show appreciation for their work and retain talent. These discounts can be on the company's own products/services or partner vendors. Usually, companies that sell products and commercial goods offer exclusive discounts for their employees, but sometimes service industries may also offer employee discounts.
The discount amount is at the company's discretion and is variable, but it usually ranges between 10-50% off the regular price. For instance, retail companies such as Gap and H&M offer 50% and 25% discounts for their employees, respectively.
10. Gifts and Gift Cards
Gifts on special occasions like festivals and birthdays make employees feel that the company appreciates them. Moreover, organizations that want to go the extra mile choose personalized gifts specific to each employee. This shows that the company cares for them as individuals and makes them feel even more valued, improving employee morale in the workplace.
Gift cards are also a great option for employee incentives. They give employees the flexibility to purchase items or services that they need. Moreover, these gift cards can be used online from anywhere at any time.
This is a great perk for employees, as it gives them the freedom to use the gift card however they want. There are many different types of gift cards available, such as dining, spa, and retail, so managers can find the perfect option for each employee.
11. Flexible Work Arrangements
Remote working for employees has become increasingly popular in recent years, especially after the pandemic outbreak. According to a survey by Fortune, 78% of respondents said they want the flexibility of location, and an overwhelming majority, i.e., 95% of respondents, said that they want schedule flexibility.
Many employees prefer to work from home, which is often more convenient than working at the office. Additionally, working from home can save employees time and money that would otherwise be spent on commuting.
Schedule flexibility is also one of the most desired employee incentives. Employees are typically required to work a certain number of hours, but with schedule flexibility, they get to choose particular work hours from a range of options. They can also change their schedules at the discretion of management.
This can give employees a greater sense of control over their work-life balance. Some companies also offer a 4-day work week, which condenses the same number of working hours into 4 days instead of 5.
12. Employee Outings
Team outings can be a great way to reward employees and build relationships within the company. Companies can plan an all-paid field trip and let employees have fun while bonding with one another.
Field trips can be a stress reliever and also help improve communication and creativity. When working on a stringent budget, companies can opt for picnics, hikes, beach activities, and wine tastings, depending on the nearby options available.
13. Flexible Dress Code
Employees love to wear comfortable clothing while working, especially after the pandemic. People realized that wearing stiff suits and uncomfortable clothes only distracts them from work.
According to a recent survey, 80% of people said they performed better at work when they dressed casually, and 76% said that comfortable dress codes build better connections between colleagues.
To find out if a casual dress code works for them, companies can offer this incentive once a week in the beginning and extend it later if they find it suitable.
14. In-office Meals or Meal Allowances
Although many companies don't have the budget to afford daily meals for their employees, they can offer in-office meals once or twice a week. A survey found that 60% of employees feel more valued if the company provides them with food.
This is a cost-effective method to provide employees with job satisfaction and should be considered by most employers. It has multiple benefits, but the most important is the development of a healthy work culture. When a diverse group of people sits down together to have a meal, they get to know each other better, and that is beneficial for team building and productivity.
If the employer cannot provide in-office meals, they can opt for a meal allowance. A meal allowance is a stipend provided by the employer for food. Employers can also offer food coupons and discounts by partnering with vendors to reduce costs. By doing this, employers can help their employees save money on food and still have access to healthy and delicious meals.
Offer Meaningful Employee Incentives
Employee incentives are becoming increasingly popular in today's corporate world. The purpose of these incentives is to motivate, reward, and increase the productivity of employees. This will help the company gain profits in the longer run.
ITILITE is an advanced employee travel management software that offers business travel incentives for your employees. With ITILITE, employees can book hotel and flight tickets at cost-effective prices and get a part of the savings as a reward.
To see how business travel incentive works, get a free demo of ITILITE.