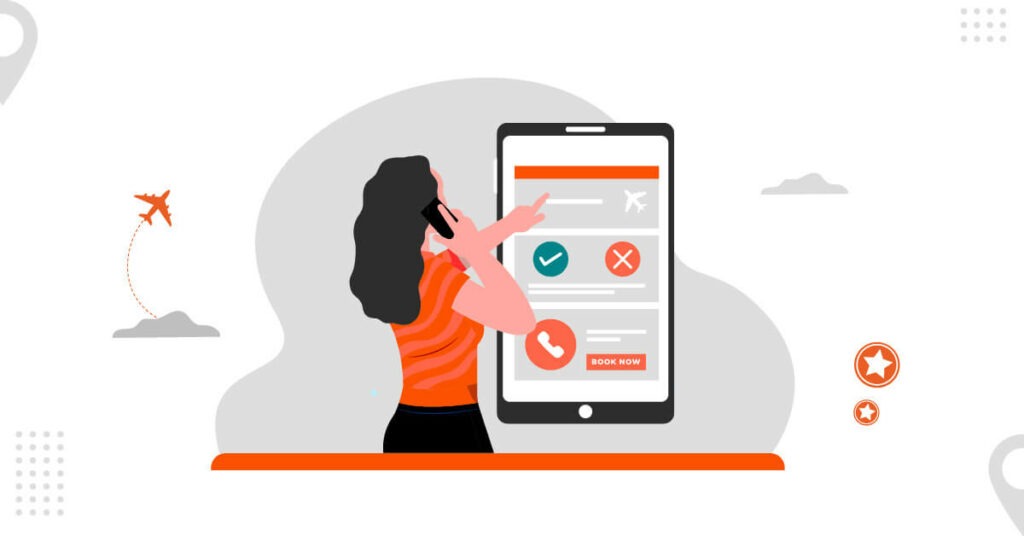 Bookings form an essential part of every company's travel management process. Hence, it is crucial to ensure they are undertaken with maximum efficiency. However, despite the advent of centralized travel and expense management software solutions, many travel coordinators still rely on age-old, obsolete consumer travel apps or hotel and airline websites to book flights and hotels. This makes them miss out on process optimization opportunities.
Here are 9 reasons travel executives should avoid booking from a consumer travel app or airline and hotel websites.
1. Lack of travel data availability
When employees book from multiple sources, the company has to wait until employees file for reimbursements to get travel data visibility. Moreover, travel managers have to manually collate all travel data to prepare reports. Due to excessive workload, employees might procrastinate on expense filing until the end of the financial year, making it challenging to allocate spending to particular projects, cost centers, or reasons for travel.
However, with an integrated travel and expense solution like ITILITE, expense claims get created when employees book travel. Hence, you can access data points like the total amount spent, mode of payment, and reimbursement status in real time.
2. Difficult to ensure travel policy compliance
When employees book from a third-party solution, 15-20% of trips are booked outside the policy. Moreover, for each beyond-policy booking, your company has to spend 15% extra. These extra charges, when accumulated over time, can have a negative impact on your financial bottom line.
Even if the bookings are policy compliant, they may not necessarily be cost-optimized. For instance, if the employee has selected a $400 flight from Seattle to New York, there is no way for you to know if that was the most economical or the most expensive option.
On the contrary, with a company-specific, centralized business travel management software solution, you can reduce leakages in travel spend by 80%.
The software enables you to see all the options that were available to the traveler at the time of booking. You can also set a maximum budget limit on flight and hotel bookings and allow pre-determined flexibility, e.g., only 10% higher than the cheapest flight.
With greater policy compliance, you can save up to 2.5% on each trip.
3. Cumbersome approval tracking
With open bookings, tracking and managing approvals can be difficult. When there is no centralized system for trip booking, employees have to send the requests to the approver through email. This increases the likelihood of the request getting lost in a shuffle among numerous other emails, causing delays.
A centralized travel management platform can help streamline the approval process. Employees can select flight and hotel options, create itineraries, and send them for approval. The approver will get a notification about the new requests in real time, and they can approve or reject them from the platform.
4. Low utilization of negotiated rates
Companies spend 50% of their total travel cost on booking flights and 40% on hotels. Hence, they have contracted rates to maximize savings. When employees book through a consumer travel app may not book those rates, leaving a massive in the company's pockets.
However, an advanced travel management solution can help you save an extra 10% on bookings by nudging travelers to book the contracted options.
5. Wastage of unused flight credits
Some airlines, like Southwest, convert last-minute cancellations to flight credits for future bookings. However, you must track and claim the credits on time; otherwise, your pending credits will end up being a part of the 1 Mn dollars in unused tickets.
If your employees book through a consumer travel app, claiming unused credits will require utmost diligence from each employee. Alternatively, you can choose a travel management solution provider, like ITILITE, to help you track, reconcile and claim unused flight credits.
6. Lack of 24/7 travel support
Business travel is highly volatile. Hence, road warriors need a constant source of quick support for emergencies. However, you cannot reassure your employees that they will get round-the-clock support with third-party consumer travel apps. Most solution providers may not support off-business hours, and those who do can charge up to 3X more.
On the other hand, travel management platforms like ITILITE provide 24/7 free support through calls and chats in less than 60 seconds and email in under 60 minutes. Hence, your employees know who to contact for any travel-related crisis.
7. Longer per-trip expense filing window
When employees book through a consumer travel app or flight or hotel wesbite, there is no centralized expense record. Hence, on average, an employee spends 60+ minutes filing expenses for reimbursements after each trip. This takes away the precious time they could dedicate to other critical tasks and often leads to added stress.
Employees can save this time through an official travel and expense management software solution. The T&E system can automatically create expenses on travel bookings, even the ones employees make through personal or corporate cards. Thus, they no longer have to dedicate extra efforts to lodge expense claims and create reports.
8. Unavailability of structured data for better negotiations
If your employees frequently book a particular flight/hotel while traveling for work, you can use that data to negotiate great deals. However, getting structured data to know which vendors to negotiate with can be difficult if your employees book through a consumer travel app.
For instance, if your employees stay at the Marriott, Monterey, they might miss out on mentioning the branch and just enter the Marriott in their claims.
A travel management platform can give you consolidated travel data in the form of reports and customizable dashboards. This way, you can take advantage of every possible negotiation opportunity.
9. Miss out on special services offered by an official system
If you manage bookings with a consumer travel app, you can miss out on the special services offered by a dedicated corporate travel platform that can help save travel costs. Here are a few such services:
Flight re-shop: some travel platforms like ITILITE provide extra saving opportunities for each trip by keeping a tab on flight prices from the date of booking till the date of departure and automatically re-shopping the tickets at the lowest price in that window.
Budgeting alerts: an official travel platform can help you keep your overall travel spending in check by sending alerts when the bookings are about to exceed the threshold.
Duty of care – travel management systems can also help you take travelers' safety to the next level with advanced features like live traveler location tracking and destination-based pre-trip emergency alerts.
Onboard an in-house travel management system for optimized booking
With the abovementioned 9 reasons, you must have realized why managing bookings with a consumer travel app is a bad idea. Alternatively, onboarding an official travel management software solution like ITILITE can optimize the efficiency of the travel process. Your employees can save up to 1 hour of booking time on each trip with policy-compliant recommendations and streamlined approval workflow.
Moreover, you can get real-time visibility on travel data visibility, huge cost savings, and more.
To experience all these features firsthand, book a free demo now.