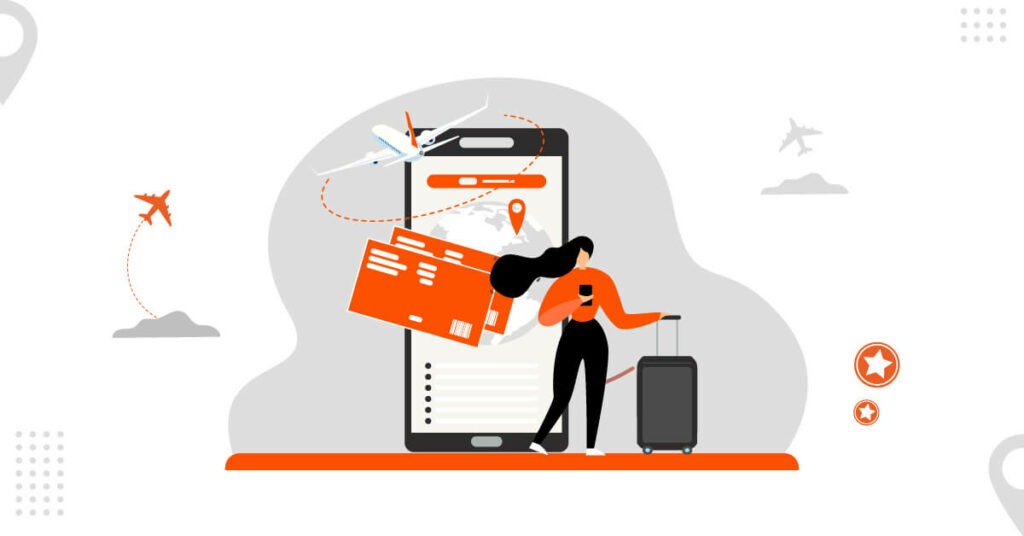 Travel managers have a lot on their plate and therefore know the importance of having efficient processes to manage business trips. To do this, they usually opt for a travel management app. However, as there are multiple options available online, it becomes tricky to choose the best one for their business.
The best business travel platform goes beyond providing basic functions and offers unique capabilities that elevate your travel program. Read this blog to know the 9 distinguishing features of the best travel management app.
1. User-friendly Interface
One important feature that sets the best business travel management (BTM) app apart is its user-friendly interface. Travel managers rely on a BTM app to streamline their processes, and an intuitive interface makes their work efficient and hassle-free.
Moreover, such an interface enables business travelers to easily find and use the features they need. This reduces the need for extensive training and technical support for employees. Also, business travelers are more likely to continue using an app that is easy to understand, resulting in a high adoption rate.
2. Offline Accessibility
Offline accessibility in a travel management app is helpful in multiple ways. Business travelers can access important data, such as flight details and hotel reservations, even when they do not have internet access.
Trying to get travel information online, especially when using public Wi-Fi, can pose security risks to the traveler. However, by having the details accessible while offline, travelers can reduce their reliance on unsecured networks. This ensures that sensitive travel information, such as passport details, remains secure in the travel management app.
3. Real-time Alerts
Business travelers are always on the go and have tight schedules. Therefore, they cannot afford to miss any information which can disrupt their travel plans.
Real-time alerts in a travel management app ensure that travelers are up to date regarding any changes in their travel plans. These alerts provide timely updates on upcoming trips, flight details, and price drops, enabling travelers to stay productive.
Moreover, these alerts also reduce the communication workload on travel managers who would otherwise have to inform travelers personally of any changes. By automating this process, managers can focus on other aspects of travel management, such as strategic planning.
4. Loyalty Program Integration
Loyalty program integration is not only a distinguishing feature in a travel management app but also highly rewarding for frequent business travelers.
Due to this integration, travelers opt for the loyalty program more often. This leads to cost savings for the company and an enhanced travel experience for employees.
5. Cost Saving Incentivization
Some travel management apps offer this unique feature to help companies and business travelers save money through incentivization. These apps suggest personalized travel packages to travelers based on their needs and past searches. When travelers choose the less costly of the suggested packages, they get a part of the savings made.
For example, if the price difference between two packages is $200 and the traveler selects the cheaper option, they may receive a portion (e.g., 30%) of the $200 as a reward. This innovative feature not only increases engagement levels but also results in significant cost savings for the company.
Moreover, the use of gamification in the app adds an element of excitement and fun to the process. Consequently, travelers are motivated to actively search for and select more cost-effective options, as they know they will be rewarded for their savings.
6. AI-based Virtual Consultant
An AI-based Virtual Travel Consultant (VTC) is a robust feature that sets a travel management app apart. This advanced technology reduces the time and effort travel managers spend on making strategic decisions.
The travel management app accumulates data from past travels of the company and benchmarks it against industry standards. Based on this data, the VTC provides step-by-step guidance to travel managers on how to improve their travel program for better cost savings and improved travel efficiency.
Further, the VTC continuously learns and adapts from the data it accumulates. This allows it to provide increasingly accurate and relevant recommendations over time.
See How Virtual Travel Consultant Works
7. Custom Reports
Customizable travel reports can provide a wealth of information beyond just basic expense tracking. Businesses can choose to include details such as hotel transactions, flight bookings, cancellations, and even the carbon footprint of business trips.
This additional data allows for an in-depth analysis of spending trends and other travel KPIs. For example, travel reports can show which hotels employees are staying in, how much they are spending on flights, and if they are making last-minute bookings.
Furthermore, travel reports can be automatically delivered to the mailbox on a regular basis, such as weekly or monthly. This allows travel managers to consistently track the performance of their travel program.
Getting access to this information in real-time enables businesses to quickly identify any discrepancies and take measures to optimize travel expenses.
8. Live Tracking Feature
A key distinguishing feature of the top-tier travel management app is the ability to live-track employees. As a travel manager, ensuring the safety of travelers is crucial. Therefore, this feature plays a pivotal role in achieving this goal. It enables you to monitor the location of employees in real time, enabling you to prevent any risks travelers might face.
Also, this feature helps you quickly address any issues, such as travelers entering high-risk areas. Further, in case of an emergency, you can swiftly reach out to travelers to provide assistance and ensure their well-being.
Additionally, the live tracking feature promotes employee accountability and ensures that they follow the travel policy and stick to their itinerary.
9. Travel Document Management
The travel document management feature allows users to securely store and manage all travel documents via a centralized system. This eliminates the need for physical copies and provides easy access to documents anytime, anywhere, through the app.
With this feature, you can retrieve and share documents easily, which speeds up the process of checking in hotels and boarding flights. Furthermore, the best travel management app can also send reminders for document expiry dates, helping you to stay updated on the validity of your documents. This enables the timely renewal of documents, preventing last-minute hassles during travel.
Opt For The Best Travel Management App
To conclude, the best travel management app stays ahead of the curve by offering a multitude of add-on features that can benefit travel managers.
ITILITE is a robust travel management app that managers can use to elevate their travel program. It offers an intuitive UI and allows managers to live-track their employees with it. Moreover, you can take advantage of the ITILITE Mastermind, an AI-based virtual travel consultant, to take your travel program to the next level.
To know more about the benefits, book a demo now.